Volunteer in Peru and you will no doubt have an adventure of a lifetime! A diverse country in terms of both landscape and culture, Peru is a fantastic destination to explore. It is also very poor, particularly in rural areas and help from volunteers can be incredibly valuable.
Here are just some of the reasons why you should volunteer in Peru this year!
Limited access to healthcare facilities
Many poorer/ rural families may not have easy access to quality healthcare and hospitals are often lacking in resources. Particularly in rural clinics the quality of medical care and equipment can be inadequate, and many people struggle to get the help they need. This is especially true for indigenous communities who make up around 25% of the population.
We have two healthcare programs to join in Peru, one is more suited to those with less experience, so first or second year students. Here, you will help out in assisted living facilities which cater to children with HIV, the elderly and those with disabilities. For qualified professionals or final year students, you will be able to have a greater role, depending on your qualifications. You can deliver health checks, medication, and assist local doctors.
This access to free health checks and medical outreach/ education is vital and can help support local communities.
Discover the diverse landscape of Peru
During your free time, you will be able to explore some of this incredible country, which is home to every climate from tropical rainforest, cool beaches, mountains, dry deserts and cities. Volunteer in Peru with us and stay in the stunning and popular town of Cusco. Here, is the starting point for the Machu Picchu trek, and if you have the time after your project ends, this is well worth the 4-day trek!
There is plenty to do right from Cusco, from exploring the markets and town square, horse riding, white water rafting, walking, hiking, exploring antient Inca ruins, such as Saqsaywaman (kind of pronounced as 'sexy women!'), museums, churches and more.
If venturing outside of Cusco, some popular things to do are sandboarding in Huacachina (a small oasis in the middle of a desert), Amazon river animals tours, Rainbow Mountain, Lake Titicaca, The Nazca Lines, hiking in Huaraz (Laguna 69 trek) and the coastal capital of Lima.
Learn some Spanish!
When you volunteer in Peru, you will be in daily contact with locals and knowing some of the local language, especially in the areas where it can be limited or not spoken much in places, can be of great benefit. You will have a basic language lesson as part of your orientation but as this is brief, we suggest you book an add-on Spanish language class.
Language lessons can be booked with us before your trip and are incredibly worthwhile and super fun too! Learning a new language is really rewarding and allows for a challenge and accomplishment.
Volunteer in Peru as a teacher and gain some new skills
Our teaching programs in Peru help to educate children, teens or adults on the English language. Whether you are a teacher back home or have never stood in front of a class before, you can help students by helping them to practice their English with a native speaker.
We will give you guidance whilst at your project including teaching methods, curriculum, teaching plans and materials, as well as a crash course in ESL teaching! It is also a chance for you to gain some classroom skills or learn about teaching in another country. For those looking to go into teaching this can be an excellent two-way benefit for your students and yourself.
Access to ESL language lessons is limited in Peru, or expensive, with only those who can afford it, paying for private language lessons. Volunteer in Peru and you can help those students who cannot afford lessons, to have the chance to learn English. This can really open up doors to job opportunities and a way out of poverty. As such, the students are always eager to learn.
Discover some new cuisines!
Peru is now firmly on the international culinary scene and offers flavours seen nowhere else. From the national dish of ceviche to roasted guinea pig or the potato-based causa, Peru has so many new and exciting dishes to try.
When you volunteer in Peru with us you will usually stay with a local family, so you'll have the chance to try some authentic dishes in a family home. This can be a truly amazing experience, sharing with a local family, helping with the cooking and potentially finding some new dishes to try at home!
Volunteer in Peru on vital conservation projects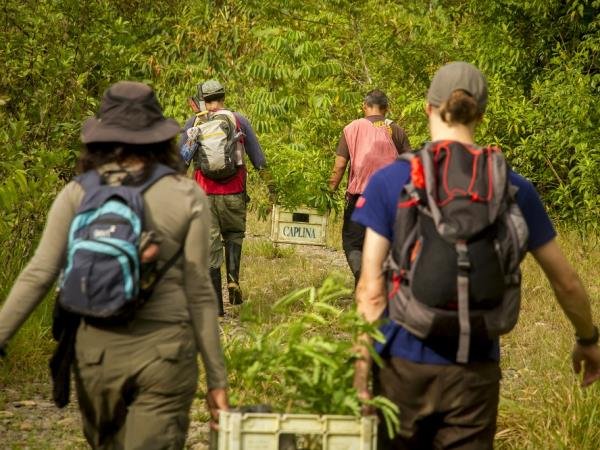 If you are passionate about the environment and fighting climate change, then our Amazon rainforest conservation project may be for you. Situated in a remote location with no Wi-Fi, it is certainly a challenge, but you will be in the heart of it, helping to restore some of the worlds most precious ecosystems.
Deforestation is a big problem in Peru and the removal of trees is having a negative effect on the environment, not just locally but the world. Help scientists and researchers on this project and help the fight for change.
Support local communities.
All of our volunteer projects in Peru help to support the local community, whether that is helping out in childcare centres that are overrun, building or repairing schools and community buildings, or teaching English to help students find a way out of poverty.
Giving your time and skills is a special thing, and can be extremely rewarding. The local people are so welcoming and accepting of your help, which can make for such a beautiful encounter. Our experienced local team can assist you in every way and know where the help is needed most. All our programs include 24/7 support, so you can be assured you are in the best hands!
Give volunteering abroad a try today and see what you can do.