I´m Anna, 26, from Luxembourg. Currently, I'm studying Sociology. My passion is to explore new countries and cultures. After participating with TGL in 2017 for one month in untouched Laos and then 2018 in beautiful Cambodia, I decided this year to join the monk teaching program in Nepal before starting to write my master's thesis.
In order to share my experiences about my 10-days stay at Metokpake Namdrol Chholing Monastery in the beautiful Everest region, I want to give you an insight into the daily life of the 7-year -old monk Ang Penpa who I met during my adventurous trip in the deep Nepali mountains.


At first, you might be a bit shocked about the fact that a 7-year-old kid doesn't live with his parents anymore because he is becoming a monk, but I can assure you that everything is fine with Ang Penpa and that he's enjoying his life as a monk. He, as well as some other monks I met, didn't decide on their own to become a monk. A few months ago Ang Penpa's parents made the decision to send him to the monastery, because he wasn't listening to them, and they had to focus on his two younger siblings.
The young monk is now living at the monastery with 13 other monks aged between 7 and 17 years. Ang Penpa wakes up every morning at around 5.33 am. At 6 am he starts his day with praying, which is accompanied by musical instruments, like drums, horns, flutes and shells. It is absolutely fantastic to hear the combination of the chanting of the monks with the music! After the prayers, the young monk normally has breakfast in a woodshed including a stone oven for preparing the meals. In the morning, he's used to eating some kind of home-made flour with salted tea. I can guarantee you that it is delicious if you put some sugar in it. Before heading to class, Ang Penpa has to brush his teeth and wash his face. During my time, I reminded him and his friends about the importance of brushing teeth in the morning and evening. I hope that they'll continue this routine in my absence.
At 8 am, Ang Penpa and his other kindergarten colleagues come together in the classroom for the English lessons. They are really interested and eager to learn new words. As Ang Penpa had a strawberry pin on his tiny slippers, I tried to teach him the word strawberry. Shortly before my departure, he was able to spell the word, which makes me very proud ? Beside English classes, the monks also have Tibetan and Nepali classes held by two adult monks and another English teacher at the monastery.
After classes, Ang Penpa meets his friends, who are divided into different classes, in the kitchen for lunch and dinner, which mainly consist of a delicious lentil soup accompanied by rice and vegetables (Dal Bhat = Nepali national dish). All the food they use at the monastery comes from the garden and even the milk used in the dishes comes directly from the cow, so every ingredient is totally organic.
In the evening, Ang Penpa usually goes to the main building of the monastery for praying and meditation. As he's really young and new at the monastery, he has his difficulties to follow every process during the prayer time. During the mediation where the monks are supposed to repeat the mantra "Om Mani Padme Hum", a sacred utterance, 108 times, he has problems to concentrate and sometimes falls asleep. But before going to bed, he has to do his homework. Ang Penpa, as well as the other young monks, are in a learning phase to become responsible monks.
The life of a monk doesn't only consist of praying, meditation, and language teaching. No, they also have free time on the weekends, during which Ang Penpa likes to do paper cuts, play badminton, arm wrestling (He's even stronger than me) and watch TV. When the view from the mountain is clear, he likes to go for a hike with the other monks to see Everest and the other stunning high mountains.
In this short blog, I can't tell you everything about daily life at the monastery. But, if you want to meet Ang Penpa and his friends, you have to go through an at least 12-hour adventurous trip through mud, rivers, and mountains in a Jeep with local people. I advise you to bring enough warm clothes because it is raining a lot in the mountains and it is quite cold in the evening.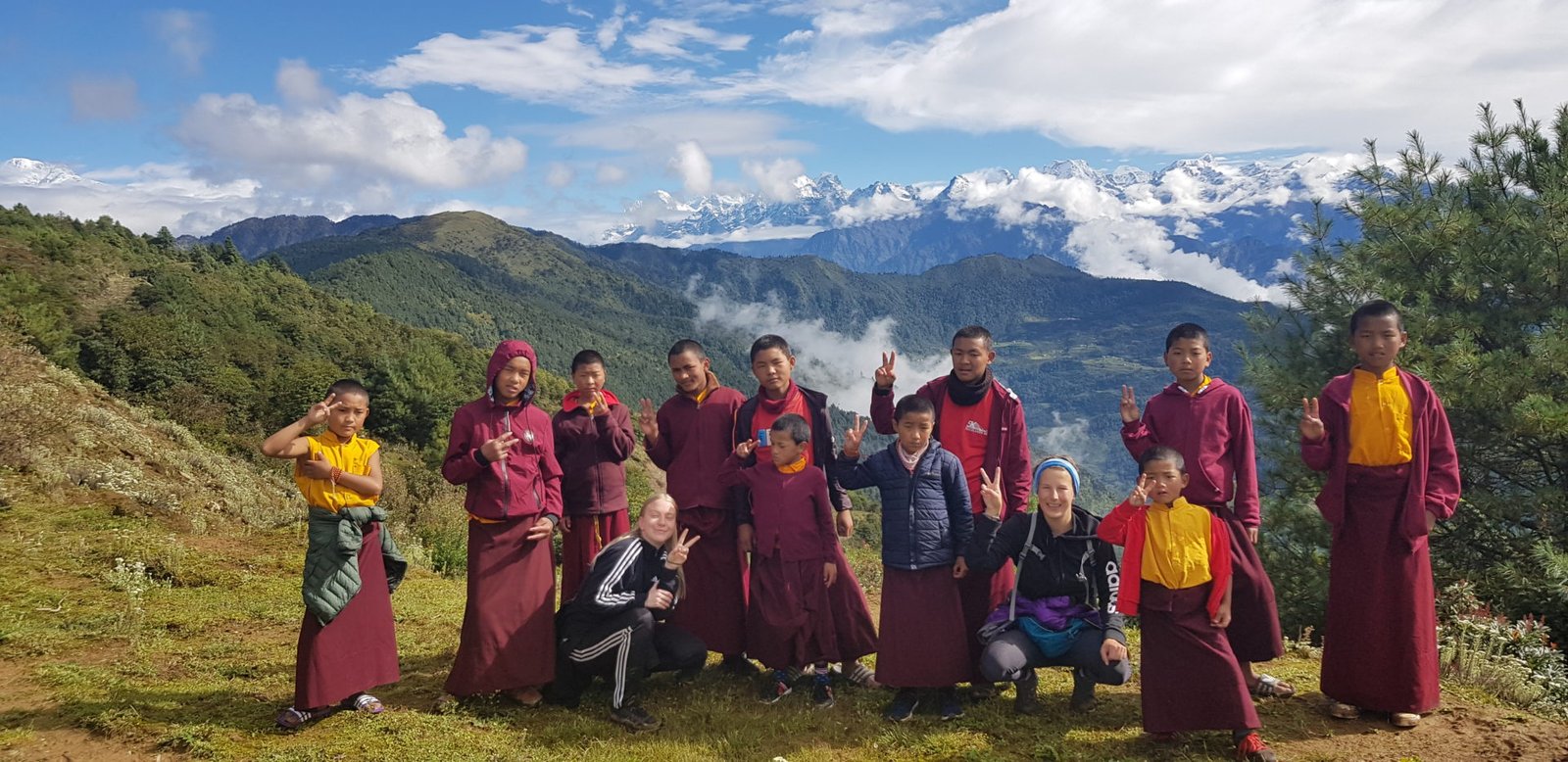 In closing, I want to thank all the cute, kind, and lovely monks I met during my stay at the monastery. You are all awesome!! Thank you also to the teachers Labsum, Sonam and Ngawang Janpoo for your hospitality too!! A big thanks also go to Kabita from TGL for accompanying the other five volunteers and me to the monastery and Rajesh for convincing me to go to the monastery in the Everest region!!!
Anna Berke's
Find out more: Buddhist Monastery Teaching Experience