• Can you tell me a little bit about yourself and what you do?
We are Emmah and Naomi. Together we are the country managers for Kenya. We enjoy working with international volunteers and are passionate about sharing cultural elements, social interactions, and the many traditional norms and practices of Kenya. We were both educated and trained as teachers before working with TGL.
• What makes the country of Kenya so special and what do you love about living here? Where are you located?
Our country Kenya is so special because it has a very rich culture. We have over 40 different communities or tribes, each guided by its own language and culture. We also have very beautiful scenery and hospitable people. Kenya is the hub of migration and if you are lucky you can see the big five (Buffalo, Lion, Elephant, Rhino, and Leopard) in one of our beautiful national parks. It's the ideal place to have the best wildlife experience!!! Currently, we are in two locations; Kirwara Village which is within Gatanga sub-county of Murang'a county, in the central part of Kenya, and in the Maasai Mara.
• What kinds of programs do you have here? How do volunteers get to placements?
We offer several programs : English Teaching, Kindergarten, Culture Week, Agricultural, Medical, Women's Empowerment, Special Education in the central area programs. Down in the Maasai Mara we have the School Assist and Women's Collective programs and more to come. We walk when things are close by or we use our local transportation called a matatu . It is a 14 seater van that may have more people in it than seats. Just as most locals do, we use it to get around to the placements and other locations.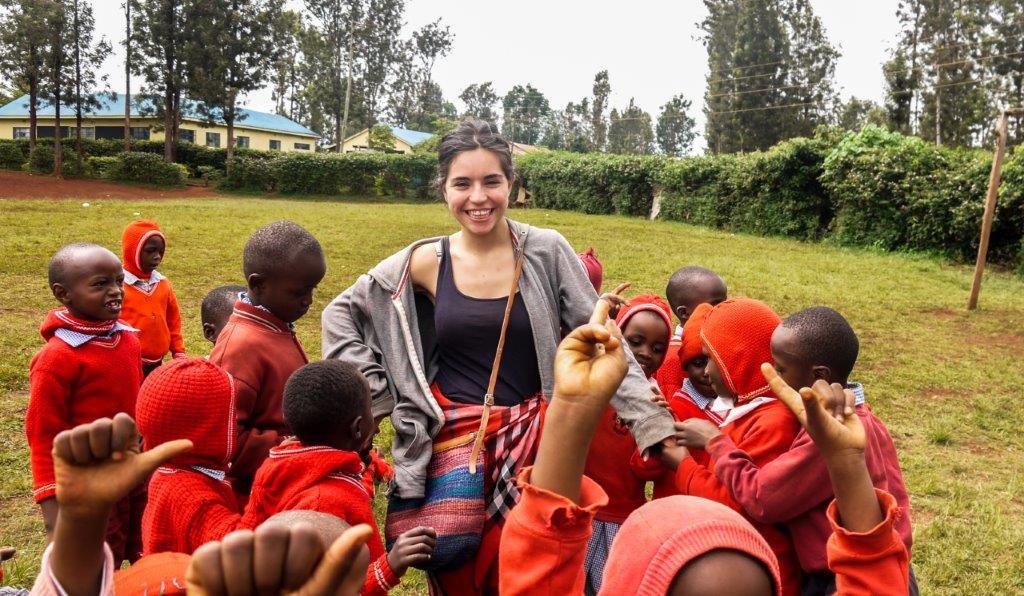 • Have there been many international volunteers in your programs? (solo or groups, male or female, older or younger, avg # of volunteers, etc) Do you enjoy working with them?
Yes, we have had many international volunteers from all over the world both male and female, older and younger, individuals and groups. We enjoy working with them, sometimes there are many here with us and sometimes there may be only one or two. No matter how many it is always a wonderful experience.
• Once volunteers arrive, what can they expect? (arrival process)
After passing through immigration and customs checkpoints, at the Jomo Kenyatta international airport, volunteers proceed outside of the terminal to the meeting point at the curbside where our team member will be waiting for them at the pickup time (1000 or 1400) with their name or The Green Lion on a sign. Sometimes we must wait for other volunteers before leaving. We then transfer all of the volunteers to our centre.
• How do international volunteers manage language and culture barriers?
On the first day we have a cultural introduction lesson whereby we teach our volunteers some basics of the Swahili language, this helps them with communication. Also, many people in the community do speak and understand English, as it is one of the national languages of Kenya. During the orientation, we also share with them about our customs, traditions and norms which helps to break down some of the cultural barriers and immerse themselves in their community engagement experience.
• Can you share some important cultural customs, traditions, norms, or "need to knows" that would help prepare a new participant?
It is our custom that people address community members (including children) with respect, kindness, and compassion. We must all work together to ensure the cleanliness of our body, accommodation, and environment. We should be mindful not to waste food and water, these are very precious in our community. Also, we encourage our volunteers to join us as we celebrate cultural events such as weddings, burial ceremonies, public holidays and other traditional events. This gives them an opportunity to experience real Kenyan culture!! Our norms are generally supportive of community wellbeing and development. Good and beneficial relationships are regarded as essential. Treating people with equality and dignity is very, very important. We inform our volunteers to observe the local patterns of behavior such as not smoking in public and dressing with modesty.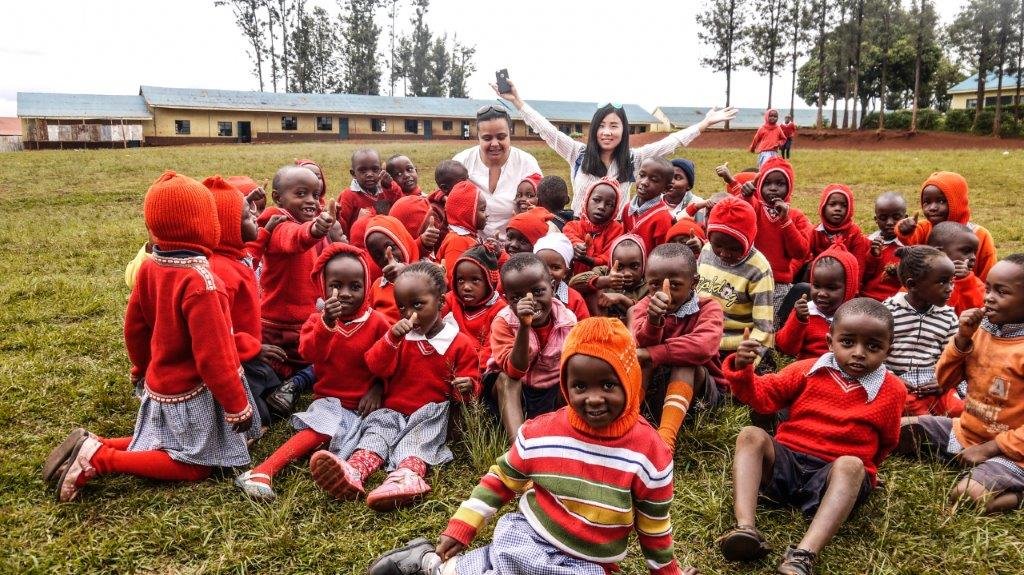 • How has international participation had an impact on your programs and the community?
Through international participation, we have had positive impacts on both our programs and the community. Our children have benefited from learning the languages and history of other countries, during their interactions. We have received school, medical, and agricultural supplies, Some needy families have benefited by having school fees paid, or foodstuff and clothes donated by our volunteers.
• What has been the response from the NGO's and community about interactions with international volunteers?
We have had a very positive overall response from the local schools, hospitals, community-based organizations, and leadership throughout the communities we assist. We have created Impact Reports which detail some of these things. This has led community members and institutions to appreciate the good work we are doing.
• How can a participant tell if your programs are a good fit?
Volunteers can start by taking a look at what they enjoy and then seeing if it matches some of the things we are trying to do in the community. We do our best to give a clear explanation of all our programs so that they know what to expect in advance. If for some reason they do not feel like what they have chosen is a good fit, they can speak to us about it and we can see if there are some changes possible or maybe another program that suits them better. Every Thursday morning our volunteers fill in an online evaluation form about our programs, coordinators, food, and accommodation. This helps us to know what should be improved and/or what should be given more attention.
• What can volunteers expect to experience in a typical day here?
In a normal day our volunteers expect to have breakfast at 8.00 am, and be ready to leave for their respective programs at 08.33, have lunch at 13.00, go back if the program calls for it, lesson plan for the next day or be involved in local sightseeing or other self-directed activities such as mat making or beadwork. Dinner is usually at 18.00. Your evenings and weekends are your free time to do as you wish. But we have quiet time as of 22.00 out of respect for our volunteers and the community.
• Can you tell me about the food and accommodation for volunteers?
We do our best to serve well-balanced Kenyan meals which mainly consist of some meat, vegetables, potatoes, rice, eggs, chapati, ugali and fruits among others. We serve three meals on weekdays and two on weekends. Clean drinking water and tea are available all day. We have simple, yet clean and comfortable accommodations. The rooms are single-gender (unless booked as private) and have 2 – 4 beds per room. When possible we have hot water showers, sometimes we have to use bucket showers where volunteers must heat the water themselves. It is not uncommon for power to go out or for water to stop flowing from the tap in our locations. This is why we ask that you keep your electronics charged and manage your water consumption carefully.
• What are the best places to visit or things to do on days off, while here? (weekend trips, local sightseeing, activities, food, etc).
On days off the participant can visit local waterfalls, local man-made dam (Ndakaini dam – where they can also view the beautiful tea farms), the fourteen falls, the elephant and the giraffe centers in Nairobi, Nairobi national park and the Bomas of Kenya (this is where we have preserved our Kenyan heritage in terms of traditional houses, music, and dances). They can do a three-day safari in the Maasai Mara National park to see the migration of the wildebeests and other animals that make up the Big 5. Nakuru national park and Naivasha hells gate and biking is another must see place while in Kenya.
• What facilities are available nearby and what can a participant expect to spend on weekly expenses here?
We have small shops and a local market with fresh produce from the area farms. Thika town is usually a 33- 45 minutes matatu ride away and volunteers can access banks, curio shops to buy souvenirs, and big supermarkets. A participant spending will be determined on the activities she/ he will undertake in the course of the week but just for local snacks and travel 25- 33 dollars/euros is more than enough (more of course if you will be travelling or making large local purchases)
• How can volunteers best contribute to their programs and their own experience?
The volunteers can best contribute to their programs by being open minded, flexible, respectful of the people and the culture, and on time for the programs. They should also be actively involved in all activities pertaining to the program at the same time being ready to learn and share their knowledge and ideas as well. If they want to bring some items (gently used clothes, books, new medical supplies, etc.) to donate to the schools, hospitals, or the community, they are more than welcome to do so. Their generosity will be greatly appreciated!