About me
Hello, my name is Alexandra and I'm 23 years old. I am from Germany and I finished my studies in pedagogy this year. I love to work with kids, for this reason I decided to join a program in the kindergarten for six weeks. After my master program, I really want to work at university as a teacher and to write scientific articles about education and educational theories. Since I'm 10 years old I really wanted to travel to Asia, especially to the southwest of Asia. Because of this, I chose Bali in Indonesia for my program.
Schedule
My adventure began in Frankfurt, Germany, with my first long-distance flight. I was quite scared because of this new experience, but both flights were nice. After arriving in Denpasar, I went to the accommodation in Ubud with other participants. Our Taxi driver was very polite and it was a funny drive to Ubud. From this moment on, I wasn't scared anymore.
After a good night, I joined the introduction week, which was very interesting. I learned a lot about the Balinese culture, language, spiritual and Hindu holidays and we went to different places like the Monkey Forrest in Ubud (tip: be beware of your belongings, for example bags without zippers :D) and a rice field. We even watched a traditional dance in a temple.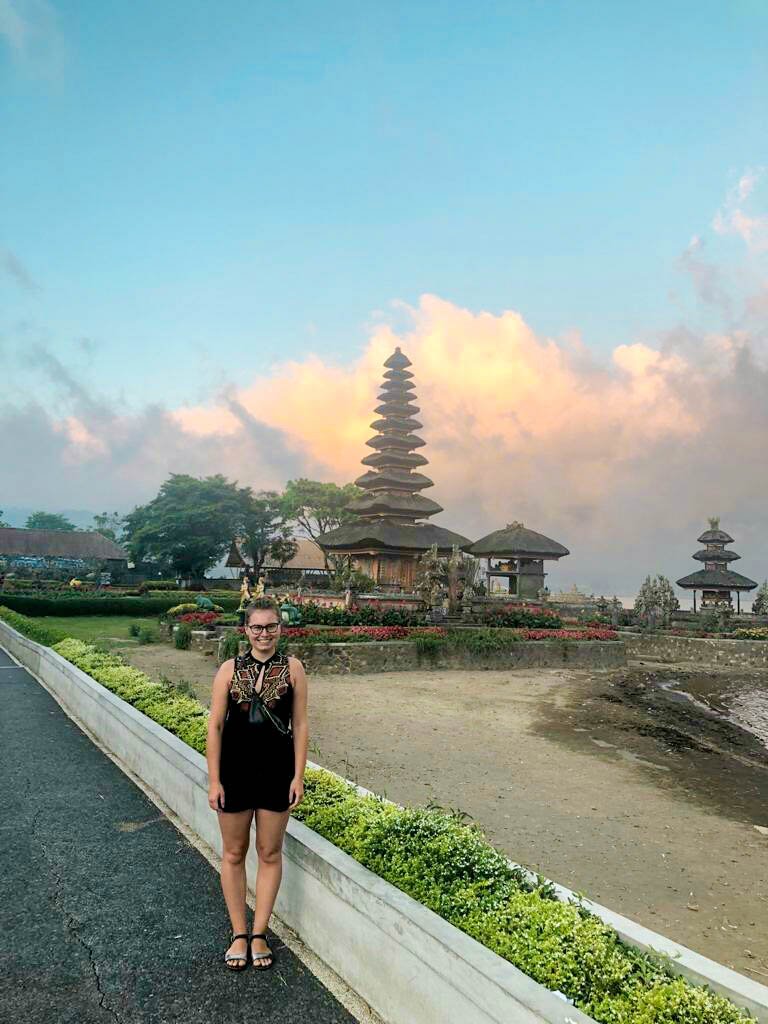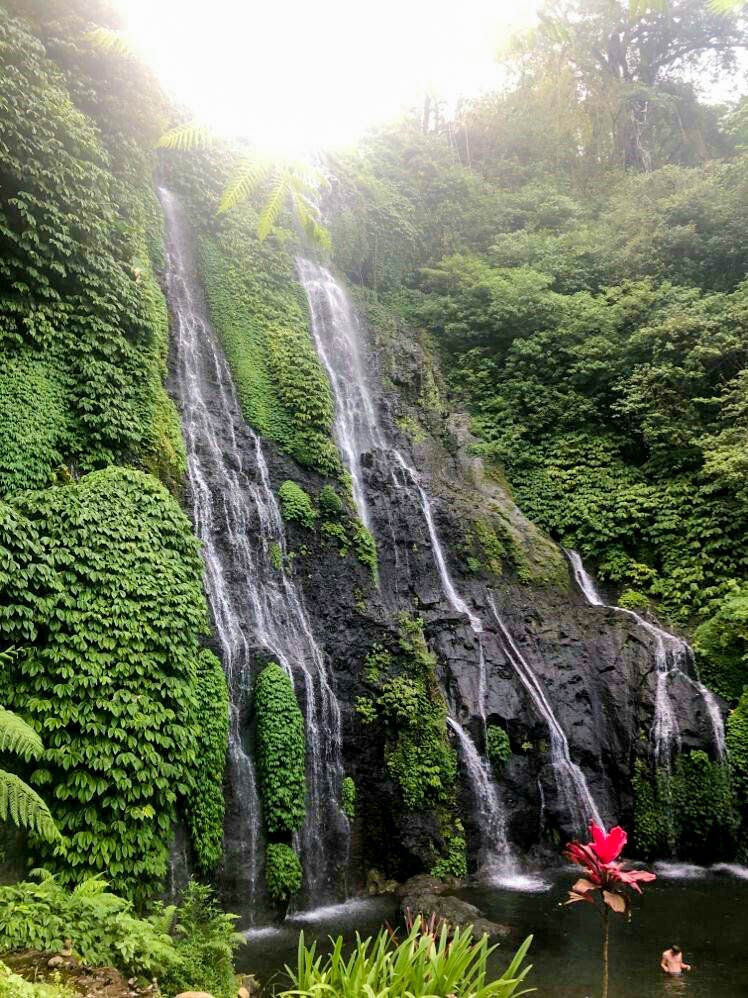 Kindergarten program
After an informative introduction week, I started my kindergarten program. I went to the kindergarten for five days. The day at the kindergarten starts at 8 o'clock and goes only until 10 o'clock, six days a week. It starts with a ceremony or morning routine every day. After that, the lessons begin, because kindergarten is more like a primary school in Bali.
For the kindergarten program I've had to prepare topics for lessons, worksheets and to give tasks to the children. I taught them every day from Monday to Friday until and I tried to variegate tasks with drawing, cutting and painting. I let them repeat significant words so that they start learning basic English at a young age. Kindergarten topics were animals, plants, environment and body parts, but it depends on the curriculum. At this point, I really want to underline the importance of environment as a topic. Bali has a beautiful nature but there is a huge problem with litter. In my eyes it's important to teach the Balinese children about environment and the causes of pollution. There has to be a change and it starts with education.
For one week I went to the Teaching program in the primary school as well. It was a different experience because the teaching methods and levels are different from those in the kindergarten. Nevertheless, the children were nice and tried their best to learn English. Tip: Stickers are very good rewards!




Working with my class
I had about 28 children in my kindergarten class with different levels and behaviors. Some of them were fast during the tasks, but some of them needed more time, more support and help. That's the interesting and challenging point in the kindergarten program, I guess. You have to adjust to the class and to individual kids. In addition to that, I had to prepare enough for my lesson and be aware of mistakes to correct these. It was quite challenging to work with the teachers because of the teachers' English skills. In case of doubt, the coordinators were always there to help me. I was also afraid to stay in the front but it was nice and I enjoyed being their teacher.
Adventure Week
During my kindergarten project I joined one week the Adventure Week. It was a good chance to meet the other participants from the accommodation and to see different places. Together, we had a lot of fun. It was a little break from the kindergarten and I will remember this week forever. I can only recommend doing the Adventure Week, so you will see lovely places like the Turtle Conservation and Mount Batur and you're getting the opportunity to do funny activities like a cycling tour or river rafting.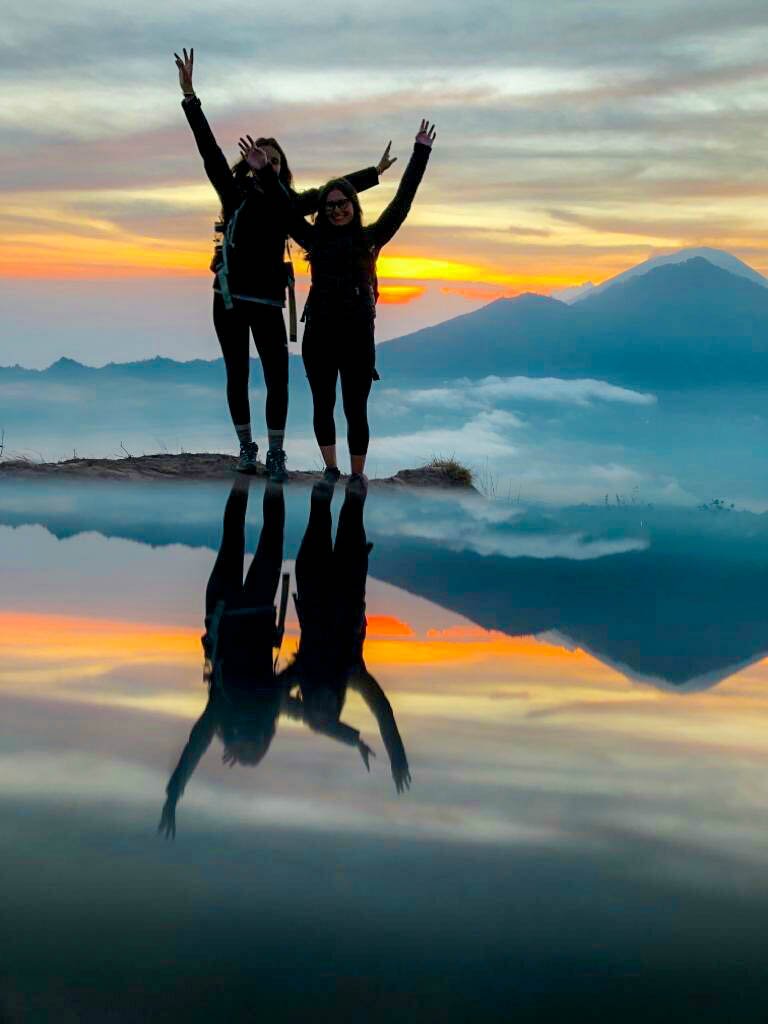 New guys became friends
Before I went to Bal, I was a little bit afraid of being alone or not getting in touch with other people. But my fears flew away even when I arrived at the airport and met a few participants.
I've spent all my whole days with other volunteers. We got to know each other better, but we also shared our personal stories. Naturally, there were sometimes some disagreements between the participants because we are individuals with different perspectives and habits, but this is an inevitable experience. Altogether, I met wonderful people and I'm sure we will stay in contact.
Especially a big thank you to all coordinators, drivers and kitchen women. There was always a large amount of delicious food for everybody. The taxi drivers were very nice and they endured our singing every time for hours. Our coordinators tried their best to help us, participants, in different ways. They helped us to prepare our material for school and kindergarten or to give recommendations for weekend trips. They were very funny, kind, open to spontaneous trips and they drove us many times to the next ATM or supermarket.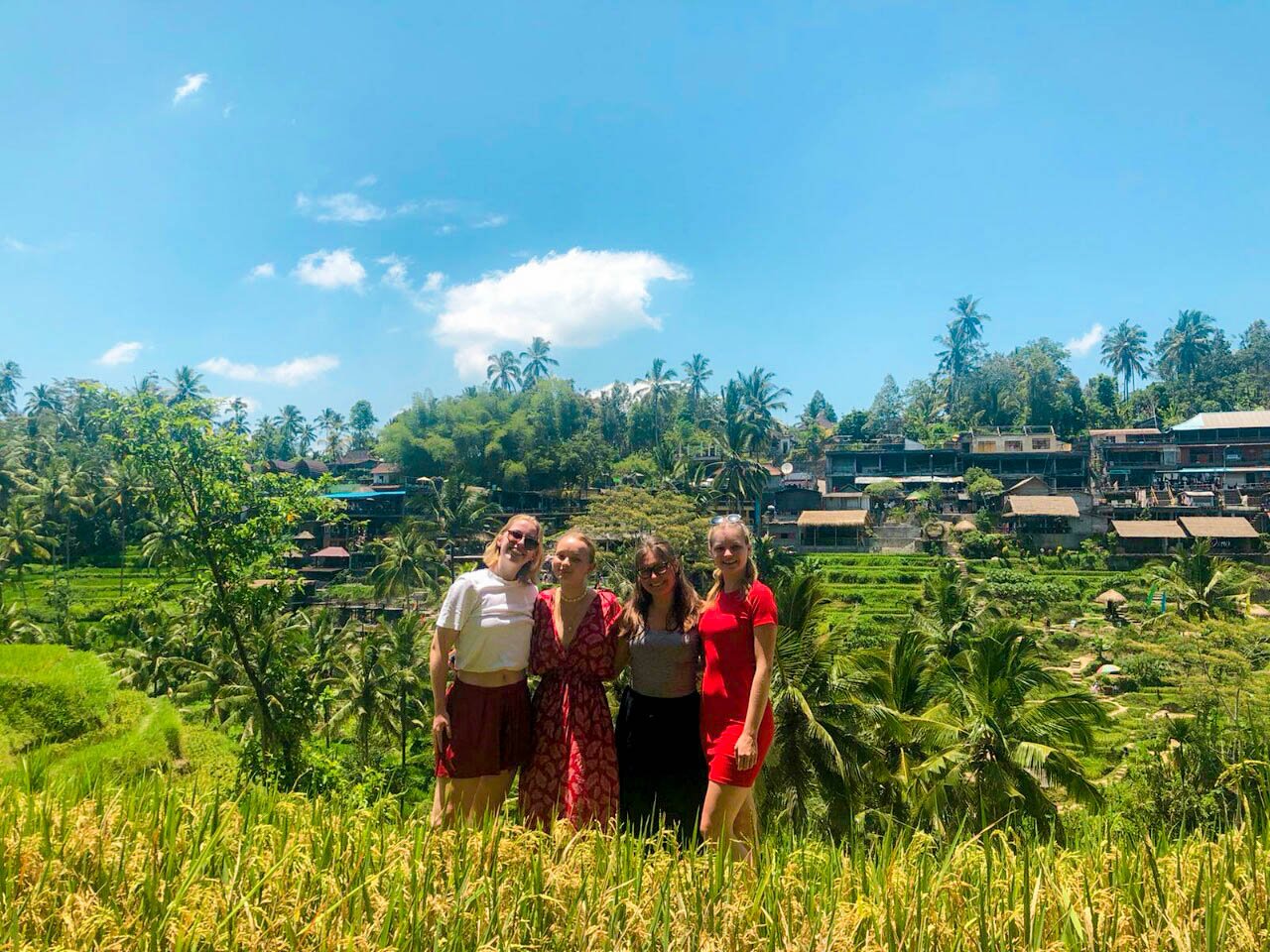 Places I've visited – Highlights
It would take a whole day to name every place I've visited. Just some of them: Uluwatu, Tegallalang Rice Terraces, Canggu, Monkey Forrest, Pura Luhur Tanah Lot, Brahmavihara – Ahama, Banyumala Twin Waterfalls, Kuta, Nusa Penida, Goa Gajah and so on…. Because of that, I want to tell something about my highlights during my stay here.
I want to start with Nusa Penida, especially with the Kelingking Beach and the Diamond Beach. These two beaches are awesome places. The ways leading down to the beaches are quite hard but it's worth it. I saw many pictures of them on social media but it's totally different to see it in real life. Take care and wear appropriate shoes for your hike up and down ? Another tip is to stay there until sunset. I've never seen so many beautiful colors in the sky! I did a snorkeling tour on Nusa Penida as well. The best part about it was to see a real turtle in their natural habitat.
Furthermore, I want to share one of my experiences during the Adventure Week, namely hiking on Mount Batur to see the sunrise. Hiking up the mountain is quite hard and exhausting. On the top of Mount Batur I saw a wonderful sunrise with beautiful colors. I've never expected that kind of beautiful nature! I will never forget this moment when I stood on the top of a volcano, surrounded by the caldera and seeing the beauty of nature! I definitely recommend this hike.




Our guides were very nice and kind. One of them told me different stories about Mount Batur and the last eruptions. He was one of the locals, so he showed me some places with hot steam and took many fantastic pictures of me. I talked to him all the way down and I learned something new about the Balinese people and the local nature. I don't know why but I will never forget this conversation because it was a very interesting and unexpected talk. I hope you will have that kind of experience as well.
To take part of the local community was an awesome feeling. I had the chance to stay next to families and to see how they live together. I'm really thankful to be a part of their lifestyle and I highly recommend joining them, even if it's just small talk.
Last but not least, I want to mention my kindergarten project. It was the main part of my trip to Bali and the reason I traveled between my Bachelor and Master. At first, I was quite afraid of the language and if the children and teachers will accept me but I felt very comfortable and the teachers and children were very nice and respectful. Even the troublemakers were nice, so it was easy to stand in front of the class.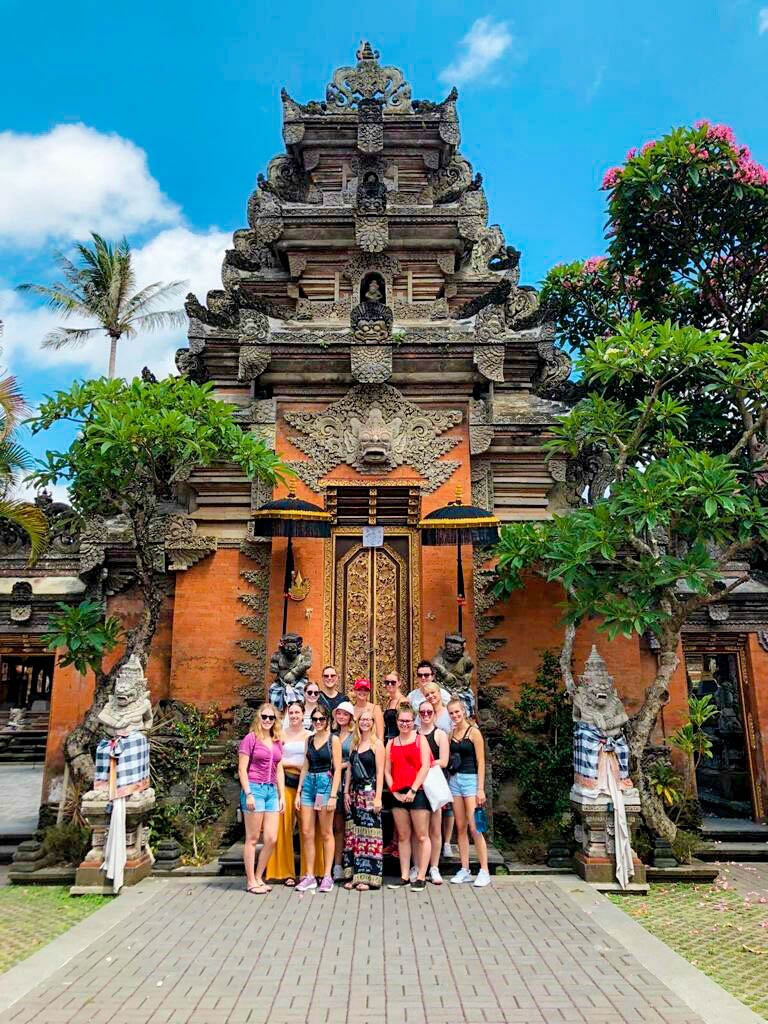 The best experience I've had was to see how fast they can learn and to observe their development. At that point, I highly recommend doing the project for a longer period. It's really nice to know the kids better and to see on which level they have started and where they are now. I am proud of them and of me too because I was able to help them with my worksheets and lessons. I've created so many different sheets and it makes me happy that a new participant can use it after my departure. Furthermore, I can use my experiences for my own development and now I know more about working with kids. Now I know more about problems of learning, teaching and education. I know more about successful methods to teach them. All that will help me with my study and future work back in Germany.
The result is that I learned something new about me and also about a completely new culture. During my studies, I had been taught to reflect my own person.
This trip helped me to deal with myself. I want to do this kind of educational work in my future.
Alexandra, Germany