Exciting news! We have just added several new projects in stunning Madagascar, a country full of biodiversity, unique native animals, paradise beaches and lush jungles!
Although a large island, Madagascar is also very poor, so your help here will go a long way into improving the lives of local communities. Madagascar is one of the world's poorest countries, with around 74% living below the poverty line.
The country is 4th highest in the world for chronic malnutrition, with almost 1 in 2 children under five suffering from stunted growth. Madagascar is also prone to climate change issues and natural disasters, such as cyclones. This can badly damage infrastructure and people's homes. Around 46% of the population in Madagascar have access to clean drinking water & 85% lacking adequate sanitation facilities.
Whether you choose to help on a construction project, environmental, o teaching project, the assistance you will provide directly benefits the communities we work with.
Where is Madagascar?
Madagascar is an island around 400 kilometres off the coast of East Africa. The island is known for its unique fauna and flora and diverse landscapes. Over 90% of Madagascar's wildlife is native and cannot be seen in the wild anywhere else on earth.
Lemurs and baobab trees are two things you might think of when thinking of Madagascar. As well as some incredible wildlife and scenery, there's also plenty of outdoor adventures to be had too, like hiking and water sports.
All our current projects are situated on the island of Nosy Be, which is located off the northwest coast of Madagascar.
What is the climate like in Nosy Be?
In Nosy Be, the climate is tropical and hot all year round. There is a rainy and hot season from November to April, and a dry season from May to October.
The rainiest months here are December, January, and February. During this period, the rains are frequent with only a few days of sunshine.
Is Madagascar safe?
Nosy Be is far safer than other parts of Madagascar, but you should still be cautious all times. Make sure you have an insurance in case of any incidents such as health issues or thefts. It is always best to be extra careful in the crowded places such as markets, beaches, and public transportation.
Do not carry valuable items with you and in case of theft or loss of your valuables please file a complaint at the police. The police report will help you to claim the loss from your insurance.
Please don't be put off though, as long as you are sensible and stick to safety guidelines, you will likely have a perfectly safe trip! The staff are on hand at all times, and you will be staying in a safe accommodation house with other volunteers.
What projects are available in Madagascar?
We have something for everyone in Madagascar, or you could combine projects to get an all round experience!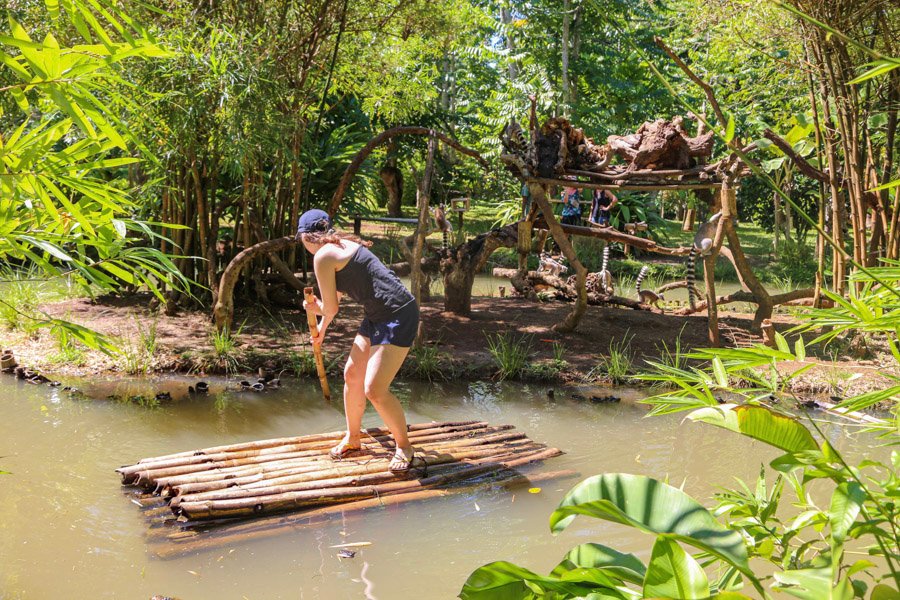 On this exciting program, volunteers will be involved in maintaining and preserving Madagascar's wildlife heritage, by working with a private lemur species rehabilitation centre. Deforestation and hunting have led to over 100 species of Madagascar's Lemur population becoming endangered, so help to protect the species it vital.
You will be involved in preparing food according to the diet chart, preparing the food involves chopping vegetables and fruits for the lemurs in the morning and assisting the local staff and vet with the health checks which take place once a month. You will also have the opportunity to assist the local staff in caring for other species such as tortoises, chameleons, and other species residing in the park.
During the afternoon, you will be involved in mangrove conservation activities wherein your presence will be required along with our coordinators to plant mangrove saplings, prepare saplings at the plant nursery, nurture the saplings, and clean the mangrove area from pollutant materials.
This project would suit all wildlife and nature lovers, who don't mind getting their hands dirty and enjoy working outdoors.
Teach young kindergarten children through games, singing, dancing, art and anything else you can think of! Being taught English at a young age will be invaluable for them later on in life, so you can play an important role in giving them a head start.
As the children are still young, the teaching is informal and they will want to play with you more than be 'taught'. However, by getting them excited to come to school and learn, you can install healthy and lifelong learning habits, that will be vital to them in later years.
You can teach the children basic English phrases such as simple greetings, colours, animals, foods, etc and incorporate games and picture cards to make the lessons fun. The kids are very excitable and will welcome you exceptionally, partly due to the nature and friendliness of the local people but also as you might be the first foreigner they have spoken to!
Be sure to bring some pictures of your family and home country to the project as the kids love to see where you come from and it can provide excellent interaction.
If you prefer more of a teaching environment or want to teach older kids or secondary students, then choose our teaching program.
You will be teaching children from different age groups and with varying learning abilities. You are welcome to use your own teaching materials and encouraged to get creative. You can also use the course book as guide and help the children with their conversational and spoken English. During your volunteer project you can also teach other subjects such as mathematics, history, science, geography, computer, technologies, music and arts and crafts. Through fun, educational games you can help the kids with their personal development, environmental awareness and general health and safety.
Higher education in Madagascar is taught in French and Malagasy but knowing English is something that will be extremely valuable to them in later life. Nosy Be is one of the most famous tourist destinations in Madagascar so knowing how to speak English can increase the children's job prospects in the future.
For those interested in conservation and protecting the environment, we have an exciting mangrove project to get involved in. You will assist in important work, maintaining and preserving the islands precious wildlife and natural heritage, through conservation of mangrove trees.
Espace Zeny is a cultural and ecotourism reserve, around a 10-minute drive from Hell-Ville. Bordered by mangrove forest, the centre has a space that trains young people from rural communities about how to farm organically.
Work on planting mangrove forest seedbeds. Young plants are first used to reforest an example site, to make a living classroom for the children to learn first-hand. Your efforts on this project will have a lasting effect on local communities.
If you love working as part of a team or are volunteering with a group of people (friends, school groups, etc) then construction projects are an excellent option. Working as a large group you can see some quick results and see in person the benefits the locals gain from your efforts.
This Construction and Renovation project aims to build and renovate school buildings which are essential for the growth and development of the children.
You will volunteer alongside a local coordinator, local families and other participants. This can be hard, physical work, involving manual labour as you will be brick laying, carpentry, painting, waterproofing, laying tiles, landscaping & gardening and also improving the community's hygiene and sanitation facilities.
IVI's cultural introduction week is a fantastic way to gain an insight and learn more about the Malagasy lifestyle. Give yourself a head start by preparing, getting to know and feeling comfortable in your new surroundings. This week, we will be in the stunning island of Nosy Be.
Your week will not only include Malagasy language classes and lessons on cultural norms, but it will also be packed with fun activities to natural hotspots. You will also be introduced to some of the locals via painting, dancing and cooking classes. You'll have a chance to fish with local fishermen and have a trip in a traditional canoe.
This is an insightful experience to immerse yourself in the local way of life, gain an insight into local culture and to make some friends before your project starts!
We hope you enjoy our new projects, giving back is such a rewarding experience and Madagascar such a unique country to do it in! Any further questions, please do reach out to is 😊