You may have noticed we have recently added two new projects in Pokhara, Nepal. Our teaching program and kindergarten program in Pokhara offer a more relaxed location than that of the bustling capital city of Kathmandu.
Most people in Nepal cannot afford to travel, and in the smaller villages, there is sometimes barely any contact with the outside world. Foreign teachers can provide students the opportunity to form relationships and learn about different backgrounds and cultures. Local teachers can also learn new teaching methods and techniques!
If you have not heard much about Pokhara then read on to discover all the exciting places to see here! Set amongst the backdrop of snow-capped mountains and beautiful lakes, Pokhara is the starting point for one of the most spectacular treks, the Annapurna Base Camp trek!
Pokhara is both a place of relaxation and that of mountain adventures- so take your pick! Below are some of the things you get up to on the weekends, or before or after your volunteering program.
Phewa Lake
One of the most beautiful sites in Pokhara and a popular tourist spot, Phewa Lake is a peaceful spot for quiet relaxation. Plus, it looks amazing at sunset or sunrise!
There are plenty of lakeside cafes to chill out in or you can even rent a boat, or 'doonga', and paddle around the lake. You can book for 1 hour or the whole day, and can book it with a boatsman if that makes you feel safer 😊 The Juicery café along the lakeside is very popular and is known for there delicious food and drinks!
Trekking
There are a number of treks in Pokhara, Nepal all ranging from a few days to two weeks or more.
For a shorter trek, the 4-day Poon Hill trek is very popular and is basically a shorter version of the Annapurna base camp. This still takes in some incredible views over the Himalayan mountains, eventually reaching Poon Hill at 3,200m. This is a great trek for acclimatisation or to ease yourself into trekking. We may be able to arrange this trek if you want to add it to your program, just enquire at booking!
If you would like to do the longer trek to Annapurna base camp (this is a challenging but truly stunning trek!), then we have also just added a 'trek and volunteer' program, in which you will spend a week in Kathmandu, then the two week Annapurna trek, and then a week of volunteering back in Kathmandu (the volunteering can also be extended!).
You will pass through rhododendron forests, mountain villages, staying at local tea houses, through humid rainforests, right up to snow capped mountains! This is a challenging trek at altitude so you will need to have a good level of fitness, but the rewards are some of the best scenery and accomplishment! Plus, afterwards you get to give back to developing communities for a truly worthwhile trip!
Sarangkot View Tower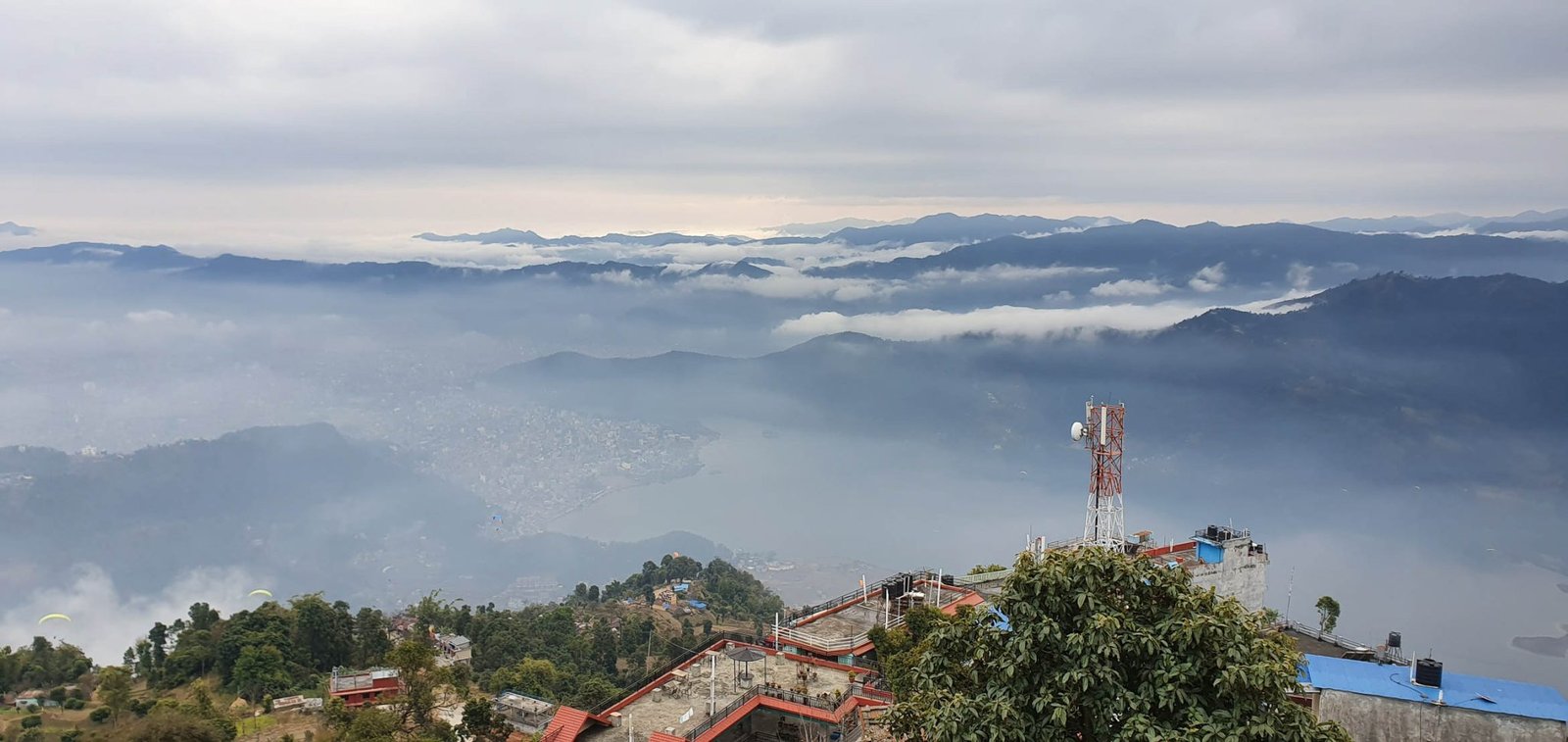 You can get a taxi up to the Sarangkot viewpoint for some incredible views over the Annapurna range. Tip: go at sunrise to watch the sun rise up over the mountains, the early start will be worth it as the tips of the mountains are slowly lit up in bright orange!
International Mountain Museum
This is a really interesting museum with stories about the indigenous people of the mountains, as well as all about the expeditions which have taken place and the climbers who have explored some of the highest peaks in the world. It explains about the culture of the inhabitants of the Khumbu region and showcases artefacts from various expeditions. You can walk here in around 45 minutes or take a taxi.
Paragliding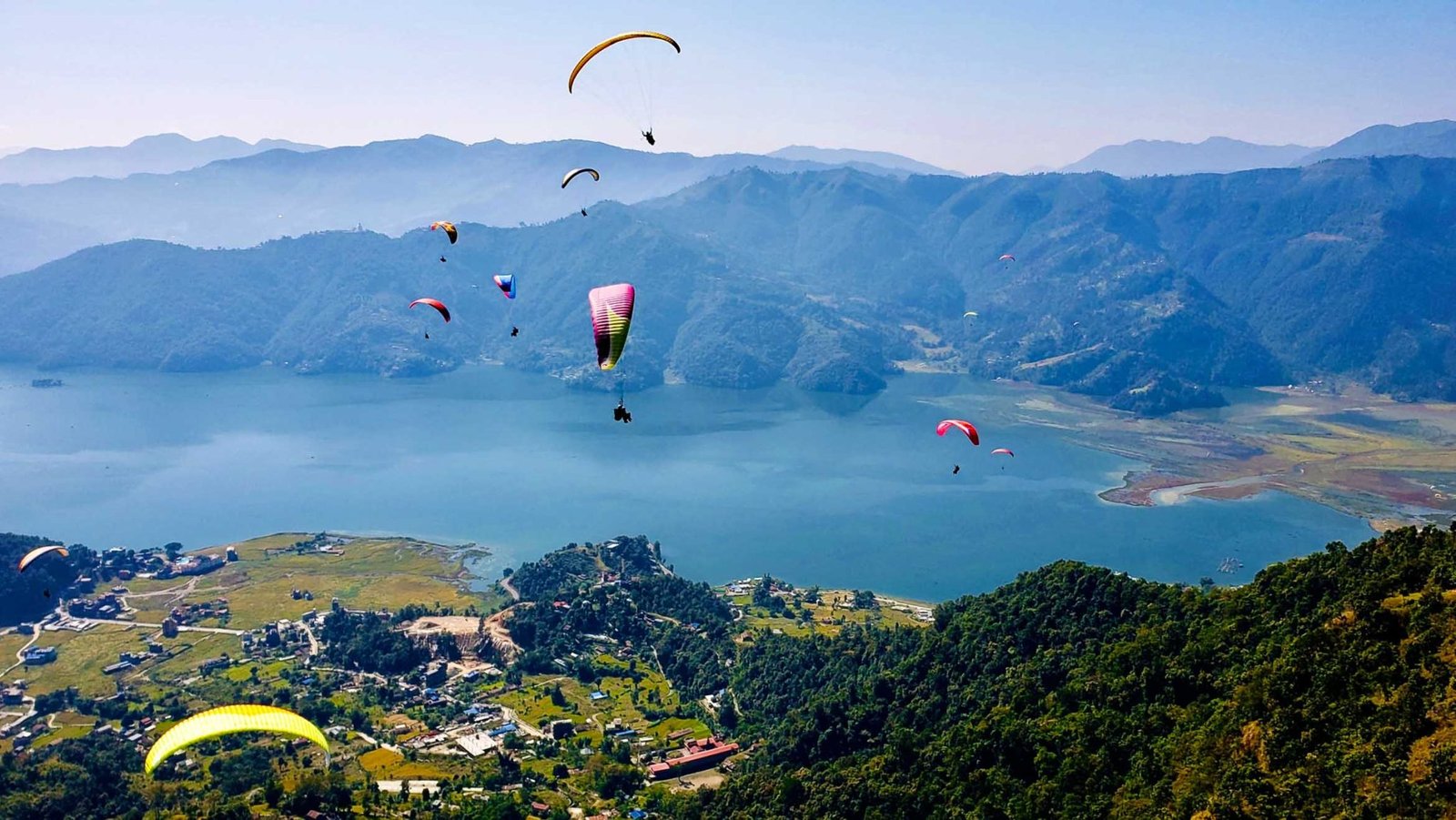 For the adventurous and active amongst you, then paragliding in Pokhara, Nepal will give you some of the most spectacular scenery! You can book this experience through a local travel agent but make sure you go with a reputable company which has good safety reviews.
You will fly over the lake with views to the forests and snow caped mountains of the Annapurna range in the distance. This is some of the best paragliding in the world!
World Peace Pagoda
Hike or get a taxi up to the World Peace Pagoda for some of Pokhara's most stunning views. You can even take a boat from Lakeside in Pokhara across to the side below the pagoda. Then it's around a 45 min pretty steep climb to the top. The building is a bright white and can be seen all the way from the lakeside area.
Enjoy watching the sunrise over the mountains in the distance and take a look around the little village at the top.
That is just a few of the amazing things you can do in Pokhara, Nepal. Volunteering on top of that gives you an experience you will never forget. You will get to explore this incredible country and immerse yourself in the local culture before it feels like a second home!
Please see here for all our programs in Nepal.