Laos, also known as the "Land of a Million Elephants," is a captivating and culturally rich country nestled in the heart of Southeast Asia. From ancient temples to stunning natural landscapes, Laos offers a wealth of experiences for travellers seeking adventure, tranquillity, and a glimpse into its fascinating history. In this blog post, find out the best things to do in Laos, as well as how get around, the weather, and the best time to visit this beautiful country.
Explore Luang Prabang
Luang Prabang, a UNESCO World Heritage site, is undoubtedly one of the highlights of any trip to Laos, and just so happens to be where our volunteer programs are located! This charming town is nestled between the Mekong and Nam Khan rivers, surrounded by lush mountains. Its historic centre is home to countless gilded temples, including Wat Xieng Thong and Wat Mai Suwannaphumaham, which showcase exquisite architectural details. Don't miss the opportunity to rise early and witness the captivating alms-giving ceremony, where saffron-robed monks collect their daily sustenance from locals.
Cruise Along the Mighty Mekong River
Embark on a scenic cruise along the majestic Mekong River, which meanders through Laos' picturesque countryside. From Luang Prabang, you can take a boat trip to the stunning Pak Ou Caves, which are filled with thousands of Buddha statues. Alternatively, venture south to the 4,000 Islands region, where you can relax in hammocks, spot the rare Irrawaddy dolphins, and explore the impressive Khone Phapheng Falls.
Immerse Yourself in Vientiane's History
Vientiane, the capital city of Laos, offers a delightful mix of ancient temples, French colonial architecture, and a laid-back atmosphere. Visit the iconic Pha That Luang, a golden stupa that is a symbol of Lao nationalism and Buddhism. Explore the atmospheric streets of the old quarter and admire the intricate designs of Wat Si Saket, the oldest temple in Vientiane. Don't forget to catch a stunning sunset over the Mekong River from the riverside promenade.
Experience Traditional Lao Culture in Luang Namtha
For those seeking an authentic cultural experience, a visit to Luang Namtha in northern Laos is a must. This region is home to diverse ethnic minority groups, each with its unique traditions and customs. Embark on a trek through the lush forests, visit local villages, and learn about traditional farming practices. You can also participate in a homestay, where you'll have the opportunity to immerse yourself in the local way of life and enjoy delicious Lao cuisine.
Discover the Natural Beauty of Kuang Si Waterfalls
Escape the heat and venture to the refreshing Kuang Si Waterfalls, located just outside Luang Prabang. This multi-tiered waterfall is a breathtaking sight, with crystal-clear turquoise pools that are perfect for a refreshing swim. Take a hike through the surrounding jungle to discover hidden cascades and enjoy the peaceful sounds of nature. Don't forget your camera, as the vibrant blue hues and lush greenery create a postcard-perfect setting.
Unwind in the Tranquil Si Phan Don
Si Phan Don, also known as the Four Thousand Islands, is a serene archipelago situated in the Mekong River. This tranquil oasis is the perfect place to unwind and escape the hustle and bustle of everyday life. Rent a bicycle and explore the islands at your leisure, passing through lush rice fields and quaint villages.
Marvel at the Enigmatic Plain of Jars
Located in the Xieng Khouang province, the Plain of Jars is a mysterious archaeological site that will leave you in awe. Spread across the countryside are thousands of giant stone jars, believed to be over 2,000 years old. The purpose of these jars remains a mystery, adding to the intrigue of the site. Explore the different jar sites and learn about the fascinating theories surrounding their origin and significance. It's a unique and captivating experience that shouldn't be missed.
Embark on an Adventure in Vang Vieng
For adrenaline junkies and nature enthusiasts, Vang Vieng is a paradise. Surrounded by limestone karst mountains and the Nam Song River, this small town offers a range of adventurous activities. Spend the day kayaking through caves, or hike to viewpoints for breathtaking panoramas. If you're up for a challenge, try rock climbing on the towering cliffs. After an exciting day, relax in one of the riverside bars and soak in the stunning sunset views.
Volunteer in Laos
One of the best things to do in Laos is to volunteer! We have teaching, kindergarten, construction and culture programs to choose from. The volunteer guesthouse is situated on the main road of the world heritage town of Luang Prabang and offers beautiful views from its third floor location. It is conveniently located within 3-5 minutes' walking distance to the night market and the town centre. Our program offers a variety of traditional Laotian dishes for participants to enjoy.
See all our Laos volunteer programs here: Volunteer in Laos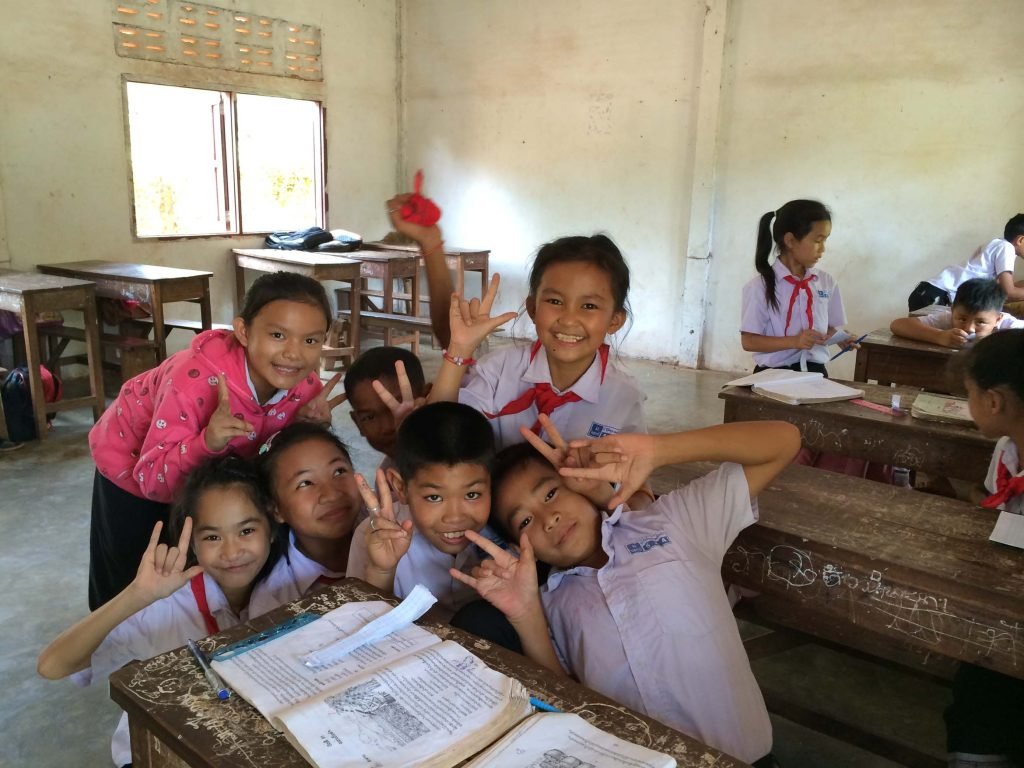 Getting Around Laos
To explore the best of Laos, various transportation options are available. Domestic flights connect major cities like Vientiane, Luang Prabang, and Pakse, providing a convenient and time-efficient mode of travel. Buses are a popular choice for getting between cities and towns, offering both standard and VIP services. However, be prepared for longer travel times due to the country's mountainous terrain. Tuk-tuks and songthaews (shared pick-up trucks) are common for short distances and within towns. Renting a bicycle or motorbike is an excellent way to explore smaller towns and rural areas at your own pace.
Weather in Laos
Laos experiences a tropical climate, characterised by distinct wet and dry seasons. The dry season, from November to April, is the most popular time to visit, as the weather is generally sunny and pleasant. Temperatures can range from 20°C (68°F) in the cooler months to 35°C (95°F) in the hotter months. The wet season, from May to October, brings rainfall and occasional thunderstorms, but it also contributes to the country's lush green landscapes.
Best Time to Visit Laos
The best time to visit Laos depends on your preferences and the activities you plan to engage in. The dry season, particularly from November to February, offers pleasant weather and is ideal for exploring temples, embarking on outdoor adventures, and participating in festivals. However, this period is also the peak tourist season, so popular attractions can be crowded. If you prefer to avoid crowds, consider visiting during the shoulder seasons of March to April or September to October, when the weather is still favourable, and tourist numbers are relatively lower.
In conclusion, Laos is a captivating destination that offers countless of experiences for travellers. From exploring ancient temples in Luang Prabang to cruising along the Mekong River, immersing yourself in Lao culture, and discovering natural wonders, this country has something for everyone. Whether you seek adventure, tranquillity, or cultural immersion, Laos will leave a lasting impression on your heart and soul. So pack your bags, embrace the charm of the country, join a volunteer program and help to give back at the same time!