Many solo female travellers wanting to travel and volunteer in Ghana may be wondering how safe it is to visit. Whilst in many African countries you should always exercise a certain degree of caution, Ghana is a very welcoming place, and the locals are extremely friendly. In fact, Ghana has come in second as one of the safest African countries, according to the Global Peace Index (GPI) for 2022.
Many of our volunteers are solo female travellers so don't worry, you are not alone! There are usually several other volunteers staying at the volunteer centre at any one time, so you can easily make friends once you have arrived. Our local coordinators will run through everything you need to know about the local areas, including giving you health and safety advice, and you will be told which areas or activities to avoid.
In the major cities such as Accra (which is where our current projects are based), the international tourists tend to gather in the more centrally located bars and cafes, which are safer areas than going off the beaten track.
As you will be volunteering, you have the reassurance that your accommodation, meals, airport pick up and local support are all included, making a solo trip much less daunting. You will likely make friends with other volunteers so will have other people to explore this amazing country with.
Ghana has many wonderful places to explore such as the jungles of Kakum National Park, to the Cape Coast, museums in Accra, Aburi botanical gardens, waterfalls, forts, art galleries and more!
As a solo female traveller in Ghana, being concerned about your safety is completely understandable, and, rather sensible. As with any place, your safety should be your main concern and knowing what to expect and some of the local norms can go a long way.
Below are some of issues you may encounter and things to be aware of.
Marriage Proposals
Personal space is not really a thing in Ghana, and you may at times feel strange about people grabbing you to get your attention, which goes for anyone travelling in Ghana, not just women. Men can sometimes come up to you and put their arm around you or even ask for a marriage proposal.
If you make it known that you do not have a husband or boyfriend (which can mean the same thing in Ghana), then you may find some harassment from the local men. This is usually harmless and to be honest, it is better to just say you are married and therefore not interested.
Ghana is still a rather patriarchal society, where women sometimes do not have the same freedom or rights of speech as in Western countries, so when speaking to the local men, it is best to be polite but firm. If you start to get angry and rude, this could lead to conflict best avoided. Be sure not to be too polite though as this may seem like an invitation for a relationship with them – ahh! Finding the line in between can be frustrating but it is just something that needs to be done. Some women even where a fake wedding ring on their fingers, which may work at times!
Pickpocketing and Theft
The lower-level crimes such as pickpocketing are far more common than more serious crimes such as kidnapping, which are rare. Pickpocketing and theft have seen a rise in Accra and can be fairly common.
Places in the big cities, particularly crowded places, and at the beach are all high-risk areas for pickpocketing. Always be aware of your surroundings as pick pocketers often work in groups, with one person distracting you, whilst the other steals your belongings.
Be alert and on guard at all times and keep your belongings close. Do not attract attention to yourself by walking around with expensive watches, jewellery, or electrical equipment like digital cameras. Also do not stick your hand out of a car whilst filming or trying to take a photo of something, as thieves often snatch belongs whilst driving past on motor bikes.
Only carry around with you what you need for the day and leave the majority of your money and valuables such as your passport, back at the accommodation.
Dress Conservatively
As a woman, there are still many sexist views towards the female sex and Ghana is still a male dominated society. You are advised to dress conservatively covering shoulders and above the knee, as this may invite unwanted attention otherwise.
Don't walk alone at night
This goes for all volunteers but particularly solo female travellers. It is best to not go out after dark alone as it can be dangerous. If going out in the evening always go as a group and get a trusted taxi to take you there and drop you off. We advise all our volunteers to always travel with another volunteer, day, or night.
If you want to have a few drinks in the evening, then be very careful not to drink too much, always make sure you are in a group and never leave any drinks unattended. Drinking too much can put you in a vulnerable position so we advise against this.
Sexual assaults and kidnappings
Whilst there have been some isolated incidents of rape, sexual assaults and kidnappings, these crimes are still uncommon in Ghana, with petty crime being the most common.
The best way to avoid putting yourself in a dangerous situation is to stick to the safer areas, and do not go off the beaten track or to remote areas, or those which are known to be unsafe.
Never walk around by yourself, particularly at the beach, even during the day. Thefts often happen at the beach. Always go out with a group or book a group day tour where they will pick you up from your accommodation and drop you off. Use recommended taxi drivers by calling them rather than hailing one off the street.
Be aware of scams
Scams can come in many forms, from fake airport officials offering to take your luggage for you (and then actually taking it), to people pretending to be your taxi driver, and even 'friendly' locals wanting to start some sort of relationship with you.
Always ask for id (the airport staff should have a photo id on them), and always use taxi companies and drivers that are well trusted and safe.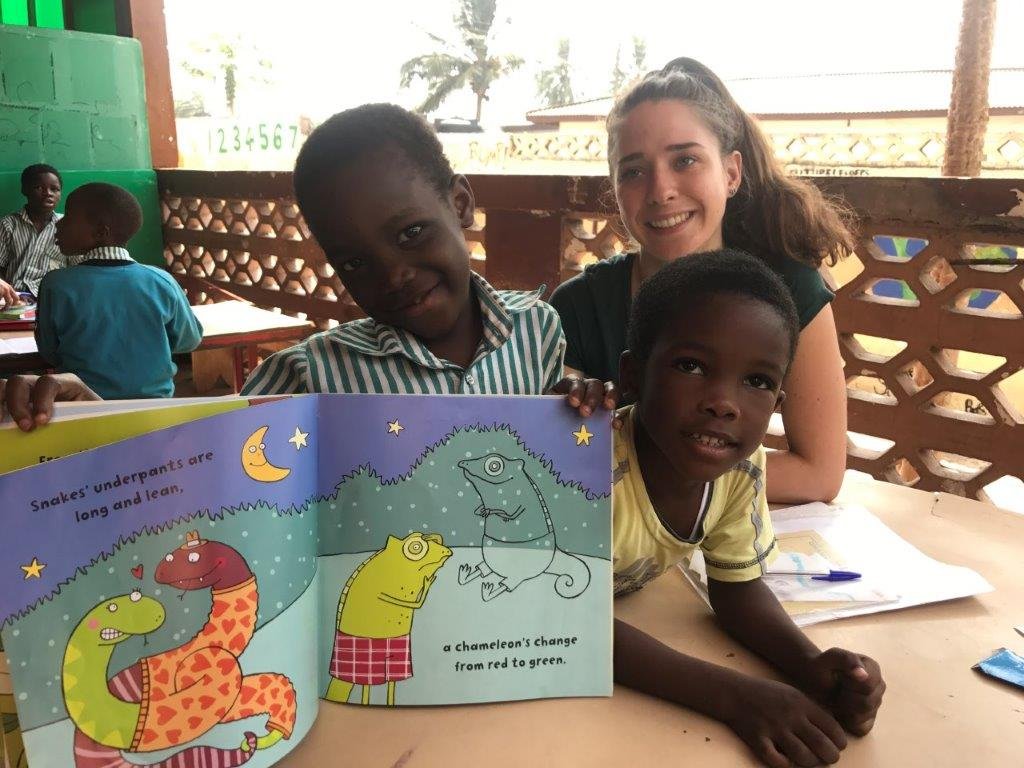 Conclusion
Whilst you should take note of the above advise, please do not worry after reading this, many of the major concerns mentions are unlikely, they are just things you should be aware of. Our local coordinators are experienced in hosting volunteers and are on hand 24/7 for any advice and concerns.
You will stay in a gated community volunteer house in Accra and there will be other volunteers for you to travel around with on weekends. If for some reason, there are not many volunteers at the time you are travelling, there are many tour operators in the city, so you will be able to book yourself on a day tour with a guide, to make things safer.
Ghana is a fantastic country in West Africa and our projects are really worthwhile here. The local people are extremely welcoming, and most will be curious about you and wanting to ask you many questions about where you are from!
We hope this has helped make you aware of what to expect a bit more, but you will also get a full briefing once you have arrived also. It is always scarier before you travel, but once at your destination its usually much easier than you think.
By being cautious, sensible, and using basic common sense, there is no reason to not to have a perfectly safe trip to Ghana!
Head to our Ghana page for more information on our amazing projects.