Nadi, Fiji is a tropical paradise brimming with natural beauty, warm hospitality, and a myriad of exciting activities. Whether you're a nature lover, an adventure enthusiast, or simply seeking relaxation, this enchanting destination has something for everyone. In this comprehensive guide, we'll delve into the best things to do in Nadi, ensuring that your visit to this stunning island will be nothing short of extraordinary.
1. Embrace Serenity at the Garden of the Sleeping Giant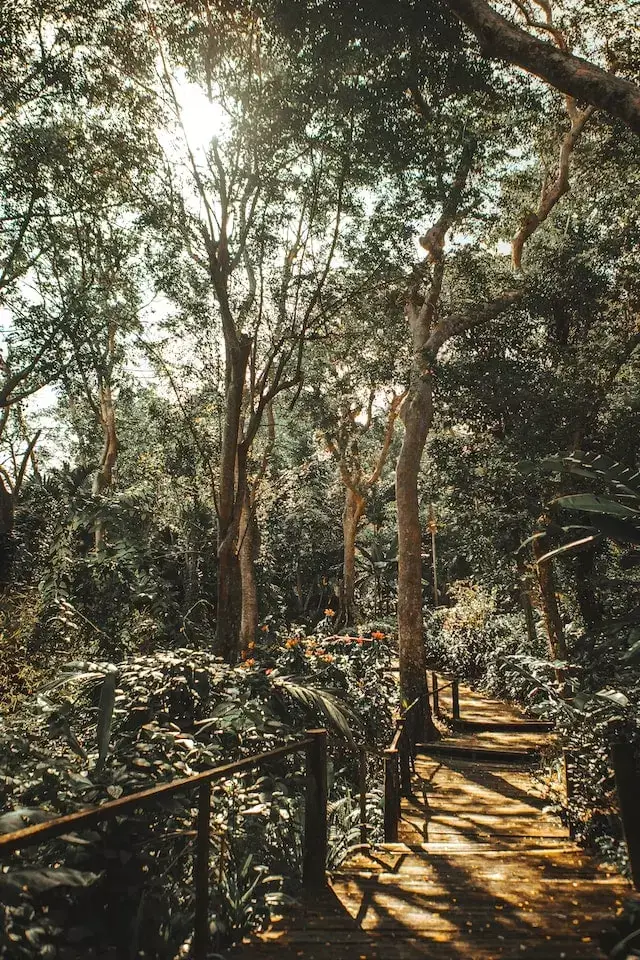 Located just outside of Nadi, the Garden of the Sleeping Giant is a haven of tranquillity and natural wonders. Explore the lush surroundings adorned with vibrant orchids, exotic flowers, and captivating foliage. Take a leisurely stroll through the enchanting pathways and allow the serene ambiance to rejuvenate your senses! This is a must do for anyone who loves being in nature.
2. Immerse Yourself in Fijian Culture at the Sri Siva Subramaniya Swami Temple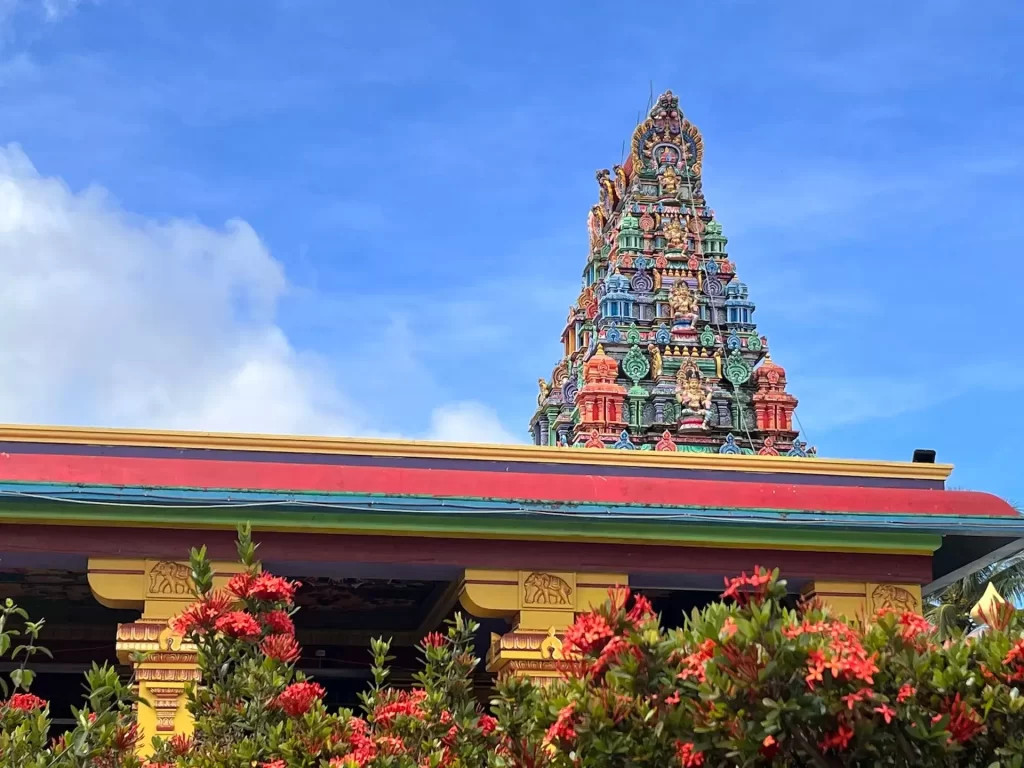 Experience the rich cultural heritage of Fiji by paying a visit to the Sri Siva Subramaniya Swami Temple. This architectural marvel is the largest Hindu temple in the Southern Hemisphere and boasts intricately carved sculptures and vibrant colours. Marvel at the breath-taking Dravidian-style architecture and immerse yourself in the spiritual ambiance. Witness traditional Hindu ceremonies and gain insights into the vibrant tapestry of Fijian culture.
3. Unwind and Rejuvenate at the Sabeto Hot Springs and Mud Pool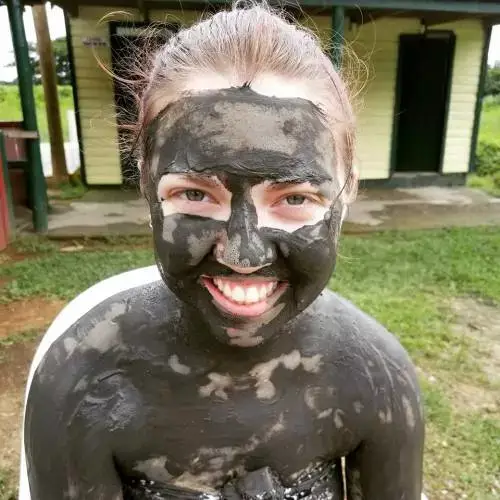 This is a favourite with our volunteers! Indulge in the ultimate relaxation at the Sabeto Hot Springs and Mud Pool. Immerse yourself in the warm therapeutic mud, known for its healing properties, and let your worries melt away. Afterward, soak in the natural thermal pools and feel your muscles unwind amidst the stunning tropical surroundings. This rejuvenating experience is the perfect way to pamper yourself after the weeks volunteering and revitalize your body and mind.
4. Embark on an Unforgettable Island Hopping Adventure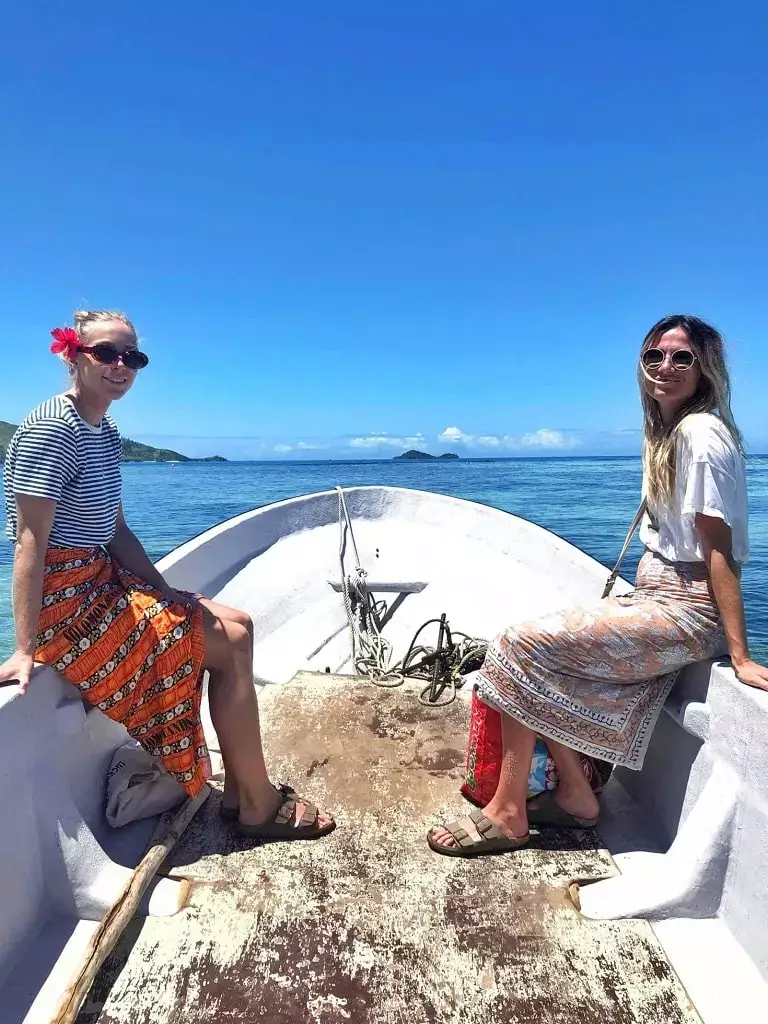 Venture beyond Nadi and embark on an unforgettable island hopping adventure. Visit the idyllic Mamanuca Islands, renowned for their pristine white-sand beaches, crystal-clear waters, and vibrant coral reefs. Snorkel or dive alongside colourful marine life, bask in the sun on secluded beaches, and create memories that will last a lifetime. With each island offering its unique charm, you'll be spoilt for choice when it comes to exploring this tropical paradise.
We also have our remote island teaching program, where you can volunteer on one of the small islands too!
5. Dive into Thrilling Water Sports at Denarau Island
For the adrenaline junkies, Denarau Island is the ultimate playground. Engage in exhilarating water sports, such as jet skiing, parasailing, or paddleboarding. Feel the rush as you zip across the azure waters and soak in the breath-taking coastal views. Whether you're an experienced water sports enthusiast or a beginner, Denarau Island offers a plethora of options to satisfy your craving for adventure.
6. Sample Local Delicacies at the Nadi Market
No visit to Nadi would be complete without indulging in the flavours of Fijian cuisine. Head to the bustling Nadi Market, where an array of fresh tropical fruits, aromatic spices, and local delicacies await. Engage in friendly banter with the vendors, sample mouth-watering street food, and immerse yourself in the vibrant atmosphere. From succulent seafood to flavourful curries, the Nadi Market is a culinary delight that will tantalize your taste buds.
7. Explore the Majestic Sabeto Range and Vuda Lookout
Embark on a scenic journey to the Sabeto Range and Vuda Lookout, where breath-taking panoramic views await. Ascend the lush mountainside and witness the stunning vistas of Nadi Bay, nearby islands, and verdant landscapes. Capture Insta-worthy photos and immerse yourself in the natural beauty that surrounds you. The Sabeto Range and Vuda Lookout offer a serene escape from the bustling city, providing a peaceful retreat for nature lovers and photography enthusiasts alike.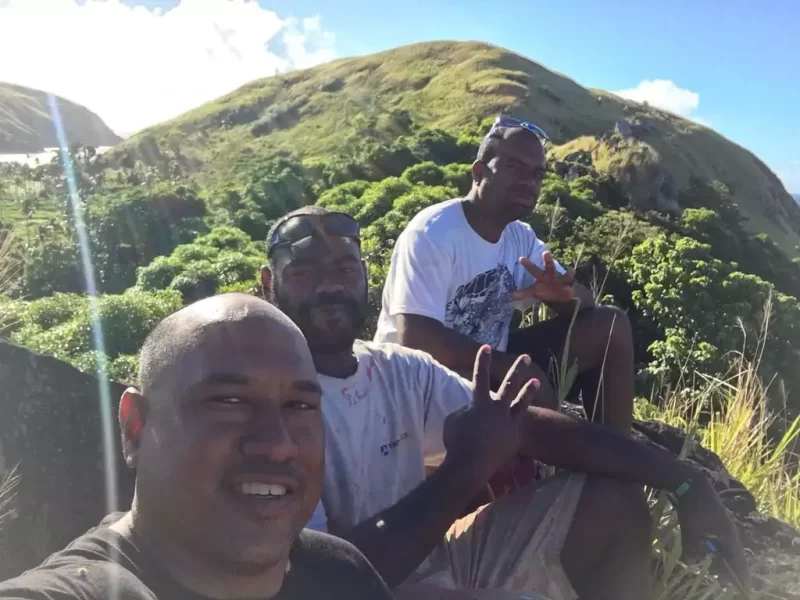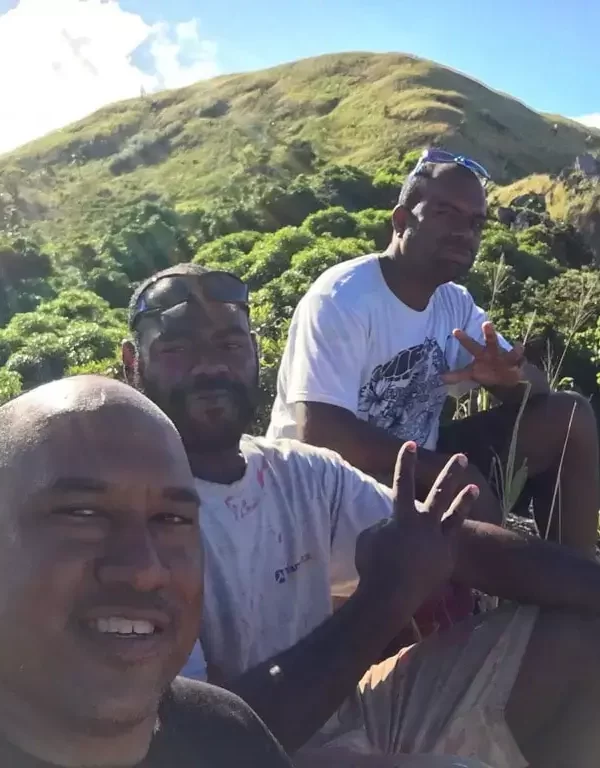 8. Indulge in a Sunset Cruise along the Nadi River
Experience the magic of a sunset cruise along the picturesque Nadi River. Set sail on a traditional Fijian boat and witness the sky ablaze with vibrant hues as the sun dips below the horizon. Feel the gentle breeze caress your face as you glide along the tranquil waters, surrounded by lush greenery. This enchanting journey is a perfect opportunity to unwind, soak in the breath-taking views, and create incredible memories with your new friends!
9. Discover History at the Fiji Museum
Delve into Fiji's rich history and cultural heritage at the Fiji Museum, located in Suva, the capital city. Explore the extensive collection of artifacts, traditional crafts, and archaeological treasures that offer insights into the island's past. Learn about the indigenous Fijian culture, colonial history, and the vibrant tapestry of diverse communities that shape modern-day Fiji. A visit to the Fiji Museum is a fascinating journey through time that will deepen your appreciation for this remarkable country.
10. Relax on the Pristine Beaches of Natadola Bay
Unwind on the powdery white sands of Natadola Bay, one of Fiji's most breath-taking beaches. Sink your toes into the warm sand, listen to the soothing sound of waves crashing, and take a refreshing dip in the crystal-clear waters. Whether you prefer lounging under the shade of palm trees, building sandcastles with your family, or trying your hand at various water sports, Natadola Bay offers the perfect setting for a day of relaxation and beachside bliss.
11. Engage in Thrilling Zip-lining Adventures
For adrenaline seekers, zip-lining through the lush rainforests of Nadi is an absolute must. Strap on your gear, zip through the treetops, and experience the exhilaration of soaring above the tropical canopy. Feel the rush of adrenaline as you take in the beautiful aerial views and embrace the thrill of this high-flying adventure. With various zip-lining courses available, you can choose the level of excitement that suits you.
12. Enjoy Authentic Fijian Hospitality at a Traditional Village
Immerse yourself in the warmth and hospitality of the Fijian people by visiting a traditional village. Engage in cultural activities, witness traditional ceremonies, and interact with the locals to gain a deeper understanding of Fijian customs and way of life. Learn traditional arts and crafts, taste authentic Fijian cuisine, and forge connections that will leave a lasting impression. A visit to a traditional village offers a unique opportunity to experience the true essence of Fijian culture. You can also experience this from our homestay accommodation, becoming like one of the family.
Volunteer in Fiji wth IVI
As well as all the amazing things to do in Nadi above, why not complete your tip with taking the time to volunteer? Areas such as health and nutrition and education are important areas where some help could be needed.
Our most popular program in the Nadi area is the health outreach program, which is a 2 week trip, that runs several times each year. We fly over a qualified practitioner from Australia, and along with a small group of volunteers (professionals and medical student accepted), we will go into the local villages, taking health checks and educating on diet, exercising, etc. This is a really worthwhile cause which has seen some great improvements since we started running it.
Another popular program is our remote island teaching, which is such a unique (and sometimes challenging) experience! You will stay in basic accommodation and may not have the luxuries you are used to, but the warmth of the local people will for sure make up for that. You can teach at the local school, alongside a small number of volunteers.
In conclusion, Nadi, Fiji is a treasure trove of unforgettable experiences. From exploring serene gardens and temples to indulging in thrilling adventures and immersing yourself in Fijian culture, there is no shortage of incredible things to do in this tropical paradise. Combine volunteering with some local travel, and you have a completely unforgettable experience, where you can give back to local communities, as well as experience an incredible culture.