As a volunteer with animals, you will be supporting local habitats and communities, allowing the wildlife to live in a safe and cared for environment. Our volunteer with animals programs can range from veterinary assistance to wildlife conservation, releasing animals back into the wild, or caring for sick and injured animals in shelters.
Sadly, animal welfare is not always a significant concern in regions where human social & economic developmental issues exist. At IVI, we ensure our animal volunteer programs align with our ethical values and do not promote cruel animal practices of any sort.
Whether you are a veterinarian, an aspiring vet or simply a passionate animal lover, to volunteer with animals overseas is an amazing experience, which will give you genuine joy! You will be providing help to people in developing communities, educating on animal welfare, caring for animals, and perhaps even gaining some new skills for your CV!
For anyone with a love for all things wildlife, here are our top volunteer with animal projects for you…
Help with Turtle Conservation in Bali
Due to environmental issues, the sea turtles in Bali have become an endangered species. On this project, you will help to reverse the decline in turtle numbers by protecting hatching sites, releasing turtles back into the wild, caring for sick and injured turtles, and creating awareness on how important sea turtles are to our planet.
You will stay in a volunteer house in the village, which is only 5 minutes from the harbour. This is a wonderful way to meet likeminded travellers and creates a fun, social experience.
The island of Nusa Penida is known for its crystal-clear blue waters, beautiful caves, lush jungle treks and stunning waterfalls. Vollies are free to explore the area on weekends, and our local coordinators can also help to find activities in more non-touristy areas, for a more authentic experience.
To find out more about turtle conservation in Bali see here: https://www.volunteering.org.au/projects/bali-2/turtle-conservation-bali/
Care for Stray Dogs in Peru
Unfortunately, when visiting Peru and other South American countries, you will often find a number of stray dogs and other animals wandering the streets, often hungry and injured. This can be due to a lack of education around caring for animals and a general view of the importance (or un-importance) of animals and their rights. Without the education on spraying and neutering animals, this only adds to the numbers, and much of the population see these animals as pests.
We work with a local NGO, who help to find stray animals, and take them back to the rescue centre where they can be fed and cared for, and for any injuries to be checked. The aim is to re-home these animals to loving families.
The project is situated in Cusco, which is a beautiful city in the mountains, and a starting point for hikers on the Inca trail. If you have the opportunity to do trek up to Machu Picchu, before or after your trip, this is an absolutely amazing trip! Cusco also has many adventurous day tours and activities to keep you busy on weekends, as well as a multitude of cafes and restaurants.
More info on rehabilitating dog in Peru: https://www.volunteering.org.au/projects/peru/stray-dog-shelter-volunteer/
Elephant Conservation Project in Thailand
Set in the mountains of Western Thailand, our elephant conservation project is a unique opportunity to get up and close to these magical animals.
Elephants are often mistreated in Thailand and other parts of Southeast Asia, being used to entertain tourists, and being poorly treated during 'training.' This animal sanctuary helps to rescue these mistreated elephants and provides a natural environment for them to be cared for properly.
Your job will be to assist the local organisation with health checks for the elephants, cutting down banana trees as food for the elephants, feeding them and general help around the sanctuary.
The area you will stay is called Umphang, a quiet sport in the lush mountains, surrounded by the most beautiful waterfalls! As part of the program, you will also have the chance to explore the surrounding area, swim in waterfalls, hike in the jungle, take part in kayaking, and visit a local Karen Tribe village.
To find out more on elephant conservation in Thailand, see here: https://www.volunteering.org.au/projects/thailand-2/elephant-adventure-and-conservation-thailand/
Volunteer with Animals in Fiji
Volunteer with animals in either Nadi or Lautoka in Fiji. For anyone with veterinary experience, you will be able to get involved in certain procedures, although no experience is required for the project, as you will be best placed where suited, depending on your skills.
This could be general help around the shelters, feeding, walking, bathing, grooming, and general care of the animals, to assisting with operations.
Sadly, many of the animals in the shelter do not have homes, so there is also a focus on caring for these animals in the hope that they can then be adopted by local families. You may also be able to help to educate the local community on the importance of animal welfare and spraying and neutering animals.
There is plenty to do in your free time in Fiji, from island hopping, lounging on the beach, to adventure activities like zip lining and white-water rafting!
To find our more on how to volunteer with animals in Fiji, see here: https://www.volunteering.org.au/projects/fiji/volunteer-with-animals/
Assist with Turtle Conservation in Guatemala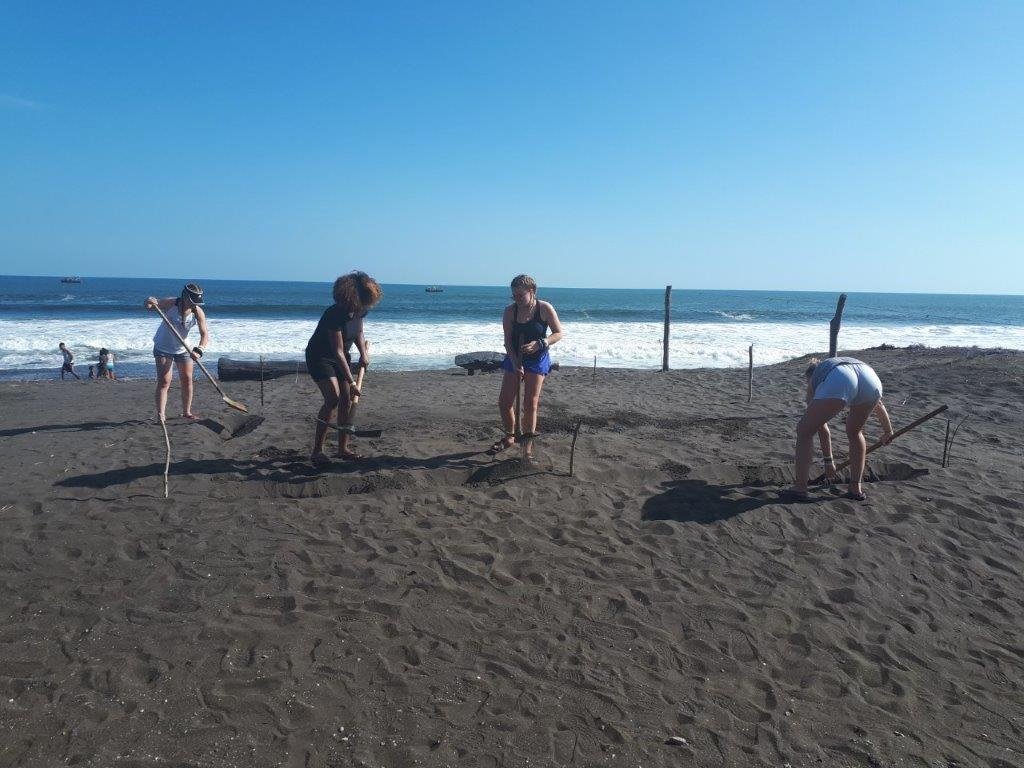 Poaching, destruction of natural habitats and negative effects of commercial fishing have left six out of seven turtle population species in Guatemala in danger of extinction.
Working on this important conservation project, you will help with tagging turtles, beach cleaning, counting turtle eggs and numbers, assist on nightly beach patrols, relocating nests in hatcheries, release baby turtles into the ocean, and assisting local biologists and researchers to monitor the turtles.
In Guatemala, volunteers stay with a local middle-class family, in a clean, safe, and comfortable home. This is an excellent opportunity for a cultural exchange, to really learn and get involved in the local culture, and to make some new friends!
There are so many incredible sights to see on your time off too, such as Mayan ruins, hiking, visiting active volcanoes, or wandering around the beautiful cities.
Volunteer with turtles in Guatemala: https://www.volunteering.org.au/projects/guatemala/turtle-conservation/
Rescue Stray Dogs in Kathmandu, Nepal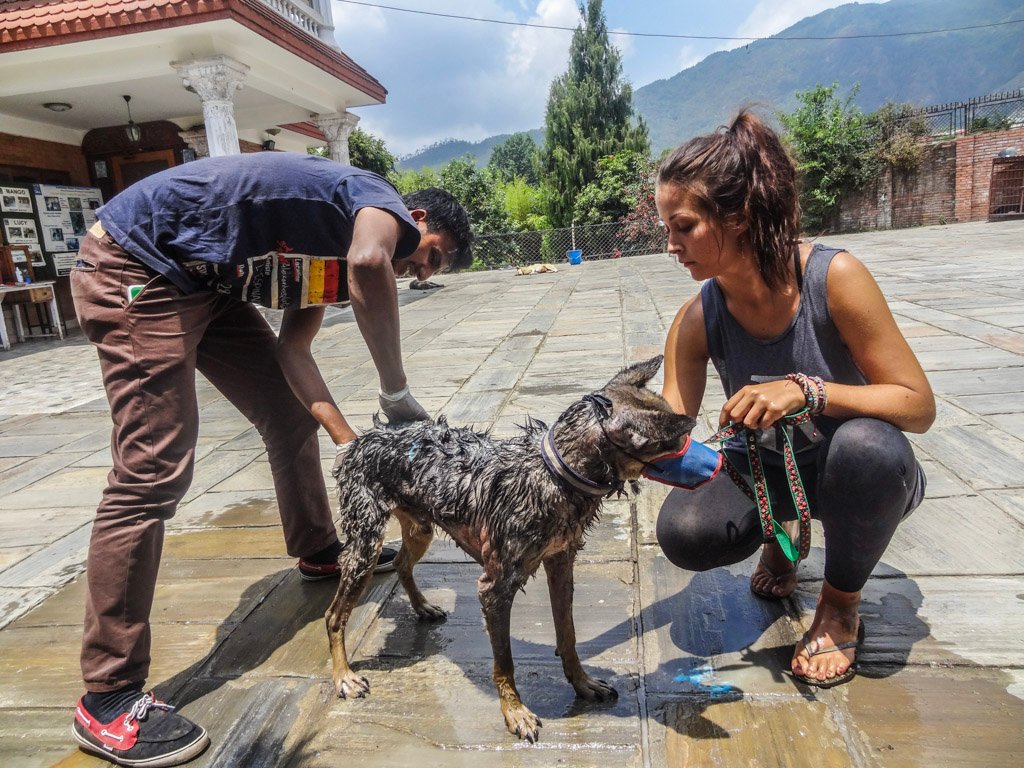 Volunteer with animals in the incredible city of Kathmandu in Nepal. Sadly, there are many stray dogs and cats in Nepal, due to different attitudes toward animals, and a lack of understanding on the importance of spraying and neutering animals.
This leads to more and more animals being left abandoned, mistreated, injured, or picking up diseases on the streets. The local partner we work with in Nepal, helps to take these stray dogs off the streets, care for them, bring them back to health and to put them up for adoption into a loving family.
You will help with daily duties, such as cleaning kennels, feeding, bathing the dogs, and taking them for daily exercise. You can also get involved in the Animal Birth Control Program to educate pet owners of the importance of having dogs sprayed and neutered.
This program is set in the exciting capital of Kathmandu, a vibrant city set amongst beautiful mountains, with hundreds of temples and historic sites to explore.
Volunteer with animals in Nepal: https://www.volunteering.org.au/projects/nepal-2/stray-dog-rehabilitation/
4 Week Sri Lanka Wildlife Conservation Experience
For a trip that is both travel and volunteering, the Sri Lanka 4-week experience takes the hassle out of having to book everything. With transportation, accommodation, meals, volunteering, and activities all planned for you, all you need to do is turn up!
The first week is a cultural orientation around the beautiful mountainous region of Kandy. Week 2 and 3 is spent volunteering on an elephant conservation program where you will feed the elephants and help keep the enclosures clean. You also have the option to take part in a mind and body week or trekking week, if preferred.
For the final week, you can volunteer on the turtle conservation program in Ambalangoda, in the south of the country. This involves preparing food for the turtles, cleaning tanks, beach cleaning and general help around the centre. You may also have the chance to release baby turtles into the ocean.
If the Sri Lanka experience sounds like it's for you, then read more here: https://www.volunteering.org.au/projects/sri-lanka-2/4-week-sri-lanka-wildlife-conservation-experience/
So, there you have it, 7 of our amazing volunteer with animals projects! Don't forget, we also have many more wildlife conservation projects available.
IVI have been volunteering abroad since 1989, and provide safe, affordable and meaningful projects worldwide.