Bali is a popular destination for travellers around the world due to its beautiful landscapes, rich culture, and friendly people. Many people choose to volunteer in Bali due to its relaxed and 'a paradise' atmosphere. It's a small country so very easy to get around, and the locals are super friendly. As a volunteer in Bali you may be wondering what to expect from your trip. We break down some tips and advice below…
What is Bali like?
Culture
The culture of Bali is a unique blend of Hinduism, Buddhism, and animism, and is deeply intertwined with the island's natural environment. Balinese culture is characterized by its vibrant art, music, dance, and elaborate religious ceremonies that take place throughout the year.
One of the most distinctive aspects of Balinese culture is its traditional dances, which are often performed during religious ceremonies and festivals. These dances often tell stories of mythical creatures and deities, and are accompanied by gamelan music, a traditional ensemble of percussion instruments that create a mesmerizing rhythm.
Another important aspect of Balinese culture is its cuisine, which is characterized by a mix of spicy and savoury flavours. Some of the most popular dishes include Nasi Goreng, a fried rice dish, and Babi Guling, a roasted suckling pig. Balinese cuisine also includes a wide variety of tropical fruits such as mango, papaya, and dragon fruit.
Religion also plays a significant role in Balinese culture. Balinese people practice a unique form of Hinduism that is influenced by Buddhism and animism. The island is dotted with thousands of temples, each with its unique architecture and significance. Balinese people regularly participate in religious ceremonies and offerings, which are considered essential for maintaining a harmonious relationship between the human and spirit worlds.
Overall, Balinese culture is a vibrant and unique fusion of art, religion, and tradition that reflects the island's rich history and natural environment. It continues to thrive today, as Balinese people continue to pass down their customs and practices to future generations.
The people
The people of Bali are known for their vibrant culture and rich traditions. Balinese people are predominantly Hindu and their religion plays a significant role in their daily lives. They have a deep reverence for their ancestors and believe in a complex system of gods and goddesses who are worshipped through daily offerings and ceremonies.
Balinese people are renowned for their artistic talents, which are deeply rooted in their religion and culture. Their art forms include dance, music, painting, and sculpture, with each art form having its unique characteristics and significance. Balinese dancers, for example, are famous for their intricate hand movements and colourful costumes that represent various mythical characters and gods.
The people of Bali are also known for their warm hospitality and welcoming nature. Visitors to the island often remark on the friendliness and generosity of the Balinese people, who are always eager to share their culture and traditions with others. Despite the rapid modernization of Bali in recent years, many Balinese people still maintain a strong connection to their traditional way of life, which includes close-knit family and community structures, and a deep respect for nature and the environment.
Things to do in Bali
Bali offers a wide range of activities for travellers. The island's beaches are a popular attraction, with crystal-clear waters and white sand. Surfing, snorkelling, and diving are also popular activities. For those who prefer land-based activities, there are plenty of opportunities for hiking, cycling, and exploring Bali's picturesque countryside.
Temples are another major attraction in Bali, with some of the most famous ones being Tanah Lot, Uluwatu, and Besakih. Visiting temples can be an enlightening experience, and it's a great way to learn more about Balinese culture.
Ubud is a popular place to relax and unwind, with many affordable spas dotted about town. It is also the cultural capital of Bali, and the nightly temple dance performances are worth a watch. As a volunteer in Bali, you will have weekends free, and as it's a small place, it doesn't take long to get anywhere on the island. Munduk up north is a quieter part of Bali, with a cooler air and plenty of waterfalls to explore!
A few more things to do in Bali…
·

Take a cooking class – Learn how to cook authentic Balinese cuisine.
·

Go surfing – Bali is known for its great surfing spots, such as Kuta, Uluwatu, and Seminyak.
·

Visit the Tegalalang Rice Terraces – A stunning landscape of rice paddies that stretch as far as the eye can see.
·

Go on a water rafting adventure – Navigate through the Ayung River and enjoy the scenic views.
·

Visit the Monkey Forest Sanctuary in Ubud – Get up close and personal with the playful monkeys in their natural habitat.
·

Relax on the beach – Bali has plenty of beautiful beaches to choose from, such as Nusa Dua, Sanur, and Jimbaran.
·

Hike up Mount Batur – A challenging but rewarding trek that offers stunning views of the sunrise over Bali.
Food
Bali has a diverse culinary scene that reflects its cultural diversity. Balinese food is known for its rich flavours and use of local spices. Some must-try dishes include Nasi Goreng (fried rice), Satay (grilled meat skewers), and Babi Guling (suckling pig). Vegetarians will also find plenty of options, with dishes like Gado Gado (vegetable salad with peanut sauce) and Tempeh (fermented soybean cake).
Transportation
Getting around Bali is relatively easy. Taxis and ride-hailing services are available in most tourist areas. There will be plenty of other volunteers in Bali to make friends with so renting a taxi is the best and most convenient option.
Weather
Bali has a tropical climate, with temperatures ranging from 25 to 32 degrees Celsius. The island experiences two seasons: the dry season (April to September) and the rainy season (October to March). The dry season is the most popular time to visit Bali, with sunny skies and lower humidity.
Safety
Bali is generally a safe destination for travellers. However, it's always important to take precautions when traveling to a new place. Be aware of your surroundings and avoid walking alone at night. Petty crime, such as pickpocketing, can occur in tourist areas, so keep your belongings close.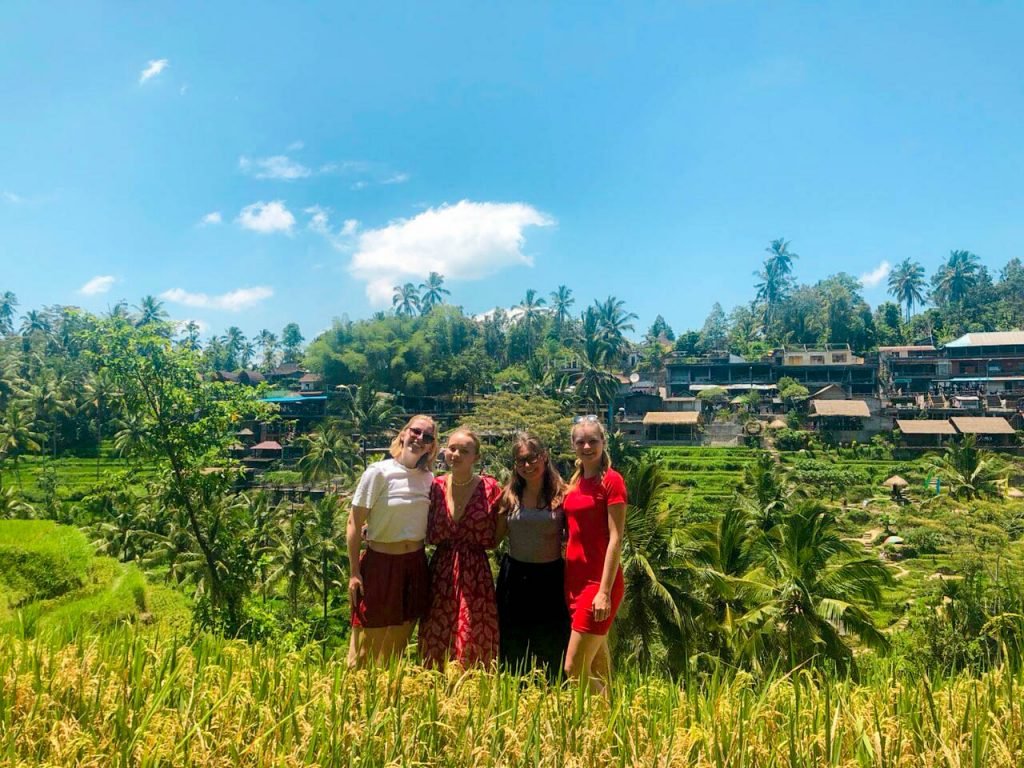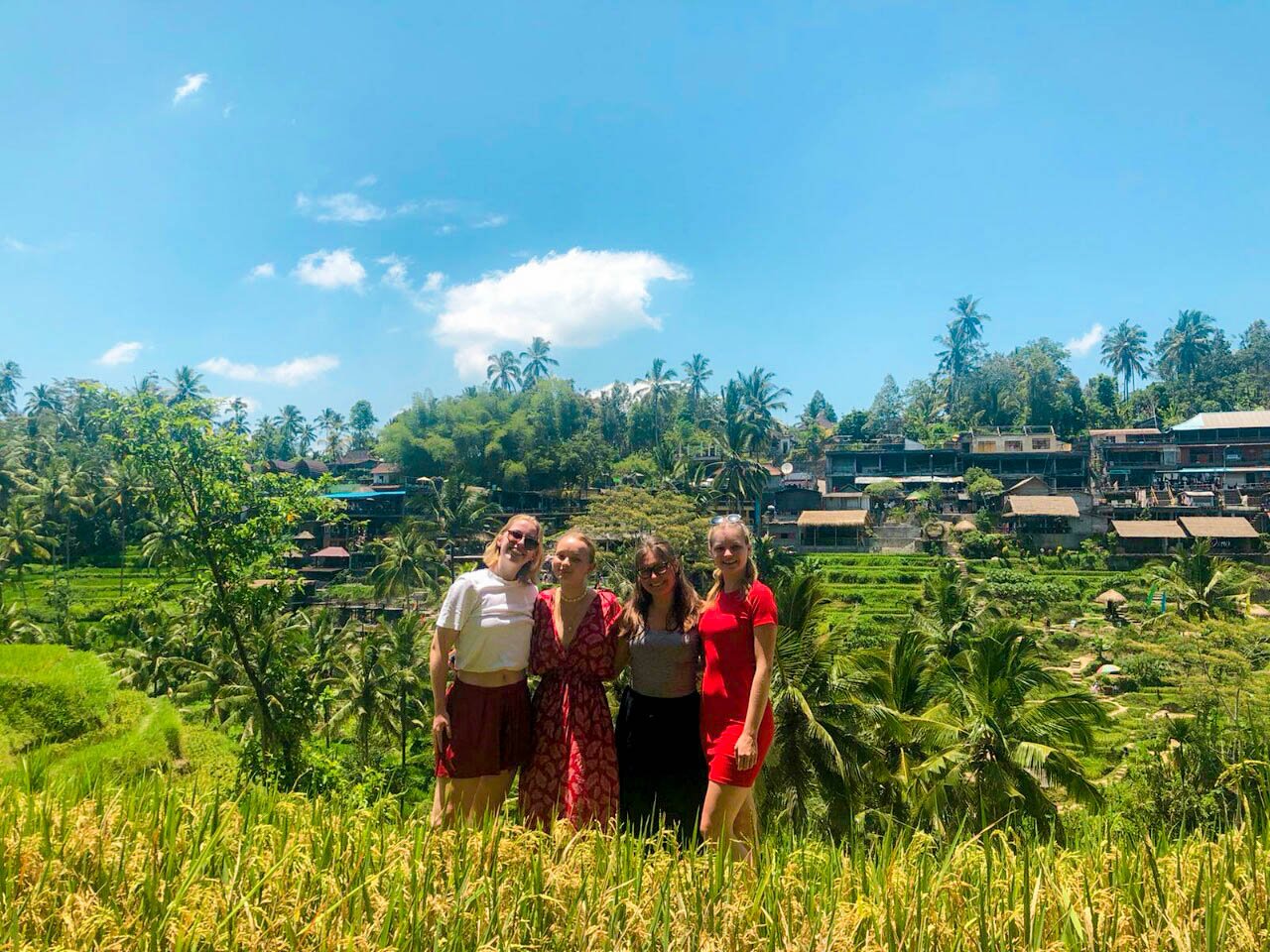 What to expect as a volunteer in Bali
Bali is one of our most popular destinations and there are always plenty of volunteers each week, so it's a really social volunteering experience. You can choose between teaching & kindergarten, nutrition & Healthcare, animal and environment conservation, and community construction programs.
Where are the programs located?
We have 3 locations in Bali…
Ubud, pronounced 'oobood' is located centrally in the heart of Balinese culture. Far removed from the tourist crowds of Kuta, it is famous as an arts and crafts hub, and much of the town and nearby villages seems to consist of artists' workshops and galleries and a general feeling of wellbeing Ubud consists of fourteen villages, each run by its own banjar (village committee). Ubud is arguably the best place to use as a base if you're visiting Bali; if you're looking for culture, comfort, nature and inspiration. Ubud is surrounded by most of the things that bring people to this unique destination – scenic rice fields, small villages, art and craft communities, ancient temples, palaces and rivers. If you're looking for peace, serenity, and culture, then Ubud is the place to be.
Seraya Village, located about 2.5 hours by car from the Denpassar airport, is situated on the North Eastern side of Bali with incredible beaches, diving and a tranquil local Balinese atmosphere. This is the location of our nutrition outreach program. Due to it's proximity to the famous holy mountain Agung (Bali's highest mountain), there are some nice resorts in the region, but luckily the area still feels mostly un-touched by tourism.
Lombok, about 35 km's from Bali is an authentic Indonesian island east of Bali and west of Sumbawa known for picturesque beaches, prime surfing and very few tourists! With heaps of wide-open unspoiled beaches, less traffic and pollution, the island's has plentiful trekking opportunities and natural sightseeing and cultural experiences. Lombok is a popular destination mainly for Indonesian tourists as prices for accommodation, food and attractions are less expensive and the island's scenic spots are un-tracked compared to Bali.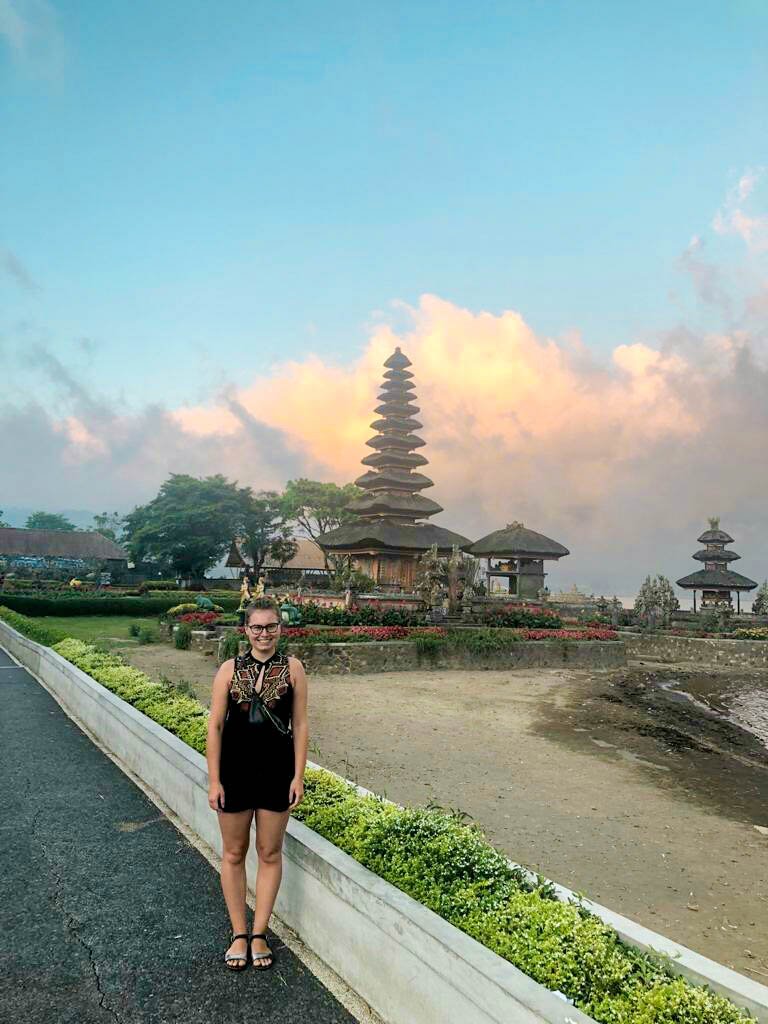 Where will I stay as a volunteer in Bali?
In Ubud, standard accommodation will be in shared bedrooms in large well equipped and dedicated volunteer guest houses in the outskirts of Ubud within genuine local Balinese communities in a rural setting. We're talking pigs, chickens, roosters crowing…. a real Balinese experience. Living conditions are comfortable and clean. You can expect regular interaction with locals where you can practice your new found language skills. You can expect to share a room with between 4 to 8 other volunteers. Bathrooms are shared and have hot water and western toilets.
Wifi is available in common areas and there are laundry services in walking distance. Ubud centre is approx 15-20 min by car and there are 2 complimentary taxi drops to Ubud p/week. Volunteers have access to 2 swimming pools which can be used for a fee of approx US$3 and gyms which are located about 10 min by car.
Enjoy living like a local in Seraya, Bali. This project includes homestay accommodation where you will have your own twin, or quad share room staying with a local family in private, clean, safe & well maintained homes. The accommodations are simple but comfortable and with all the necessities such as lockable rooms, bed linen, western style toilets, fresh clean drinking water, laundry facilities and WiFI in common areas. (Although most volunteers will purchase a pre-paid SIM to use with their personal device.)
In Lombok, Sengigi is the traditional tourist area however tourism is nowhere close to what is seen in Bali. In this regard you are way off the beaten path of tourism. You'll enjoy extensive bays with beautiful light sandy beaches and jungle mountains with palm trees. The accommodation has free Wifi in public areas, spacious rooms, hot showers, a private bathroom shared between max 4-6 volunteers, bed linen included and a fan for the hot nights. There is no mosquito protection, air-con or towels included.
For couples or those wanting more privacy, there are upgrade accommodation options available in Bali for an additional cost in either a single room (shared toilet), private room (private toilet) or private villa (private toilet, kitchen & balcony).
Ready to volunteer in Bali?
Send us an application (it's free) and then once you have spoken to our volunteer manager and confirmed your dates and project, you will pay the application fee to secure your spot. Then you will need to pay the final invoice, after which you'll be sent a welcome pack with all the details to prepare for your trip! If still undecided, read this post to find the project for which travel type you are!