Volunteering in Fiji is a great way to give back to society while experiencing new cultures and gaining personal growth. Fiji is an island country located in the South Pacific, is a popular destination for volunteering due to its stunning natural beauty and welcoming locals. However, before embarking on a volunteer trip to Fiji, it's essential to know what to expect to make the most out of the experience. In this article, we will discuss everything you need to know about volunteering in Fiji.
The Culture
Fiji has a unique and diverse culture that is deeply rooted in tradition and community. Fijians are known for their warm hospitality and kindness towards others. They value family, community, and respect for elders. The culture in Fiji is a blend of Melanesian, Polynesian, Indian, and European influences, which has created a vibrant and colourful society. One of the most important aspects of Fijian culture is the concept of "vanua," which refers to the land and the people who live on it. Fijians have a strong connection to the land and believe that it is sacred. They believe that the land provides for their needs and that it is their responsibility to take care of it. Another tradition you will come across is "meke," which is a combination of music, dance, and storytelling. Meke is an integral part of Fijian celebrations and ceremonies, and it is used to express joy, sadness, and other emotions. Fijians also have a deep appreciation for music, and traditional Fijian instruments such as the lali (drum) and the vakalutu (conch shell) are still used today.
In terms of clothing, Fijians wear a combination of traditional and western clothing. Traditional Fijian dress includes the sulu (a wrap-around skirt) and the Bula shirt (a colourful, printed shirt with a collar). Western clothing is also common, especially among younger generations. Religion is also an important aspect of Fijian culture, with Christianity being the most common religion. Other religions such as Hinduism and Islam are also practiced. Fijians are tolerant of other religions and beliefs, and they often celebrate religious festivals together. Overall, the culture in Fiji is rich and diverse, with a strong emphasis on community, tradition, and respect for the land. As a volunteer, you will have the opportunity to immerse yourself in this vibrant culture and learn from the friendly and welcoming locals.
Accommodation
Volunteer accommodation in Fiji varies depending on the location and the project you choose. Some projects offer homestays, while others provide volunteer houses or dormitories. Regardless of the type of accommodation, you can expect basic amenities such as a bed, clean water, and electricity. It's important to be flexible and adapt to the living conditions while volunteering in Fiji.
If you are looking for more of a social experience, perhaps you are travelling alone and would like to make friends once in Fiji, then projects on the Coral Coast off a volunteer house where you can meet others from around the world. That being said, you can still make valuable friendships on the homestay projects too! Our remote island project is very popular so there is usually at least one other volunteer throughout the year. Homestay projects are great for understanding the culture and getting a unique experience with the family.
Volunteer House
Homestay
Food
Fijian cuisine is a fusion of different cultures, with influences from India, China, and the Pacific Islands. As a volunteer, you will have the opportunity to try traditional Fijian dishes such as Kokoda, Lovo, and Rourou. IVI's volunteer programs provide three meals a day, and vegetarian options are usually available. If you have any dietary restrictions, it's essential to let us know before your arrival so we can try and arrange meals.
Language
English is the official language of Fiji, but Fijian and Hindi are also widely spoken. As a volunteer, you will have the opportunity to learn some basic Fijian phrases and interact with locals. It's essential to communicate effectively with the locals to understand their needs and provide the best possible assistance.
Transportation
Getting around Fiji can be challenging, especially in rural areas. We will usually help you with transportation to and from the project site, but you may need to use public transportation to explore the island during your free time. The most common modes of transportation in Fiji are buses, taxis, and boats. The local team can advise you when in Fiji on the best way to get around and what prices are typically expected.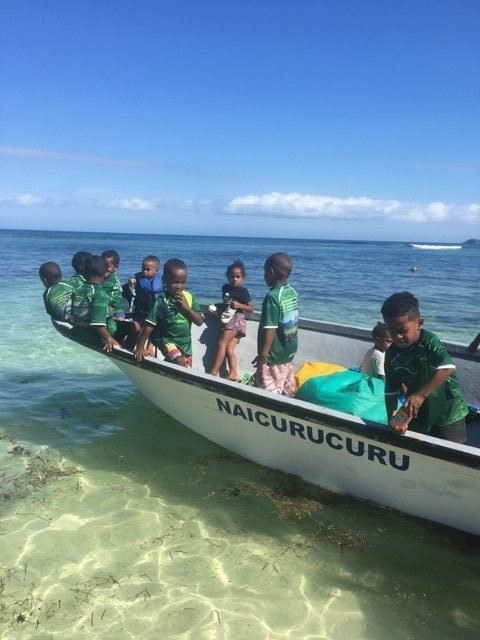 Climate
Fiji has a tropical climate, with warm temperatures year-round. The wet season runs from November to April, while the dry season runs from May to October. As a volunteer, you will need to prepare for the climate by packing appropriate clothing, sunscreen, and insect repellent. It's also important to stay hydrated and protect yourself from the sun. Make sure to pack something that covers your shoulders and knees (particularly for women), and this can be worn when visiting family homes, temples, and whilst on project, to show respect.
Volunteer Projects
Fiji is our most popular destination and we have a range of volunteer projects to choose from! When volunteering in Fiji no matter what the project, you will come away with a newfound energy and receive kindness wherever you go, the locals are all so welcoming!
Our most popular project is probably the remote island teaching. This is not for everyone however, and can be challenging due to the basic accommodation, location and food options. If you are up for a bit of a challenge, away from the luxuries you may be used to, this can be a truly life changing experience and volunteers really make a difference to the teaching at the local island school.
The public health and nutrition program runs several times a year for a 2 week duration. This is highly popular with medical and nutrition students, as well as professionals. You will be out in villages, taking health checks, and educating on healthy eating and exercise.
Another rewarding project is the women's and children's commune, which is a housing project aimed at women escaping situations such as domestic abuse. This is a varied project where you can help in many areas from teaching English and vocational activities, helping with the childcare, construction projects around the home or medical checks.
We also have a kindergarten and teaching project in childcare centres and schools, on the Coral Coast. Here, you can teach children the English language, inspire them to learn, and create daily lesson plans. You can also join the sports program where you will teach school aged children sports, which they love!
The animal shelter is great for those who love wildlife, and you can help at local shelters or even get involved in procedures if you have the relevant experience.
We also have construction projects, food security and medical programs to get involved in!
In conclusion, volunteering in Fiji is an enriching experience that allows you to make a positive impact while exploring a beautiful country. It's essential to prepare yourself before embarking on the trip by researching the culture, accommodation, food, language, transportation, climate, and volunteer projects. By having realistic expectations and being flexible, you can make the most out of your volunteer experience in Fiji.