Why Involvement Volunteers International?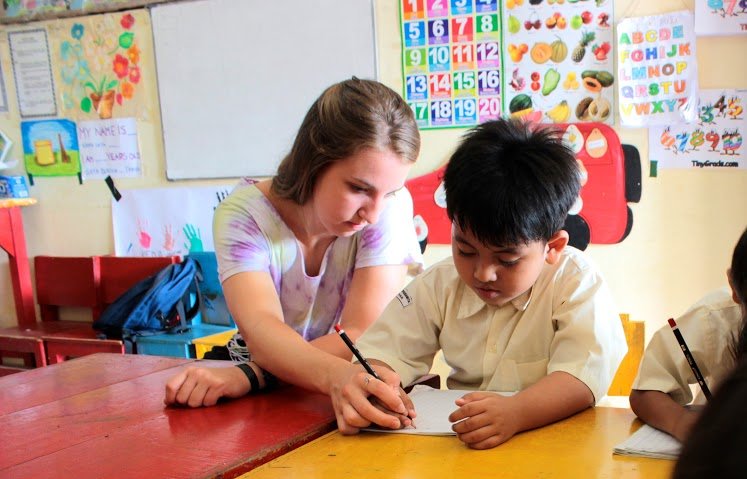 PROJECT NAME: NUTRITION & PUBLIC HEALTH OUTREACH BALI

LOCATION: SERAYA, BALI

START DATES: 11th June 2023

ACCOMMODATION: HOME STAYS (TWIN or QUAD SHARE ROOMS)
MIN DURATION: 2 WEEKS

MIN AGE: 17+

SPECIAL REQUIREMENTS: N/A
Overview
In this project our local partners are an inspiring charity organisation which is deeply rooted in supporting the local community. Founded in 2013 with the aims to support youths from disadvantaged backgrounds, the organisation now plays a significant role in the community with poverty and hunger programs, environmental protection, waste management, social justice and education designed to empower and inspire.
In the Nutrition & Public Health Outreach Program, you'll be working closely within local schools and the local village, home to approx 190 families. The health issues in this region stem from simple education such as mouth and body hygiene, but also include malnutrition, protein difficiency, anemia, diabetes and various NCD's.
In this project, you'll be supported by a team of healthcare volunteers led by a qualified health practitioner in country. Together you will devise a plan for the 2 week period conducting health checks in villages, educational seminars within schools, hospital & clinic work (for certain candidates only), physical education promotion, corporate health checks and related activities.
Traditionally the villagers in this area are farmers and mostly grow bananas, dragonfruit, mango and rice. Unfortunately, many have switched from growing red and black rice which yields higher Nutrition to white rice which crops 4 times per year yielding more profit with less nutrition.
Location
Seraya Village, located about 2.5 hours by car from the Denpassar airport, is situated on the North Eastern side of Bali with incredible beaches, diving and a tranquil local balinese atmosphere. Due to it's proximity to the famous holy mountain Agung (Bali's highest mountain), there are some nice resorts in the region, but luckily the area still feels mostly un-touched by tourism.
With IVI, you'll be working within the Seraya and surrounding coastline areas. Villagers in these areas do not have access to free & quality healthcare and your presence here will be welcomed by the entire village who will be grateful for your services.
Upon arrival you'll be transferred to coastal region of Canggu which is approx 45 minutes from the airport where you'll stay in a guest house for the first 2 nights for orientation before you're transferred up to Seraya with your team.
Project Tasks
Working alongside a qualified healthcare practitioner
Conduct health consultations
Help identify diabetes & NCD's
Help identify protein & iron deficiencies and educate on prevention
Assist in the prescription of natural protocols (where possible)
Consult with local health authorities
Establish healthy diet and lifestyle campaigns
And more!
Enjoy living like a local in Seraya, Bali. The nearest beach is located only a few minutes drive from your accommodation and there are stunning cliff side views just steps away from your room. This project includes homestay accommodation where you will have your own twin, or quad share room in private, clean, safe & well maintained homes. The accommodations are simple but comfortable and with all the necessities such as lockable rooms, bed linen, one western style toilet per room, fresh clean drinking water, laundry facilities and WiFI in common areas. (Although most volunteers will purchase a pre-paid SIM to use with their personal device.)
Breakfast & dinner are included in the cost of your program. Breakfast will consist of omelettes or pancakes, fruit (yes amazing Bali fruit!) and coffee / tea. For those with dietary requirements, dairy free and gluten free alternatives will be provided. (Please advise us in advance if you have any food intolerance.)
Dinners will be locally prepared traditional meals including fish caught by the famous Karangasam fisherman, or chicken with traditional vegetables and rice / noodles. Balinese food includes lots of spices and fresh, fragrant flavors.


What's Included
Project Materials & Equipment

Pre-departure Expert Advice

Preperation Tools & Checklists

Certificate of Completion
" The food was great, we could always choose between local food and vegetarian food and the accomodation was beautifully located in the middle of a local village."
"Thank you for the amazing program! The experience in Bali was one of the most amazing adventures I've lived in my life. Highlights of the trip: The introduction week was really helpful in order to gain a right approach to the Indonesian culture."
"It was an amazing experience. First I was very happy to see that we were a big team of volunteers. I was very surprised and excited when I knew I was going to teach college students and not young students. I really appreciated that, because I was with students who understood english and who were eager to learn. "
"A Highlight of my trip was that I met so many amazing people from all over the world. I really appreciated that I could switch between projects very easy so I was able to work in more different projects than I expected."
"Highlights: Spending time with the children every day and being able to build a relationship with them. The opportunity to teach these children about the importance of looking after themselves. Also meeting so many different people and being able to also travel the island on weekends."
An early morning trip with chef Wayan to the Amlapura market is an unforgettable cultural experience and also a chance to help choose what you would like cooked for your lunch or dinner.
Uluwatu has a temple built at the edge of a 70-meter high cliff at the edge of the sea and inhabited by monkeys. This is also a world class surf break with consistent 8-10 foot+ surf and incredible views and coastal vibe.
Ubud pronounced 'oobood' is located centrally in the heart of Balinese culture. It's famous as an arts and crafts hub,and a general feeling of well being (many spas here!). If you're looking for culture, comfort, nature and inspiration, then check out the scenic rice fields, small villages, art and craft communities, ancient temples, palaces and rivers.
Kuta, known for it's party atmosphere is the quintessential Bali party spot for young tourists with loads of bars, restaurants, beaches and debauchery!
Nusa Lombogan is an island paradise with one of the clearest waters that you will ever see and a place to find peach and tranquility, nature hikes and warm Balinese hospitality. Surfing, diving an snorkelling are among the most popular activities that visitors can enjoy.
The Holy Mount Agung is the highest point on the island of Bali at an elevation of 9944 feet (3331 meters). This is an active volcano most recently erupting in 2017! Indonesia has around 400 volcanoes and out of these, 127 are active - about a third of all the world's active volcanoes.
Seminyak is largely known as the more up-market and stylish part of Bali with beautiful beaches, resorts, incredible dining and a laid back tourist party vibe that is worth experiencing! The scenes along Jalan Petitenget and Jalan Kayu Aya can be quite eclectic.
Ready to Volunteer in Bali?