Why Involvement Volunteers International?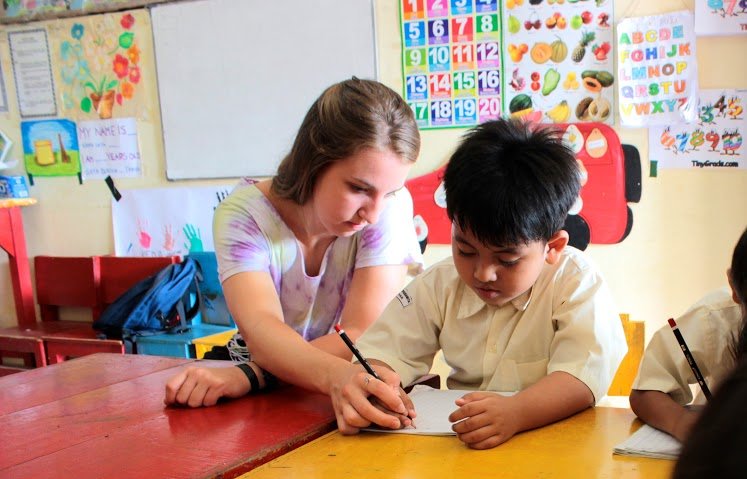 PROJECT NAME: CLEAN UP BALI

LOCATION: UBUD, BALI

START DATES: WEEKLY (SAT/SUN ARRIVALS)

ACCOMMODATION: VOLUNTEER HOUSE
MIN DURATION: ONE WEEK

MIN AGE: 16+

SPECIAL REQUIREMENTS: N/A
Overview
The environmental education program focuses on primary schools in Bali. Whilst education is the starting point, our approach is very much of a practical "hands on" nature, encouraging children to work together and do their bit, emphasizing that every little bit counts.
The project is always expanding with current tasks including as follows:
Tree planting
Cleaning up rivers and beaches
Environmental campaigns against plastic
School education and local community clean-up's
It has to be admitted that the Balinese treat their environment well, long before care of the environment became fashionable in the west. One example of this long history and the respect they hold for their environment is shown on Tumpek Uduh day, which is a ceremony conducted across Bali to large trees, especially fruit bearers and the coconut palm in particular, and this is done in order to give gratitude for the trees usefulness to humans and the environment, to recognise their importance to the livelihood of the Balinese and to pray for a continuance of the central role they play in providing a balance between both humans and their environment.
For anyone with an interest in environmental issues, with these deep, historical and ongoing cultural ties, participation in this Bali project offers an opportunity which few places on earth can offer. Becoming involved with the local population who regard their environment not as a separate entity, but very much part of their daily lives, makes this project very much a partnership with an equal objective.
Location
Ubud, pronounced 'oobood' is located centrally in the heart of Balinese culture. Far removed from the tourist crowds of Kuta, it is famous as an arts and crafts hub, and much of the town and nearby villages seems to consist of artists' workshops and galleries and a general feeling of well being. Ubud is surrounded by most of the things that bring people to this unique destination – scenic rice fields, small villages, art and craft communities, ancient temples, palaces and rivers.
Project Tasks
To encourage and inspire the locals to care for the environment
To increase awareness of these important issues
To get stuck in and help the locals and children to clean up local areas
There are two locations in Ubud area Pejeng & Penestanan. Most volunteers are placed in Pejeng but we can request Penestanan if desired.
Ubud Outskirts (Pejeng) is approx. 15 min drive from Ubud. We're talking pigs, chickens, roosters crowing…. This is a real Balinese experience! Standard accommodation will be in shared bedrooms in dedicated volunteer guest houses in the outskirts of Ubud within genuine local Balinese communities. A free shuttle to Ubud exists 4 times p/week, otherwise taxi's are super cheap especially when sharing with your new volunteer mates. Living conditions are comfortable and clean. A minimart/grocery store is 5 minutes walk. You can expect regular interaction with locals where you can practice your new found language skills. You can expect to share a room with between 4 to 6 other volunteers. The bathroom is shared and has hot water and western toilets.
Ubud (Penestenan) is approx. 15 min walk to Ubud centre in a typical Balinese village setting. Rooms are shared between 4 to 6 other volunteers with shared bathroom and hot water and western toilets. Wifi is included is included in public areas and fans in the rooms. Bed linen is included, but volunteers should bring their own towel.
*For couples or those wanting more privacy, there are upgrade accommodation options available
All volunteers have access to 2 swimming pools which can be used for a fee of approx US$3. There are also several gyms nearby. There are many ATM's in Ubud center. Internet use: Wi-Fi is available at the volunteer guest house. Internet cafés are also nearby.
In Lombok, Sengigi is the traditional tourist area however tourism is nowhere close to what is seen in Bali. In this regard you are way off the beaten path of tourism. You'll enjoy extensive bays with beautiful light sandy beaches and jungle mountains with palm trees. This area spans approx 10km of coast with amazing surf for the surfers out there and a colourful reef. The night life is also super fun and very affordable. The accommodaiton has free Wifi in public areas, spacious rooms, hot showers, a private bathroom shared between max 4-6 volunteers, bed linen included and a fan for the hot nights. There is no mosquito protection, air-con or towels included.
*All participants are expected to be environmentally responsible and to use all resources with restraint, especially water, paper and electricity. You will be expected to clean up after yourself, and to play your part to keep the accommodation neat and tidy.
As a volunteer in bali, you'll receive 3 traditional meals each day on weekdays and 2 meals on weekends (breakfast and dinner). Indonesian food is tasty and diverse and volunteers can expect dishes included nasi goreng (fried rice and vegetables), mie goreng (fried noodles and vegetables), or gado gado (mixed vegetables with a satay sauce). For those who do not eat meat, Indonesian cooking uses a lot of tofu and tempeh (soy beans).
Breakfasts are varied and include pancakes, fresh fruit, toast etc. Tea, coffee will be available at the volunteer house. Purified water is available in the volunteer house. We do not recommend that you drink the tap water. If volunteers wish to eat out in Ubud, there are a large numbers of restaurants and local warungs (restaurants) to suit all tastes and budgets. There is also a western café in the village for fresh fruit juices, fresh coconuts and sweet treats. If you have any special dietary requirements, please let us know when you apply so we can make arrangements for you.
What's Included
Project Materials & Equipment

Pre-departure Expert Advice

Preperation Tools & Checklists

Certificate of Completion
" I met some amazing people. It's a big range of people that come from a variety of backgrounds, countries, and generations. But we all shared a passion to protect our oceans and sea turtles"
"Thank you for the amazing program! The experience in Bali was one of the most amazing adventures I've lived in my life. Highlights of the trip: The introduction week was really helpful in order to gain a right approach to the Indonesian culture."
"I was always creating the worksheets and finding out what methods work best for them and then applying that and creating a smooth transition between different subjects so they can make a connection between them. "
"Thank you. This was an amazing trip and probably the most rewarding experience of my life. I really enjoyed every aspect of it. "
"Bali trip was amazing and I really enjoyed my time and the experience there. We helped to build a 2-classrooms Kindergarten at one of the local villages, it was hard but fun and I loved it. Wish that I could stay longer"
An early morning trip with chef Wayan to the Amlapura market is an unforgettable cultural experience and also a chance to help choose what you would like cooked for your lunch or dinner.
Uluwatu has a temple built at the edge of a 70-meter high cliff at the edge of the sea and inhabited by monkeys. This is also a world class surf break with consistent 8-10 foot+ surf and incredible views and coastal vibe.
Ubud pronounced 'oobood' is located centrally in the heart of Balinese culture. It's famous as an arts and crafts hub,and a general feeling of well being (many spas here!). If you're looking for culture, comfort, nature and inspiration, then check out the scenic rice fields, small villages, art and craft communities, ancient temples, palaces and rivers.
Kuta, known for it's party atmosphere is the quintessential Bali party spot for young tourists with loads of bars, restaurants, beaches and debauchery!
Nusa Lombogan is an island paradise with one of the clearest waters that you will ever see and a place to find peach and tranquility, nature hikes and warm Balinese hospitality. Surfing, diving an snorkelling are among the most popular activities that visitors can enjoy.
The Holy Mount Agung is the highest point on the island of Bali at an elevation of 9944 feet (3331 meters). This is an active volcano most recently erupting in 2017! Indonesia has around 400 volcanoes and out of these, 127 are active - about a third of all the world's active volcanoes.
Seminyak is largely known as the more up-market and stylish part of Bali with beautiful beaches, resorts, incredible dining and a laid back tourist party vibe that is worth experiencing! The scenes along Jalan Petitenget and Jalan Kayu Aya can be quite eclectic.
Ready to Volunteer in Bali?