WHAT
Does Culture Week Involve?
Why Involvement Volunteers International?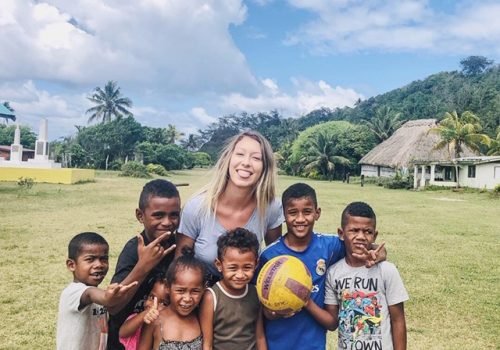 PROJECT NAME: CULTURAL ORIENTATION WEEK, CORAL COAST

LOCATION: CORAL COAST

START DATES: WEEKLY (SAT/SUN ARRIVALS)

ACCOMMODATION: VOLUNTEER HOUSE
MIN DURATION: ONE WEEK

MIN AGE: 16+

SPECIAL REQUIREMENTS: N/A
Overview
Welcome to Fiji! The culture week includes language lessons, traditional culture introductions (incl Cava ceremony), visits to various sites and interesting attractions. It's designed to give a thorough overview and to help you integrate into the local way of life while getting to know your fellow volunteers. You will also be taught the local norms and lanuagage, which can greatly help you when communicating with locals on your project.
Location
Coral Coast is noted as the 'adventure capital of Fiji' and is located about 1 hour from Suva and 1 hour from Nadi. It is known for it's incredibly beautiful coast line, tourist beaches and resorts and heaps of activities from 4 wheel drive tours, shark feeding, surfing, rivers & waterfalls, golf etc and is home to the famous Bega lagoon and bega fire walkers. Sigatoka is the gateway to the Coral coast and home to several of our projects.
Project Tasks
Learn about the local culture and language
See the local sights and get to kow your new surroundings
Interact with fellow volunteers and have fun!
Accommodation is in a dedicated house for volunteers with shared bedrooms 4-6 persons per room (single gender rooms) and private bathroom per room. Living with other volunteers in a dormitory-style house is heaps of fun and a great way to meet like minded travellers. The volunteer houses are in close proximity to a basic supermarkets, ATM, fresh fruit and vegetable stands, petrol stations and bus stop.
The houses can accommodate up to 20 volunteers at a time. The bathrooms are shared with western style toilets and hot showers. The accommodation is equipped with free Wi-Fi which volunteers are able to use. Laundry services are available for a small fee. Bed linen, fans and mosquito protection are all provided. We recommend volunteers bring their own towel. The rooms are lockable and there are also safety deposit boxes available.
*For couples or those wanting more privacy, private rooms in the volunteer house are available for an additional US$140 per week, subject to availability.
You will be served 3 meals on weekdays, and 2 meals on weekends and public holidays. Breakfast is typically Western style, and lunch and dinner will be local Fijian dishes.
What's Included
Project Materials & Equipment

Pre-departure Expert Advice

Preperation Tools & Checklists

Certificate of Completion
"Thank you IVI, for this life changing opportunity where I have learned so much, taught others the best I could, and have never been so inspired to be a Nutritionist."
"Highlights being able to see the positive and immediate impact that our work had on the villages; how grateful each tenant in the village was for dedicating our time to visit each village to do health checks"
"My time volunteering in Fiji with the IVI public health program was one of the most rewarding and exciting experiences of my life. It was a fulfilling experiences to help such beautiful people that are facing very serious but preventable health issues. "
"We were lucky enough to stay on Tokiriki Island in the Mamanuca Islands, completing health checks on the resort staff and building great rapport with them. From here we visited two remote island villages; Yanuya and Tavua. "
"We went to 2 resorts and did health checks on all the staff – height, weight, BMI, blood pressure, heart rate and blood glucose. We also did education sessions on healthy eating, risks of too much sugar consumption and exercise. For some of them this was the first time they'd ever had their blood pressure taken, and they were in their 33s. "
"The rural villages were definitely a highlight of the trip! The villagers are incredibly friendly and caring, and they were grateful for our health checks as much as we were grateful for their hospitality."
" I had the unique opportunity of combining my passion for helping others with my wealth of experience in nutritional medicine and diabetes education to assist in encouraging the local community to adopt healthier dietary and lifestyle choices."
"There is nothing better, than being able to 'Zumba' with the friendliest and happiest people on the planet. From Lautoka, to Nadi, to the villages of Tavua – we were privileged to live as 'locals' – experiencing the great culture of Fiji."
"We soon learnt about the local food and culture, which helped us to consult and help our patients. As volunteers we set out to provide assistance to the health centre, however, what we took away from the experience was far greater."
"I organised and conducted health screenings and free nutrition consultations with teachers in rural schools, Outreach health programs with villagers that do not have adequate access to healthcare, and with workers in supermarkets who had never had any public health initiatives done. "
Island hopping is a great way to explore Fiji, and there are so many stunning islands to choose from!
Nadi is a Fijian and Indian town, with lots of activities do do. Check out the Sri Siva Subramaniya temple here.
Colo-i-Suva is a lush rainforest in Suva. There are several treks through the jungle, where you can swim in the waterfalls!
Ziplining is just one of the adventurous things you can get up to in Fiji. This is one for the thrill seekers and who love being outdoors.
For those who enjoy a much slower pace of life, there are hundreds of tranquil beaches to lounge on. This is a great way to really unwind from your busy projects!
Snorkelling and diving are two activites which are freely available in Fiji. The island hosts some of the most pristine and clear waters.
Enjoy this thrill seeking activity, not for the faint hearted! Rafting is great fun and an exhilerating way to spend your weekend!
Ready to Volunteer in Fiji?