Why Involvement Volunteers International?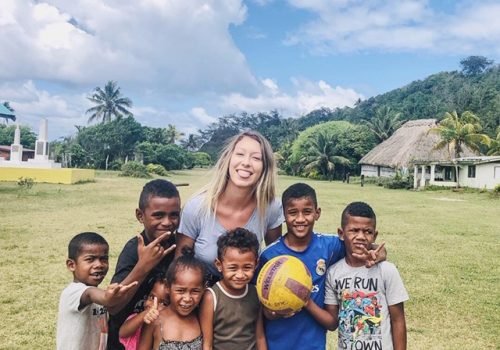 PROJECT NAME: KOROIPITA COMMUNITY DEVELOPMENT CONSTRUCTION

LOCATION: KOROIPITA, near to LAUTOKA

START DATES: WEEKLY (SAT/SUN ARRIVALS)

ACCOMMODATION: HOMESTAY
MIN DURATION: ONE WEEK

MIN AGE: 18+ (16 if accompanied by a Guardian/Parent)

SPECIAL REQUIREMENTS: N/A
Overview
On this project we work with a local Charitable Trust, who create solutions to the challenges of poverty, rural-urban drift, and the increasing need to re-settle climate change refugees.
The idea is that local families are offered affordable, cyclone-safe homes within a fully serviced township community. It is mandatory for the children in these communities to go to school, with the residents being encouraged to take environmental and community responsibility.
Koroipita community is currently home to 263 families. With funding support from the New Zealand Aid Programme and Ministry of Housing and Community Development, we are now going to build an additional 105 homes as part of Stage 4 development.
We are in need of volunteers to help complete this program. This is a fantastic project for group bookings (ideally teams of 6-8 people, up to 12). Working as part of a team, you can really see progress in a short amount of time. Individual volunteers are of course also very welcome!
All skill levels are welcome. Teams must be reasonably fit and be prepared for anything. Flexibility is more important than fitness but there is a limit, as there is manual labour involved.
You will be supervised at all times by skilled local builders, so there is no need to worry if you have no experience in construction work.
Safety Gear
You are expected to bring and wear safety boots with a STEEL CAP, to wear at the construction site at all times. Hard hats are provided and there will be a first aid kit available onsite.
Tools
All building tools are provided; however, we encourage you to bring your own hammers (these can be bought once arrived), and you are welcome to leave these behind if you choose to do so. We also welcome donation of tools. Please check with the local team for what is needed.
Transport
We have two trucks available onsite. It can be used to transport volunteers to and from and around the site during the day.
Water
You will need to drink lots of water from the start of the day until sundown. Do not wait until you get thirsty or dehydrated. We practice recycling in the community so please dispose your bottles in designated bins. We also recommend bringing hand sanitiser. There are clean toilets accessible at Koroipita.
Mosquitoes
Koroipita is generally a clean community however, few mosquitoes are visible in the daytime. It will be wise to bring mosquito repellent.
Medical
Lautoka Hospital is not far from the site. The team will have all emergency contacts available onsite. If you are taking any prescription medications, please bring them along with you.
Insurance
Insurance is only covered for local workers; we DO NOT have cover for short-term volunteers. This is something you may want to factor into your insurance.
Security on site
We will assign you a safe lockable storage where you may keep all your personal belongings. It is important to be careful with cameras, wallets and other items while at Koroipita. Inevitably, all kinds of people wander in and out of the site.
Volunteers must be careful with tools and valuables, even at the job area. DO NOT leave valuables on site when going to lunch. The security process for tools and materials will be explained at the briefing.
Security Tips:
Bring the cheapest watch you own
Avoid bringing a laptop or iPad
Do not bring expensive cameras – if you want to bring one take extreme caution.
Avoid expensive boots, jackets, backpacks
Booze
You may bring your own liquor, wine, beer or kava. The Northern Club is open every day….but don't overdo it….there is work to do in the sun.
Gifts
We request volunteers NOT to bring donations or gifts for individual residents. If you want to donate, please talk to our team members who will provide the best guidance. Avoid sharing personal contacts or social media details with community residents.
We have several pool funds which are established to support the neediest families in the community. These are Shelter Fund, Welfare Fund, Education Fund and Health Fund.
Photos
You are welcome to take pictures and share it on social media however, prior consent is needed from individuals, particularly when photographing children. You may also invite local media to cover the story, however, please discuss with our team to ensure the correct information and statistics are published.
We look forward to welcoming your team and greatly appreciate and value your contribution and generosity.
Location
Lautoka, located 20 min north of Nadi, is a lovely and safe working class harbour city with many areas to explore (eg. hiking trails, mud pools etc). You will be spending time in the working class areas where the genuine needs exist.
Project Tasks
Working together as a team under the guidence of a professional
Buildng new houses from scratch
Assisting in all areas of the development plan
Enjoy living like a Fiji local. You'll have your own single or twin share room within private, clean and safe western style homes. You will have a place to store your personal belongings, a private bathroom and toilet (where possible – not all placements include this), a fan and single mattress or double/queen if sharing with your partner. Some home stays have self contained flats separate from the main residence. You can choose this option if desired. Internet is usually not included with most volunteers purchasing a temporary 3G plan for their own device.
Meals are included and served at the host family for breakfast and dinner with lunch on site. A typical day may consist of (subject to variation):
Breakfast – cereal, bread, butter etc, tea, coffee, milo. Volunteers can make their own eggs should they wish.
Lunch – Volunteers to prepare their own sandwich. Tuna, cold meat, salad, eggs. Some prefer to take left over dinner from the night before for lunch.
Dinner – Cooked meal (eg. stews, soups, curries, fish, roast vegetables, taro, sweet potato, bread, rice etc.
What's Included
Project Materials & Equipment

Pre-departure Expert Advice

Preperation Tools & Checklists

Certificate of Completion
"The look of joy and happiness on the kindergarten children, teachers and members of the woman's community while we were working on the kindergarten made me appreciated that I had the chance to do something for the community that is in a disadvantaged state."
"Each day I went from hut to hut, sat on the floor with them and gained an insight into their lives. As my compassion and empathetic nature went into full swing, I soon realized that this project was going to cut to the core of who I am and was going to change my perspective dramatically."
"Again, thank you for allowing me to experience "the real Fiji!" I hope that my time spend here has made way for future volunteers to make some real positive change to these people's lives. "
Island hopping is a great way to explore Fiji, and there are so many stunning islands to choose from!
Nadi is a Fijian and Indian town, with lots of activities do do. Check out the Sri Siva Subramaniya temple here.
Colo-i-Suva is a lush rainforest in Suva. There are several treks through the jungle, where you can swim in the waterfalls!
Ziplining is just one of the adventurous things you can get up to in Fiji. This is one for the thrill seekers and who love being outdoors.
For those who enjoy a much slower pace of life, there are hundreds of tranquil beaches to lounge on. This is a great way to really unwind from your busy projects!
Snorkelling and diving are two activites which are freely available in Fiji. The island hosts some of the most pristine and clear waters.
Enjoy this thrill seeking activity, not for the faint hearted! Rafting is great fun and an exhilerating way to spend your weekend!
Ready to Volunteer in Fiji?