Why Involvement Volunteers International?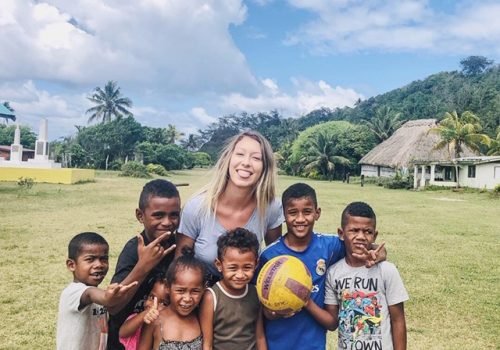 PROJECT NAME: ORPHANAGE FIJI

LOCATION: NADI & LAUTOKA

START DATES: WEEKLY (SAT/SUN ARRIVALS)

ACCOMMODATION: HOMESTAY
MIN DURATION: ONE WEEK

MIN AGE: 16+

SPECIAL REQUIREMENTS: N/A
* Please be aware, this project only runs in school term times. The dates for 2023 are as follows:
Term 1: 6th February – 5th May
Term 2: 22nd May – 25th August
Term 3: 11th September – 8th December
Overview
IVI's orphanage volunteer Fiji program allows for suitable applicants an opportunity to assist in the care for orphaned children ranging from new-born up to 20 years of age awaiting adoption. Volunteers serve as a supplement to the existing long term care provided to the children through a credible orphanage.
The orphanage is a home established for over 13 years with a strong local presence for serving the community and providing love, care and support to orphaned children of all ages.
The home was set up particularly for young children that were abandoned or disabled. The orphanage holds up to 25 children in total. Some are children who have been abandoned at birth, usually by young single mums and some are disabled. The Orphanage does however, also look after children who have needed to be taken from their parents by the Department of Social Welfare.
The orphanage receives support from local and international networks some (small) government assistance. The orphanage staff are friendly, caring and receive a very small wage. Volunteers are supervised by the staff and will be involved all the activities necessary in caring for orphaned children and maintaining the household.
Upon arrival, all volunteers will be given an orientation to the home, and be introduced to the staff and the children. Volunteers are able to assist the permanent staff in caring for the children's needs. A House Mother who will be in charge each shift, and the other Nana's who provide direct care to the children.
Volunteers with special skills (e.g. teacher, special education, physiotherapist, occupational therapist) can advise staff of their qualifications and skills and may be able to provide support in line with their field of specialty as needed. Other volunteers can assist with such things as administration, cooking, laundry, assisting school children with homework, and engaging in play time / activities with the children.
As it is important for the children to experience consistency, direct care of the children (e.g. bathing and changing diapers) is to be done by permanent staff and not volunteers.
Responsible Orphanage Volunteer Care

Orphaned children need to form secure attachments to regular carers. Evidence shows that children who grow up in institutional care live with a deep sense of abandonment which in some cases can be exacerbated by short term interaction with volunteer workers.
This centre focuses on attachment of orphans only to long term dedicated carers. Of course, it is only natural that children will form strong bonds with volunteers who show them love, care and attention. This bond may include the false hope of adoption in some cases, hence interaction with short term volunteers is carefully managed to ensure the psychological effects of over-attachment are not detrimental.
The orphanages in Fiji are inspirational places full of life, love, color and happiness with a strong social presence and acute understanding of the needs of children and necessary governance and support.
Location
Nadi is the main tourist hub with lots of back-packers places and night life. It's also well known for for Denerau Marina where many large 5 star resorts are and western style shopping. Denerau is the gateway to the Fiji islands, which is the most popular choice for most holiday goers' to Fiji. We'll likely take you here and show you around as part of the orientation or if you're heading out to the remote island teaching placement.
Lautoka, located 20 min north of Nadi, is a lovely and safe working class harbour city with many areas to explore (eg. hiking trails, mud pools etc). You will be spending time in the working class areas where the genuine needs exist.
Project Tasks
Assist local staff in the supervision and care of children in the home
To create fun activites, play with the children, help with lunch time and homework
Help with the general running of the home such as administration, cleaning and washing
Enjoy living like a Fiji local. You'll have your own single or twin share room within private, clean and safe western style homes. You will have a place to store your personal belongings, a private bathroom and toilet (where possible – not all placements include this), a fan and single mattress or double/queen if sharing with your partner. Some home stays have self contained flats separate from the main residence. You can choose this option if desired. Internet is usually not included with most volunteers purchasing a temporary 3G plan for their own device.
Meals are included and served at the host family for breakfast and dinner with lunch on site. A typical day may consist of (subject to variation):
Breakfast – cereal, bread, butter etc, tea, coffee, milo. Volunteers can make their own eggs should they wish.
Lunch – Volunteers to prepare their own sandwich. Tuna, cold meat, salad, eggs. Some prefer to take left over dinner from the night before for lunch.
Dinner – Cooked meal (eg. stews, soups, curries, fish, roast vegetables, taro, sweet potato, bread, rice etc.
What's Included
Project Materials & Equipment

Pre-departure Expert Advice

Preperation Tools & Checklists

Certificate of Completion
"I loved being immersed in Fijian culture by living and working with local people. It's a really special way to get to know a place! I wasn't sure how I would deal emotionally with volunteering at an orphanage, but I was pleasantly surprised by how happy and well loved the children were."
" They are very cute and happy every day. Nearly there are 4 housemothers every day and they take good care of these kids. All day schedule include playing time, studying time, snack time, TV time, shower time and sports time, whichi is same as a great kindergarten."
"The highlights of our trip was getting to know the workers and the children at the orphanage, we both felt privileged to be welcomed into their home and learn about their lives. Everyone was so friendly and welcoming"
" I assisted with things such as administration, cooking, laundry, assisting school children with homework, and engaging in play time / activities with the children. I also assisted in cleaning and organizing their bookshelves, along with sorting out donations like clothes and toys that they had received from the community. "
"I honestly could never have imagined how humbling and heart warming my Fiji experience would have been! I have never met a more welcoming and friendly community in my life. Fiji and the orphanage taught me so much and Masi and Mila are amazing!"
" This was a wonderful and touching experience, which was enhanced by the great organisation from the IVI team and the beautiful staff, which welcomed us into the Home. The care for the children there was brilliant, and to be given the opportunity to connect and get to know these gorgeous children was very touching."
"Volunteering in the orphanage taught me a lot of new things and gave me an unforgettable experience, also changed the way I look at things, in a way. Besides, Masi and Mary were very welcoming and made me feel like at home. "
"I was treated as one of their own and felt like I was their son. The whole family really went outside the requirements. I even got to attend some of their traditional events. The orphanage was a an eye opening scene, yet vibrant in by the children's attitudes. "
". My host family was so kind and generous to us our entire stay. Working at the orphanage was an absolute privilege and an unforgettable experience! The next time I'm looking to volunteer I will definitely look back into IVI. "
"Fiji was amazing!! I really loved the entire trip. IVI made the trip very smooth and I always felt safe and comfortable which I think is very important for volunteers particularly in third world countries. So thank you for everything you have done"
"I have increased my awareness of my strengths and weaknesses, and have developed a vast amount of new skills, like mental and social. I have learnt so much, and can apply this learning in new situations. For example, I have discovered a completely foreign culture which has taught me, through challenges, how to adapt, accept and work together with people that have different backgrounds as myself, and this will be very useful in later life during international travels."
" One day, there was an impromptu dance party, and I will never forget how much fun it was dancing around with the kids, it was adorable because they all loved dancing so much! I am so glad that I was able to have this experience!"
"The highlights of my trip was by far my host family. They were so welcoming and made being away from home that much easier. It was so much fun meeting people from all over the world. Also, the kids were so cute"
"At the orphanage we were blown away how friendly the mothers were and how well behaved the children were. Everyone had a role to play."
Island hopping is a great way to explore Fiji, and there are so many stunning islands to choose from!
Nadi is a Fijian and Indian town, with lots of activities do do. Check out the Sri Siva Subramaniya temple here.
Colo-i-Suva is a lush rainforest in Suva. There are several treks through the jungle, where you can swim in the waterfalls!
Ziplining is just one of the adventurous things you can get up to in Fiji. This is one for the thrill seekers and who love being outdoors.
For those who enjoy a much slower pace of life, there are hundreds of tranquil beaches to lounge on. This is a great way to really unwind from your busy projects!
Snorkelling and diving are two activites which are freely available in Fiji. The island hosts some of the most pristine and clear waters.
Enjoy this thrill seeking activity, not for the faint hearted! Rafting is great fun and an exhilerating way to spend your weekend!
Ready to Volunteer in Fiji?