Why Involvement Volunteers International?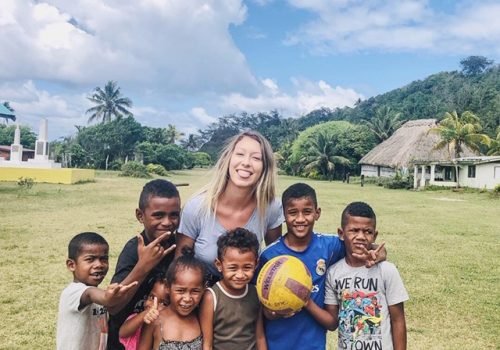 PROJECT NAME: REMOTE ISLAND TEACHING

LOCATION: MANAMANUKA ISLAND RANGES

START DATES: WEEKLY (SAT/SUN ARRIVALS)

ACCOMMODATION: HOMESTAY
MIN DURATION: ONE WEEK

MIN AGE: 18+ (16 if accompanied by a Guardian/Parent)

SPECIAL REQUIREMENTS: N/A
* Please be aware, this project only runs in school term times. The dates for 2023 are as follows:
Term 1: 6th February – 5th May
Term 2: 22nd May – 25th August
Term 3: 11th September – 8th December
Overview
Volunteer on a remote island in Fiji, where the views are stunning from every direction. This is an incredible placement where you can experience in depth the authentic Fijian Island way of living. After presentation of your offering (Kava ceremony) you will be welcomed into the community to live as an honoured guest.
The placement is centred around the local public school where approx 100 students from kindergarten through to grade 6 come to learn each day. The school receives very minimal government funding and there are substantial needs in all areas of educational assistance, school resources, community development, infrastructure and vocational support.
The volunteers tasks are varied and acceptance into the program will be based on individual applications. Volunteers will need to be self sufficient and competent enough to see areas of opportunity and to assist as appropriate. This is a challenging and raw experience where you can truly make a positive impact and likely gain an appreciation for the simple things in life.
The role of volunteers will involve working with the remote island school teachers and coordinators to design fun and interactive lessons which enable alternative teaching methods and intercultural learning. As the Fijian school curriculum is very standard, having volunteers provides new ways of viewing the world which benefits the kids by providing alternative ways of thinking.
Volunteers need only to bring a positive attitude and willingness to experience the true Fijian culture. You must be willing to go with the flow. There are many customs which are ingrained within the Fijian culture that you will not change overnight. Volunteers need to be open and accepting of the culture, beliefs and operational systems with a view to help by providing alternative ways of thinking in a constructive non critical way.
As you will be living within the school compound which is literally on the beach on a small island setting with an approx 3km perimeter coastline, your life will be centered around the school activities and daily rituals associated. Wake-up with roosters crowing at 5am. Help in early morning chores and exercise, feeding the boarding students. Preparing lessons for the day. Teaching a lesson or two. Maybe maths, english, sports, geography, you'll be surprised how much insight you can offer! The students here are very sheltered from the outside world and take so much away from your involvement in their lives even for a short period of time.
Location
This island paradise has extensive views over fringing coral reefs and green-blue tropical seas. It's a medium sized island (approx 10km in diameter) with cliffs and rolling hills for amazing hikes with views out to surrounding islands where for island hopping or snorkelling. With approx 800 native Fijian inhabitants (some of whom have never seen a car!) Many inhabitant's work on the local tourist islands. The village's main source of incomes is handicrafts, pottery and shells, with the local people otherwise relying on subsistence farming and fishing.
Project Tasks
Teach basic English
Playing games with the children
Get creative with drawing, making presentations, painting and crafts
Develop students conversation skills
Assist with daily chores, and family activities with your hosts
You will live within the large gated school compound where individual family residences exist for the school staff and their families. You'll normally be provided your own room or sharing with another volunteer. Bedding is usually a mattress on the floor. It's clean and comfortable, but no frills. The houses are light and airy right next to the ocean but very basic, with normally a living area, sleeping area, kitchen and adjoining bathroom.
Electricity is a luxury on the island and small solar lamps are used for the evenings. This means, tv's radio's, fridges etc are limited. You'll be able to charge your laptop or mobile device no problem. You'll also have a safe place to store your belongings.
Please note – Many things that we take for granted in our homes are not available on the island and living conditions are very basic. Borehole water is used for washing and toilets and rainwater is used for cooking and drinking. Toilets are western style and waterseal. They need to be filled with a bucket of water to fill the cisten before flushing.
Fresh fruits and vegetables can be quite scarce on the island so it's recommended to bring a small offering of rice, flour or long lasting vegetables (ie. cabbage) with you along with some snacks for yourself if desired. You will have plenty to eat, but the variety of options will be less than other home stay placements.
Breakfast would normally consist of tea with homemade pancakes, bread and fruit if available. The pancakes are very similar to donuts and very yummy!

Lunch and dinner would mostly consist of fresh fish, chicken, lamb or tinned food. This placement will be difficult for vegetarians who do not eat fish.
What's Included
Project Materials & Equipment

Pre-departure Expert Advice

Preperation Tools & Checklists

Certificate of Completion
"Honestly my entire trip was a highlight. Being in the school compound fully immersed on a local remote island made everyday full of indescribable experiences that I will cherish forever."
"I just wanted to say a huge thank you for organising this amazing experience. I had such a memorable time, I will never forget it. "
"I remember that one day where the kids showed me a secret beach. Another volunteer and around 20 kids, including my two host brothers climbed over a hill, just to arrive on this breathtaking beach. "
"Honestly, I've done lots of mission trips during these six years but this trip was the special one, the best one ever!"
"Last week was one of the best weeks of my life, ever ……. it was hard, hot, uncomfortable and a bit challenging at times but incredibly rewarding."
"I thoroughly enjoyed my time at the island school and this is thanks to in particular my beautiful host family, but also the wonderful, hard working teachers at the school and the entire village community there."
"I loved reading with the students. They work so hard and are so keen to learn. I also enjoyed walking along the beach with the students after school singing songs we had learned that day or collecting shells and also spending time with the women who were so very kind and generous."
" I left Fiji feeling like I was a part of their family. The teaching staff were so appreciative of everything I did and they made me feel like part of the school. The island is such a picturesque island with natural beauty everywhere you looked. I loved waking up in the morning to the sun shining and the sounds of the children going about their morning jobs."
"Thank you so much for organizing such an amazing volunteering experience. The remote island teaching was such an incredible way to get involved and help others. "
" I did not realise how AMAZING this experience would be! We formed such close bonds with all the teachers and students and they seriously felt like family by the end of the week. We will 100% return. They are such happy, positive, fun people to be around "
"I got to experience genuine village life, away from all the luxuries back here. I definitely enjoyed the daily view of the beach at school! The host family were so accommodating, the teachers were so friendly and the children were absolutely adorable!"
Island hopping is a great way to explore Fiji, and there are so many stunning islands to choose from!
Nadi is a Fijian and Indian town, with lots of activities do do. Check out the Sri Siva Subramaniya temple here.
Colo-i-Suva is a lush rainforest in Suva. There are several treks through the jungle, where you can swim in the waterfalls!
Ziplining is just one of the adventurous things you can get up to in Fiji. This is one for the thrill seekers and who love being outdoors.
For those who enjoy a much slower pace of life, there are hundreds of tranquil beaches to lounge on. This is a great way to really unwind from your busy projects!
Snorkelling and diving are two activites which are freely available in Fiji. The island hosts some of the most pristine and clear waters.
Enjoy this thrill seeking activity, not for the faint hearted! Rafting is great fun and an exhilerating way to spend your weekend!
Ready to Volunteer in Fiji?