Why Involvement Volunteers International?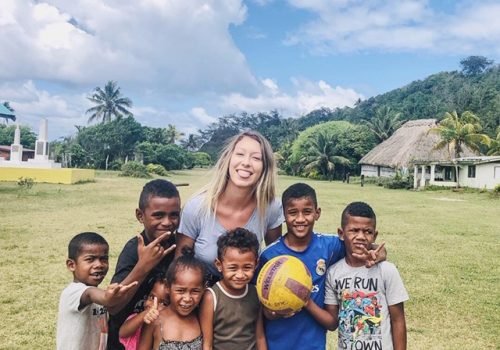 PROJECT NAME: SPORTS TEACHING

LOCATION: CORAL COAST (SIGATOKA)

START DATES: WEEKLY (SAT/SUN ARRIVALS)

ACCOMMODATION: VOLUNTEER HOUSE
MIN DURATION: ONE WEEK

MIN AGE: 16+

SPECIAL REQUIREMENTS: N/A
* Please be aware, this project only runs in school term times. The dates for 2023 are as follows:
Term 1: 6th February – 5th May
Term 2: 22nd May – 25th August
Term 3: 11th September – 8th December
Overview
Sports education also plays a crucial role in the lives of the young Fijians, with Rugby being the most popular sport. You will be volunteering at a dedicated sports academy, where the children from nearby villages go to after school hours.
Teaching sports encourages the children to stay active, to find a passion, and to hopefully provide opportunites futher down the track. The children love running around and enjoy most sports! You will work alongside a local coach in preparing exercise classes, teaching sport rules and paying sports games in teams.
Volunteers are encouraged to be creative and offer different sports-related activities depending on the students' ages, likes and interests. This is a great opportunity for a cultural exchange, to introduce a new sport to the children (or even learn one yourself!), and to teach the kids about disapline/ respect in sporting activites.
Location
Coral Coast is noted as the 'adventure capital of Fiji' and is located about 1 hour from Suva and 1 hour from Nadi. It is known for it's incredibly beautiful coast line, tourist beaches and resorts and heaps of activities from 4 wheel drive tours, shark feeding, surfing, rivers & waterfalls, golf etc and is home to the famous Bega lagoon and bega fire walkers. Sigatoka is the gateway to the Coral coast and home to several of our projects.
Project Tasks
Volunteers will help teach and educate primary school children of different ages at different academic and physical levels. Tasks may include but are not limited to;
Teaching sports rules

Teaching basics of games
Organise sport related activities
Play sports with children
Teach respect and fairness in sports
Accommodation is in a dedicated house for volunteers with shared bedrooms 4-6 persons per room (single gender rooms) and private bathroom per room. Living with other volunteers in a dormitory-style house is heaps of fun and a great way to meet like minded travellers. The volunteer houses are in close proximity to a basic supermarkets, ATM, fresh fruit and vegetable stands, petrol stations and bus stop.
The houses can accommodate up to 20 volunteers at a time. The bathrooms are shared with western style toilets and hot showers. The accommodation is equipped with free Wi-Fi which volunteers are able to use. Laundry services are available for a small fee. Bed linen, fans and mosquito protection are all provided. We recommend volunteers bring their own towel. The rooms are lockable and there are also safety deposit boxes available.
*For couples or those wanting more privacy, private rooms in the volunteer house are available for an additional US$140 per week, subject to availability.
You will be served 3 meals on weekdays, and 2 meals on weekends and public holidays. Breakfast is typically Western style, and lunch and dinner will be local Fijian dishes.
What's Included
Project Materials & Equipment

Pre-departure Expert Advice

Preperation Tools & Checklists

Certificate of Completion
"Honestly my entire trip was a highlight. Masi was helpful and easily contactable. Staying with the host family was really a great experience, I love them all so much."
"The trip to Fiji was really amazing and rewarding! I enjoyed the teaching and was pleased that I could really help the local teachers a bit with the progress of some weaker students."
" I know I was hesitant to stay a week alone, but I am so so grateful I did. My time was life changing. The children taught me so much and gave me so much happiness. "
"Highlights of the trip: Seeing progress in some of the students in my 2 grade class in Suva who were struggling more than others * educating 8 grade on about our plastic ocean and teaching this environmental message through letting them use their creativity by recycling waste into art."
"The coordinators at Sigatoka were excellent, they were friendly, very helpful and a good support system. The food was also very enjoyable and an experience within itself. Accommodation was good, 😊 and the location was amazing."
Island hopping is a great way to explore Fiji, and there are so many stunning islands to choose from!
Nadi is a Fijian and Indian town, with lots of activities do do. Check out the Sri Siva Subramaniya temple here.
Colo-i-Suva is a lush rainforest in Suva. There are several treks through the jungle, where you can swim in the waterfalls!
Ziplining is just one of the adventurous things you can get up to in Fiji. This is one for the thrill seekers and who love being outdoors.
For those who enjoy a much slower pace of life, there are hundreds of tranquil beaches to lounge on. This is a great way to really unwind from your busy projects!
Snorkelling and diving are two activites which are freely available in Fiji. The island hosts some of the most pristine and clear waters.
Enjoy this thrill seeking activity, not for the faint hearted! Rafting is great fun and an exhilerating way to spend your weekend!
Ready to Volunteer in Fiji?