Why Involvement Volunteers International?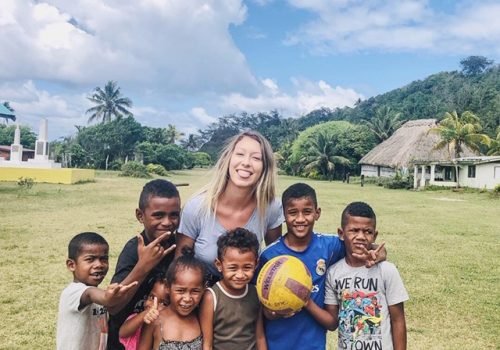 PROJECT NAME: CONSTRUCTION FIJI

LOCATION: CORAL COAST (SIGATOKA)

START DATES: WEEKLY (SAT/SUN ARRIVALS)

ACCOMMODATION: VOLUNTEER HOUSE
MIN DURATION: ONE WEEK

MIN AGE: 16+

SPECIAL REQUIREMENTS: N/A
Overview
Construction & renovation, school rebuilding, cyclone rebuilding. Work along side local tradesman and help to refurbish worn down community structures or build new structures. No specialist skills are required, however tradespeople of all types (carpentry, plumbing, building, laborers, electricians etc) are in high demand!
Many of the schools in the area simply do not have funds for renovation work and as a result, classrooms, libraries and community areas are worn down and uninviting. Through the help from international volunteers, we help re-build and beautify community structures providing positive energy and vibrancy for the locals. In many areas of Fiji, thousands of families live in inadequate accommodation and children attend school in crumbling buildings. Our construction project allows them to move to new, better quality homes and for the children to receive an education in secure, new classrooms.
Developing infrastructure for the local community is an amazing way to give back to the Fiji locals directly benefiting them and improving their quality of life. Volunteers will mainly assist in renovating parks, playgrounds, classrooms, kindergartens and other community centers with some supervision and assistance of local tradesmen.
Location
Coral Coast is noted as the 'adventure capital of Fiji' and is located about 1 hour from Suva and 1 hour from Nadi. It is known for it's incredibly beautiful coast line, tourist beaches and resorts and heaps of activities from 4 wheel drive tours, shark feeding, surfing, rivers & waterfalls, golf etc and is home to the famous Bega lagoon and bega fire walkers. Sigatoka is the gateway to the Coral coast and home to several of our projects.
Project Tasks
Plan out daily projects with the local team
Work on building and renovation projects with local skilled workers
Paint, deorate and make nicer living environments for the community
Accommodation is in a dedicated house for volunteers with shared bedrooms 4-6 persons per room (single gender rooms) and private bathroom per room. Living with other volunteers in a dormitory-style house is heaps of fun and a great way to meet like minded travellers. The volunteer houses are in close proximity to a basic supermarkets, ATM, fresh fruit and vegetable stands, petrol stations and bus stop.
The houses can accommodate up to 20 volunteers at a time. The bathrooms are shared with western style toilets and hot showers. The accommodation is equipped with free Wi-Fi which volunteers are able to use. Laundry services are available for a small fee. Bed linen, fans and mosquito protection are all provided. We recommend volunteers bring their own towel. The rooms are lockable and there are also safety deposit boxes available.
*For couples or those wanting more privacy, private rooms in the volunteer house are available for an additional US$140 per week, subject to availability.
You will be served 3 meals on weekdays, and 2 meals on weekends and public holidays. Breakfast is typically Western style, and lunch and dinner will be local Fijian dishes.
What's Included
Project Materials & Equipment

Pre-departure Expert Advice

Preperation Tools & Checklists

Certificate of Completion
"Although we worked hard on repairing and painting the school's rooftops, the highlight for me was being able to play soccer and volleyball with the students after the school day has concluded. Master Pate had asked if I could work with the children's english on our off time. So as we played volleyball, I asked the children to count in english every time we hit the ball back up."
"Such a rewarding experience, honestly had such a great time and didn't want to leave when it came to our final day. Will definitely be coming back at some point in the near future to help out again."
"The biggest highlight of the trip for me was the actual volunteering, and helping rebuild the kindergarten. I thoroughly enjoyed getting hands on and I was quite proud of what we achieved in the short amount of time we hand there."
"We all worked as a team we got stuck in to it and we all pitched ideas and did what work with the skills of each person had. The food was absolutely delicious and the accommodation was nice."
"When we were helping rebuild a classroom it was great a bonding session for the team as in those 3 days we got to know each other real well and close, as well as meeting the kids, teachers and locals"
"Highlights: 1, living with my host family, it was an amazing experience. 2, The island!, it was such a cool experience and the views were amazing. 3, being able to make a difference in the village"
Island hopping is a great way to explore Fiji, and there are so many stunning islands to choose from!
Nadi is a Fijian and Indian town, with lots of activities do do. Check out the Sri Siva Subramaniya temple here.
Colo-i-Suva is a lush rainforest in Suva. There are several treks through the jungle, where you can swim in the waterfalls!
Ziplining is just one of the adventurous things you can get up to in Fiji. This is one for the thrill seekers and who love being outdoors.
For those who enjoy a much slower pace of life, there are hundreds of tranquil beaches to lounge on. This is a great way to really unwind from your busy projects!
Snorkelling and diving are two activites which are freely available in Fiji. The island hosts some of the most pristine and clear waters.
Enjoy this thrill seeking activity, not for the faint hearted! Rafting is great fun and an exhilerating way to spend your weekend!
Ready to Volunteer in Fiji?