Why Involvement Volunteers International?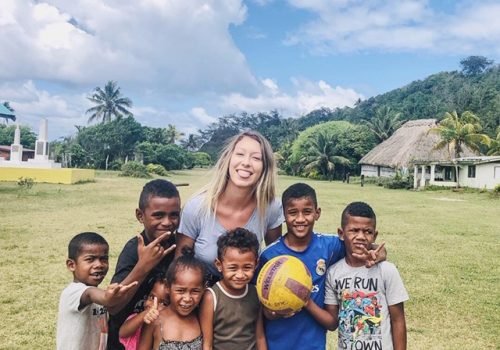 PROJECT NAME: WOMAN & CHILDREN COMMUNE

LOCATION: LAUTOKA

START DATES: WEEKLY (SAT/SUN ARRIVALS)

ACCOMMODATION: HOMESTAY
MIN DURATION: ONE WEEK

MIN AGE: 16+

SPECIAL REQUIREMENTS: N/A
Overview
Background Information
This community is made up of almost 400 people, divided into 9 villages consisting of 4-5 flats, home to 4 different families. It is a place for 'disabled' people, predominantly single mums and their children and/or extended family. The community receives some government support and social assistance but has very limited resources and can really use a helping hand. Unfortunately, pleas for help by the passionate community administration staff regularly go unanswered.
There is a strict guideline for applying to tenant in this community which helps to keep harmony amongst families, although there is usually always issues and problems arising in human nature.
The workload for the community staff is immeasurable and ongoing, and the community would greatly benefit from extra sets of hands, either by placing full time citizens in some of the above roles from the Suva office or sourcing constant support in the way of volunteers.

Role of volunteers
The role of our volunteers is varied, but ultimately, you are there to offer an extra set of hands to help lessen the burden of day to day operations around the commune, so that the residents can utilize their time in pursuit of economic opportunity to help bring themselves and their family out of poverty. Volunteers are expected to bring a positive can do attitude and a willingness to help those less fortunate. Typically, this involves between 4-6 hours of volunteer assistance at the commune during Monday to Friday. Upon orientation, you'll be assigned a coordinator who will help you integrate into the community so that you can feel at home and welcome here.
Core Operating Values
As a charitable organisation serving a multitude of families and individuals the following values are central to the community;
Caring Attitude– Compassionate and support to poor people and their families providing caring and support and empowerment.
Respectfulness – Respect and encouragement of each person to take control of their own life
Diversity – An understanding that people from all ethnic backgrounds, and relegions may need caring support and assistance from time to time.
Advocacy – Education for the public on the community based values in order to build advocates for increased awareness and further support.
Social Services
With the community made up of mostly woman and children from severely disadvantaged backgrounds, there are various challenges with negative belief systems, emotional & physical scarring that require qualified social workers trained in social work, psychiatry and various mental health disciplines. Even those without formal qualifications can have a positive impact. We're looking for people with a strong mindset, and caring can do attitude who are willing to listen to the stories of these woman and offer support and the way of positive energy, belief, hope and refreshed spirit. Anyone can help, simply by taking the time to listen and offer practical help in various ways.
Kindergarten & Teaching Project
Unfortunately, even in today's day and age, not everyone has the luxury of basic education. Beginning with basic education is the first step to leading a life with opportunity, in order to deliver basic education the kids need a classroom of their own.
The kindergarten makes use of the community hall with classes running 8am-11am. (teachers finish approx. 12pm) Unfortunately, there is no dedicated classroom for the students and teachers to make use of. As this is a shared spaced, disagreements about the state of the hall occur between the various youth groups, church gatherings & village meetings. In terms of school supplies these are provided annually by the head office in Suva.
There are 36 students registered (aged 3-5 years) with around 20+ in attendance each day. Two teachers certified (USP or FNU) in Early Childhood teaching run the class. The students come from within the community housing as well as the surrounding farmland areas. Travelling to school on foot or by bus.
Classroom Construction Project
A dedicated classroom built for the community would immensely aid the facilitation of teaching the students, in a nurturing environment that is solely for the care and education of the students. Teachers wouldn't have to worry about equipment & supplies being misused; class could run for a full day instead of only a few hours, members of the community would then have their hall back to regular use without education paraphernalia covering the walls and ceiling.
For this to happen, materials and volunteers skilled in construction are required.
Community Support & Administration
With so many ongoing social, environmental and physical needs, volunteers need only some care, motivation and creativity to assist with various community needs such as;
Office administration & paperwork (bring your own laptop)
Healthcare (Nutritionists, Doctors, Nurses well needed)
Repair of a flat destroyed in Cyclone Winston
Assisting with tenant applications
Gardening
Finance
Building Maintenance & repairs
Creative/ cultural workshops
Counselling services
Location
Lautoka, located 20 min north of Nadi, is a lovely and safe working class harbour city with many areas to explore (eg. hiking trails, mud pools etc). You will be spending time in the working class areas where the genuine needs exist.
Project Tasks
– Kindergarten assistant teaching
– Woman's empowerment teaching
– Micro-business & economic empowerment
– Renovation and grounds maintenance
– Office administration & computer skills education
Project Hope - Elena Rowland
"My mission was to see what kept these women pushing forward despite going through life's toughest hardships. I had one question for them. What do you hope for?​"
El gave up her Christmas & campaigned to raise $3300 to fund 1 years rent for each of these deserving woman…

(read more)
Enjoy living like a Fiji local. You'll have your own single or twin share room within private, clean and safe western style homes. You will have a place to store your personal belongings, a private bathroom and toilet (where possible – not all placements include this), a fan and single mattress or double/queen if sharing with your partner. Some home stays have self contained flats separate from the main residence. You can choose this option if desired. Internet is usually not included with most volunteers purchasing a temporary 3G plan for their own device.
Meals are included and served at the host family for breakfast and dinner with lunch on site. A typical day may consist of (subject to variation):
Breakfast – cereal, bread, butter etc, tea, coffee, milo. Volunteers can make their own eggs should they wish.
Lunch – Volunteers to prepare their own sandwich. Tuna, cold meat, salad, eggs. Some prefer to take left over dinner from the night before for lunch.
Dinner – Cooked meal (eg. stews, soups, curries, fish, roast vegetables, taro, sweet potato, bread, rice etc.
What's Included
Project Materials & Equipment

Pre-departure Expert Advice

Preperation Tools & Checklists

Certificate of Completion
"The look of joy and happiness on the kindergarten children, teachers and members of the woman's community while we were working on the kindergarten made me appreciated that I had the chance to do something for the community that is in a disadvantaged state."
"Each day I went from hut to hut, sat on the floor with them and gained an insight into their lives. As my compassion and empathetic nature went into full swing, I soon realized that this project was going to cut to the core of who I am and was going to change my perspective dramatically."
"Again, thank you for allowing me to experience "the real Fiji!" I hope that my time spend here has made way for future volunteers to make some real positive change to these people's lives. "
Island hopping is a great way to explore Fiji, and there are so many stunning islands to choose from!
Nadi is a Fijian and Indian town, with lots of activities do do. Check out the Sri Siva Subramaniya temple here.
Colo-i-Suva is a lush rainforest in Suva. There are several treks through the jungle, where you can swim in the waterfalls!
Ziplining is just one of the adventurous things you can get up to in Fiji. This is one for the thrill seekers and who love being outdoors.
For those who enjoy a much slower pace of life, there are hundreds of tranquil beaches to lounge on. This is a great way to really unwind from your busy projects!
Snorkelling and diving are two activites which are freely available in Fiji. The island hosts some of the most pristine and clear waters.
Enjoy this thrill seeking activity, not for the faint hearted! Rafting is great fun and an exhilerating way to spend your weekend!
Ready to Volunteer in Fiji?