WHY
we need you in South Korea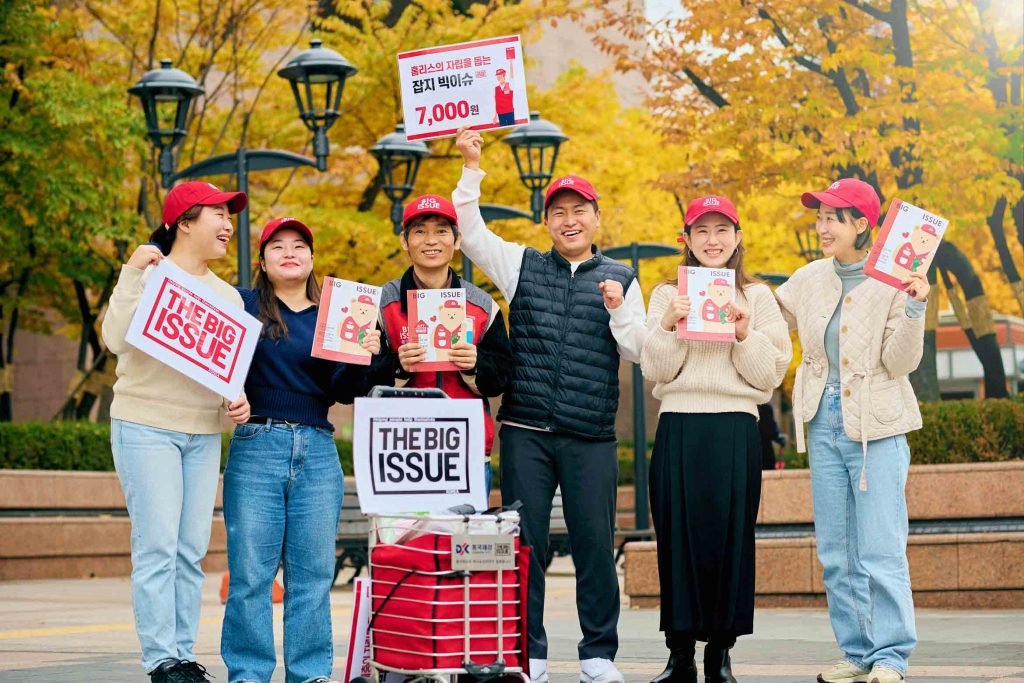 Why Involvement Volunteers International?
PROJECT NAME: HOMELESS SUPPORT

LOCATION: SEOUL, SOUTH KOREA

START DATES: WEEKLY (SAT/SUN ARRIVALS)

ACCOMMODATION: VOLUNTEER HOUSE
MIN DURATION: ONE WEEK

MIN AGE: 18+ (under 18's must be supervised by an adult)

SPECIAL REQUIREMENTS: N/A
Overview
Seoul is a bustling metropolis and the capital city of Korea. It is renowned as the birthplace of various global giants such as BTS, Samsung, LG, and the hit show Squid Game. Despite its modern and prosperous facade, homelessness remains a significant issue in the city.
The Homeless Support program collaborates with "The Big Issue Korea", which was established in 2010 with the aim of helping homeless individuals to regain their confidence and self-respect. Unlike traditional financial aids, The Big Issue provides an opportunity for the homeless to earn a living by selling the magazine, sharing the profits with them.
The Big Issue is an internationally recognized enterprise that aims to help those without a home by providing them with a platform to sell their street magazine. By sharing the profits with these individuals, The Big Issue Korea offers financial benefits and support to help them reintegrate into mainstream society and rebuild their confidence and dignity.
The slogan of The Big Issue, "Helping people help themselves," reflects their philosophy of providing a hand up, rather than a handout. However, being a salesperson for The Big Issue takes a lot of courage and can be exhausting, with salespeople standing on busy streets for hours shouting to sell their magazines. As a volunteer, you will accompany the salesperson and provide moral support by being there with them. Although basic English language skills are typically expected, volunteers can engage with the salesperson on a personal level by making small talk and discussing various topics.
Location
Seoul, the capital of South Korea, is a bustling and dynamic metropolis that seamlessly blends modernity with traditional Korean culture. With a population of over 10 million people, Seoul is a vibrant and exciting city that offers endless opportunities for exploration and adventure. Visitors can experience traditional Korean culture by visiting the city's many historic temples, palaces, and markets, or they can indulge in the city's vibrant nightlife scene by visiting its many bars, nightclubs, and restaurants. Seoul is also known for its innovative technology, fashion, and music industries, making it a hub of creativity and innovation.
Project Tasks
Lend a helping hand with 'The Big Issue Korea'
Contribute to UN's sustainable development goals
Learn about Korea and interact with the local community
You will stay in a local hostel in Seoul. Rooms are shared but you can upgrade to a private room for an additional fee. The accommodation is conveniently located close to the airport and to the city centre and includes shared rooms for 2-8 people, western toilets, heating, and hot showers. Rooms are equipped with air conditioning and wifi is available in the common areas. There are laundry facilities on site, and a friendly pub is open to all the guest son first floor of the guesthouse for everyone to enjoy. The accommodation is located near the subway station and is walking distance to shops, mini-mart, ATM, supermarket, local restaurants, and coffee shops.
Breakfasts are prepared at the accommodation. Lunch and dinner will be provided at various partnered restaurants near the accommodation which you can choose from, but most of the meals will consist of typical Korean dishes. Occasionally the lunch meal will be provided outside of the centre according to program schedules.
What's Included
Project Materials & Equipment

Pre-departure Expert Advice

Preperation Tools & Checklists

Certificate of Completion
Try the delicious food in Korea! From kimchi to the delicious Korean BBQ!
This historic palace was built in the 14th century and showcases traditional Korean architecture and culture.
Located in the eastern part of the country, this park is famous for its stunning mountain scenery, including the highest peak in the Taebaek mountain range.
This trendy neighborhood in Seoul is known for its lively nightlife, street performances, and music venues. Visitors can enjoy shopping, dining, and bar-hopping in the area.
This historic village in the southwestern part of the country offers a glimpse into traditional Korean architecture and culture.
Ready to Volunteer in South Korea?