WHY
we need you in Vietnam
Why Involvement Volunteers International?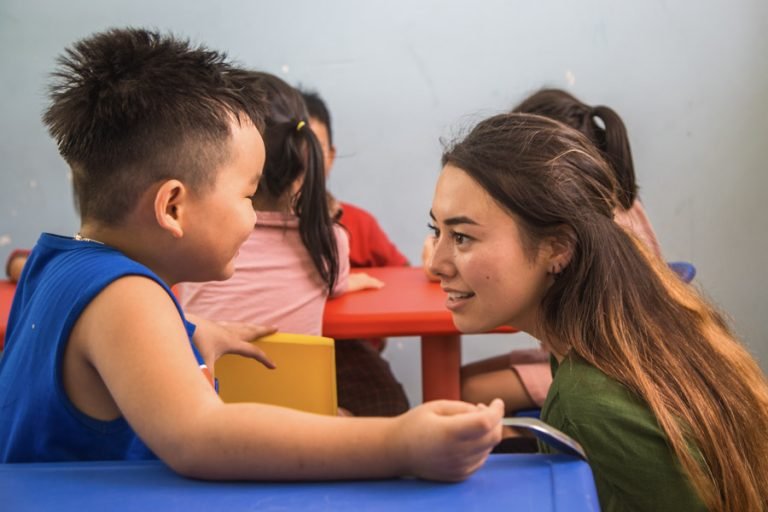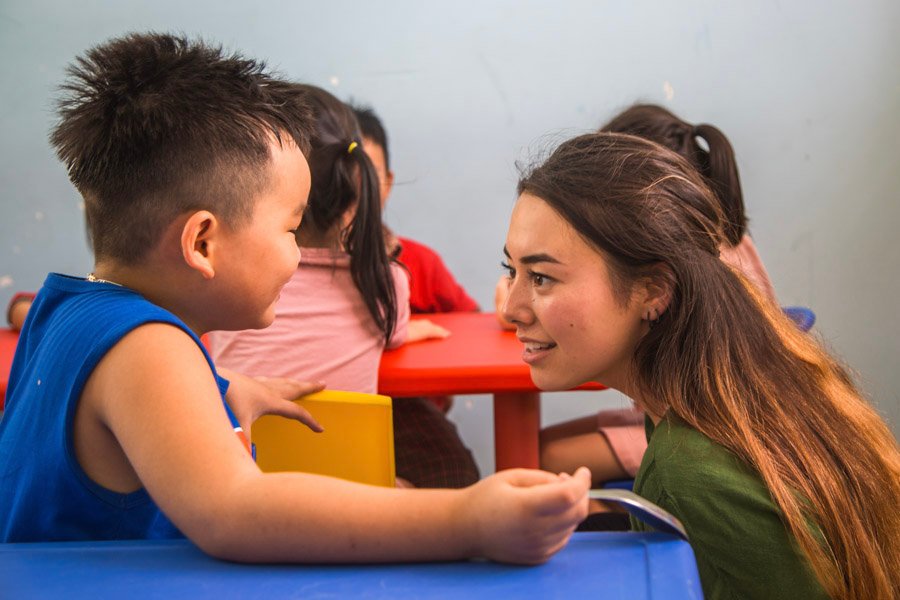 PROJECT NAME: ENGLISH TEACHING

LOCATION: PHAN THIET

START DATES: WEEKLY (SAT/SUN ARRIVALS)

ACCOMMODATION: UNIVERSITY CAMPUS
MIN DURATION: ONE WEEK

MIN AGE: 16+

SPECIAL REQUIREMENTS: N/A
Overview
You will be teaching English to college students who attend the local university in Phan Thiet, a fishing village on the Southeast coast of Vietnam. The students are aged from 18 to 24 years, with most having a beginner level of English. The students are very eager to learn and improve their English, which can greatly help with their future education and career prospects. Your advanced level of English is very welcome to the students, who can learn clear and proper pronunciations from you.
The primary aim of your teaching will be to interact with the students through conversation, helping to improve their English speaking ability. You will join part of their usual English classes for about 45 minutes as a guest-lecturer. The local staff will establish the grammar and basic foundations. You will help them to form questions and answer them correctly, through use of examples and engaging them in conversation.
The Vietnamese teachers will be there to guide you through the process. One technique is to write basic conversations on the board and to practice these with the class. Another method is to have one-to-one conversations with a student in front of the class, which you regularly rotate. This provides real life examples for the students, making it easier for them to understand. You will also help students with their pronunciation and sentence building. You will regularly attend the classes and have continuous interaction with the students throughout the day.
At beginner level, most subjects you'll teach will include, age, hobbies, family and travel. You can share information about your culture and learn about theirs too. Gradually the student's ability levels will advance, and so will the topics you teach. Practicing conversational speaking with them, will help overcome their shyness and fear of public speaking, and you will help the students build confidence with their English skills.
Vietnamese students are generally very excited to meet people from other countries and will welcome you to explore all aspects of their culture with them. This is a great cultural exchange opportunity to make friends with the local students, who will want to show you around their local town.
*This program is replaced by an english camp during school holidays
Location
Phan Thiet, is beach town and relatively undisturbed fishing area which is also the capital of the Binh Thuan province. Located approx 175km's north of Ho Chi Minh, the city encompasses 57km's of coastline with heaps of different beaches, local markets, cultural sites, restaurants and night life. It's an interesting destination for international visitors seeking a more local experience as the area is geared mostly to Vietnamese tourism. As with many rural towns and cities there are many needs in the areas of poverty management, english teaching, infrastructure works, food kitchens etc and volunteers play a key role in this regard.
Project Tasks
Help university students improve their English language skills and employment opportunities
Gain valuable teaching experience, whilst assisting local staff
Interact with your new Vietnamese friends in this exciting cultural exchange opportunity
In Phan Thiet, the accommodation is comfortable and clean and situated on a university campus and also very close to the beach! The large rooms sleep up to 6 volunteers per room and with air conditioning, fans, hot water, bed linen, laundry facilities and private separate gender bathrooms & showers. WIFI is included in the cost but please note the quality can depend on local weather conditions. Many volunteers opt to buy a local data SIM for use in their devices. It is also located close to a local supermarket, restaurants and beaches.
3 good meals are provided every weekday during your project, with 2 meals on the weekends (breakfast & dinner). Bottled water is easily available in Vietnam and volunteers should budget approx US$1 per day. There is also filtered water available at the campus.
You will be eating local Vietnamese dishes, with predominantly rice at most meals. The Vietnamese cuisine is known for its fresh flavours, soups and stir-fries. There may also be some western dishes such as spaghetti and sandwiches.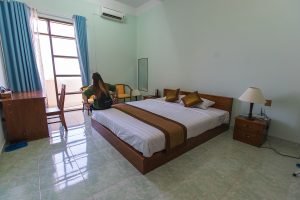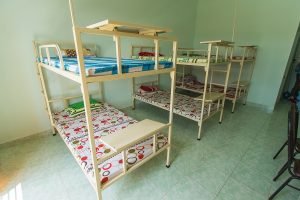 What's Included
Project Materials & Equipment

Pre-departure Expert Advice

Preperation Tools & Checklists

Certificate of Completion
"We stay at the University Campus. Living here is really comfortable actually, we have everything we need all close by. I catch the local buses everywhere which are easy to navigate and so I am finally settling into my new location."
"I volunteered at the Kindergarten program in Ho Chi Minh for a week in March. Unfortunately, I only had a short time but it was an amazing experience! I got to assist the staff with the children, playing with them, get to know them and teach them English."
"Loved the project! I taught kindy and everyday was a fun experience. The kids were adorable and eager to learn. The team were amazing and always available to chat and help you out. The accommodation and food was good too."
Vietnam has some of the most beautiful mountains and green rolling hills to explore. Sapa is a popualar place for tourists to vist.
Floating markets are situated all over Vietnam and are a great way to experience the local culture from another viewpoint!
One of the most popular spots to visit in Vietnam. Take a junk boat tour or hire out a canoe on the gorgeous green waters. There are several caves here too!
This pretty French colonial town is famous for it's colourful lanturns and has a real romantic feel about the place. It's also close to a beautiful beach.
This is a popular beach town with backpackers, due to it's lively nightlife. During the day, theres a stunning beach to relax on.
If you are situated in Phan Thiet, these stunning sand dunes are right on your door step! They run for miles and look like the Sahara rather than Vietnam!
Ready to Volunteer in Vietnam?