Arrival airport transfer
Orientation
All ground transportation
Accommodation – Volunteer house (shared rooms)
3 quality meals per day
Construction equipment and materials
24/7 in-country support & emergency assistance
Training & guidance from local staff
Certificate of Completion

Travel insurance (mandatory)
Airfares & visa fees
Additional tours, souvenirs, spending money
Some daily local transport (depending on program eg. $2 p/day)
Background Information
As with many South Pacific regions, Vanuatu receives significant storm activity from Jan-Apr each year and the damage caused by a large cyclone in 2015 is an on-going problem in these underprivileged areas.
With construction volunteering Vanuatu, you'll be working mainly on community structures such as schools, community centers and public areas. In many of the schools, economic challenges mean that classrooms are often makeshift and poorly constructed, resulting in un-safe and/or sub-optimal for educational purposes. Much of our work exists in the villages of Piliura and Launamoa which were badly affected by the cyclone Winston in 2015.
Volunteering in construction is very satisfying as you can see first hand the result of your efforts. You'll join in the efforts of the locals in helping to build classrooms, preschools, and other important infrastructure such as gutters, drainage, and facilities. The locals truly need your help!
Who Can Participate
Anyone who likes being physical (and sweaty!) No construction experience is necessary, however skilled tradesmen are especially welcome as you can provide a significant contribution and teach the locals which will ensure a wider positive impact.
Accommodation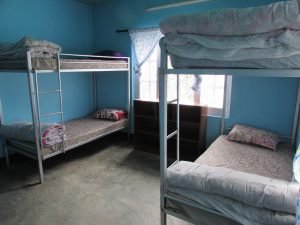 Accommodation is in a dedicated house very close to the beach! Volunteers will share a bedroom with up to 2-4 persons per room (single gender rooms). There is WiFi included in public areas, laundry facilities (at small additional fee), lockable rooms, cold/warm showers, bed linen, mosquito protection and fans included. Volunteers are requested to bring their own towel. Living with other volunteers in a dormitory-style house is heaps of fun and a great way to meet like minded travelers. The volunteer house is in close proximity to a basic supermarkets, ATM, fresh fruit and vegetable stands, petrol stations and bus stop.
For couples or those wanting more privacy, private rooms in the volunteer house are available for an additional US$150 per week, subject to availability.
Meals
3 quality meals per day are included for the duration of the program. Meals will be authentic to Vanuatu mainly consisting of coconut based curries, dahl, fish, rice, fresh fruits and labob which is a local dessert.
Visa Requirements
It is the responsibility of all participants to obtain any necessary visas. A standard tourist visa applies for most countries and allows you 30 days in the country. This can be provided upon arrival into Vanuatu.
Please follow and like us: