Arrival airport transfer
Boat Transfers to Pele Island
Orientation and project briefing
All ground transportation
Accommodation – Volunteer Villa (Shared rooms)
3 quality meals per day
Project equipment and materials (eg. diving equipment)
24/7 in-country support & emergency assistance
Training & guidance from qualified local staff
Certificate of Completion

Travel insurance (mandatory)
Airfares & visa fees
Additional tours, souvenirs, spending money
Some daily local transport (depending on program eg. $2 p/day)
Background Information
Located on a beautiful and secluded island in Vanuatu, help the local marine conservation team plant a coral reef. The waters of Vanuatu are warm, clean and full of sea life, however similar to various coral reefs in Australia, the coral's are affected by climate change and other environmental issues such as pollution and over fishing. By assisting in the project, you're helping to secure the unique biodiversity of marine life in this beautiful region of the South Pacific.
This project is perfect for those interested in environmental conservation who want to enjoy diving & snorkeling. The work can be varied with volunteers helping the local experts in various tasks such as transporting grids to pre-selected project sites, positioning the grids on the ocean floor as well as transporting local supplies and materials from the mainland via boat among various other tasks.
Project Location – Pele Island
Pélé, is a volcanic island located north of Efate (Port Vila) Vanuatu. This remote destination is inhabited by less than 250 villagers. Since 2003, Pele is a Marine protected area and a popular diving location with various reefs, mangrove forests, lagoons and seagrass beds. Pele's main source of income comes from tourism, but don't worry it feels way off the beaten path. Income from tourism is distributed by the Village Tourism Committee and supports aims as village water supply projects.
Daily boat transfers are available from the north coast of Efate. This is truly a tropical paradise with steep volcanic faces and white sandy beachs found in various locations.
Who Can Participate in the Outreach Program
Since, you will be diving in shallow waters, a diving certificate is not compulsory. However, proper diving experience would be an additional benefit as it may be useful for specific tasks.
Accommodation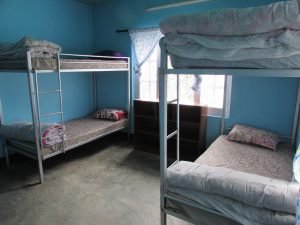 Accommodation is in a dedicated house very close to the beach! Volunteers will share a bedroom with up to 2-4 persons per room (single gender rooms). There is WiFi included in public areas, laundry facilities (at small additional fee), lockable rooms, hot showers, bed linen, mosquito protection and fans included. Volunteers are requested to bring their own towel. Living with other volunteers in a dormitory-style house is heaps of fun and a great way to meet like minded travelers. The volunteer house is in close proximity to a basic supermarkets, ATM, fresh fruit and vegetable stands, petrol stations and bus stop.
For couples or those wanting more privacy, private rooms in the volunteer house are available for an additional US$150 per week, subject to availability.
Meals
3 quality meals per day are included for the duration of the program. Meals will be authentic to Vanuatu mainly consisting of coconut based curries, dahl, fish, rice, fresh fruits and labob which is a local dessert.
Visa Requirements
It is the responsibility of all participants to obtain any necessary visas. A standard tourist visa applies for most countries and allows you 30 days in the country. This can be provided upon arrival into Vanuatu.
Please follow and like us: