Nutrition & Public Health Program
Support of in-country practitioner supervisor / coordinator
Support of a team (normally 4 to 8 volunteers per intake)
Arrival airport transfers
1 day induction & cultural orientation
All ground transportation including island ferries (where applicable)
Accommodation – Home stays & resort rooms (sharing with other volunteers)
3 quality meals per day (We cater to healthy diets!)
Project equipment and materials (eg. safety lancets, gloves, blood testing kits, pamphlets)
Kava donations for traditional village greetings (Offerings to village chief's)
24/7 in-country support & emergency assistance
Training & guidance from qualified local staff
Certificate of Completion

Travel insurance (mandatory)
Airfares & visa fees
Additional tours, souvenirs, spending money
Some daily local transport (depending on program eg. $2 p/day)
Background Information
The Pacific Island countries, including Vanuatu have some of the highest rates of diabetes in the entire world. Results from health surveys indicate diabetes rates as high as 47% in certain communities, but on average between 15 – 25% of the population. Some pacific island countries have the highest death rate from diabetes in the world. With neighboring Australia at approx 5%, there is a significant need for nutritional education and healthcare support in Vanuatu.
Obesity and non-communicable diseases (NCDs) are placing a huge social, economical and emotional load on the people of Vanuatu.
IVI's nutrition and public health outreach cater to students and graduates in the field of nutrition, dietetics, holistic healthcare, nursing, physiotherapy & medicine. You'll participate in an outreach program designed to provide free healthcare education for communities which generally lack access to healthcare services.
Public Health & Nutrition Volunteer Vanuatu Program
Current Intake start dates:
03FEB19 – OPEN
21JUL19 – OPEN
Working alongside a qualified practitioner, the aim of the outreach project is health promotion & free assessments in villages, corporate businesses, schools & community centers to increase the knowledge about nutrition and the effect of physical activity in the prevention of obesity and development of NCD's.
In teams of 4 to 8, you will perform health checks adding to the data captured from previous intakes and provide encouragement to reach health goals. You may also be involved in preparing educational talks on various topics such as the dangers of sugar and other disease causing issues. You may have the opportunity to conduct health screenings like blood pressure checks, blood glucose level tests and waist to hip ratios measurement.
With support and assistance from the program coordinators, you will be assigned specific health cases and may be involved with but not limited to:
– Conducting individual and group consultations
– Remote island healthcare education
– Corporate health
– Children's health & education
– Identifying protein deficiency among school kids
– Assisting in the prescription of natural protocols
– Providing educational assistance and local talks (if desired)
– Helping build nutrition and diabetes awareness campaigns
– Designing fitness and exercise programs
– Village exercise programs
– General healthy living programs.
Volunteers may also take part in presentations on exercise and living an active lifestyle, with topics such as healthy eating, sexual health and physical activity for school children.
Who Can Participate in the Outreach Program
Students studying in the discipline of health science, physiotherapy & related fields and qualified nurses, therapists, nutritionists, naturopaths, dietitians & allied health professionals. A qualified practitioner will be available to support and guide you during the program. Volunteers without qualifications in this field are still encouraged to apply and depending on your desire and experience, you may be accepted into the program.
Accommodation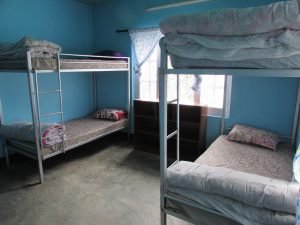 Accommodation is in a dedicated house very close to the beach! Volunteers will share a bedroom with up to 2-4 persons per room (single gender rooms). There is WiFi included in public areas, laundry facilities (at small additional fee), lockable rooms, hot showers, bed linen, mosquito protection and fans included. Volunteers are requested to bring their own towel. Living with other volunteers in a dormitory-style house is heaps of fun and a great way to meet like minded travelers. The volunteer house is in close proximity to a basic supermarkets, ATM, fresh fruit and vegetable stands, petrol stations and bus stop.
For couples or those wanting more privacy, private rooms in the volunteer house are available for an additional US$150 per week, subject to availability.
Meals
3 quality meals per day are included for the duration of the program. We can cater to healthy diets too! 🙂 Meals will be authentic to Vanuatu mainly consisting of coconut based curries, dahl, fish, rice, fresh fruits and labob which is a local dessert.
Visa Requirements
It is the responsibility of all participants to obtain any necessary visas. A standard tourist visa applies for most countries and allows you 30 days in the country. This can be provided upon arrival into Vanuatu.