Experience Overseas Teaching in Developing Countries with IVI for your Career
Involvement Volunteers International have supported volunteer programs now for over 30 years!  As a volunteer, you'll normally be placed as an assistant with another volunteer or depending on experience and desire, teach independently.
1 week placements starting from only US$275 + application fee!  Click on any of the below projects to find out more.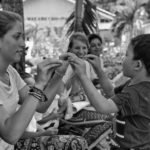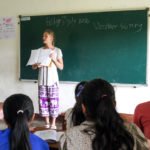 Who can apply for these opportunities?
You don't need professional teaching experience to encourage, re-direct and stimulate students who need extra attention to succeed in basic classes.  Teaching projects vary immensely, for example working with students in government schools, working with students from very poor areas in Cambodia & India to Rural Island community schools in Fiji or Philippines.   We have a very wide range of options!
Volunteers may be placed as an assistant to a local teacher or working by themselves, however, all volunteers are required to devise or contribute to lesson plans and, of course, will be given some guidance and help!  Offer your practical knowledge to students as a classroom resource on varied school subjects, including science, math, history, geography, nutrition, reading, computer skills and more.  You may be asked to work separately, one-on-one with special needs students, or to serve as an outside resource to an entire classroom. Classes are taught in English, and standard teaching materials will be available to you. Only your creativity is your limit!
Many of the areas we service have low incomes and access to education is extremely limited.   Through our partner organisations, we're able to source quality and relevant teaching programs designed to integrate volunteers into the local community with a safe environment with support, supervision, socialisation and education on a range of subjects including English, mathematics and art. English teachers are our most commonly requested resource throughout the communities and schools we work with, a request our volunteers help us fulfil.
Some example project tasks to expect
Teaching Overseas in IVI programs will leave you feeling fulfilled in the knowledge that you're making a tremendous impact on the future lives of underprivileged children – Our primary focus is on English Teaching, which is available at all of our locations. Whether you are on a gap year, a career break, early retirement or just on vacation, if you are on your own or in a.  Our partner organisations support schools in every one of our destinations. Teaching placements allow volunteers to interact and make connections with students from very different backgrounds and circumstances to their own.
Volunteers do not need a background in teaching as plenty of support and guidance is given.  You can teach using a range of techniques including games, singing, group work, role play, and exercises. Volunteers also have the opportunity to teach a variety of other subjects including sports, drama, music, maths or science.  The program is open to all volunteers whether you are on a gap year, at university or wanting a career break. All we require is a good standard of spoken English.  Many volunteers choose to help out in other areas too, taking students for sports, drama or music lessons for example.
What are some of the expectations for volunteers?
As with all our projects we require individuals who are proactive and can assess and determine the needs of the classroom and design learning material to suit the situations.  This should include considerations around different customs, religions and belief systems to ensure the content is aligned to the audience.   We also encourage all volunteers to be creative and do things totally outside the box.  Now is your time to make mistakes and learn more about yourself, your strenghts and opportunities for improvement so that you can benefit your career.
See the following Volunteer Projects available