The right match for you
The first question to ask is what skills can I bring and what do I want to achieve? If working with Refugees who have escaped war or children living in poverty has been a life calling then we have two incredible projects in Greece and India that have been life changing not just for me but many in our team. For those who have never volunteered before and want to travel and learn amongst a team, our Bali, Cambodia and Fiji projects are a great choice! Read on…
GREECE – SYRIAN REFUGEE CRISIS
In February 2017 I traveled with a team of Healthcare workers Doctors, Nurses and Nutritionists to help identify the needs of a very big malnutrition and humanitarian problem.
Greece has become known as the landing spot for refugees fleeing war and persecution from Syria, Afghanistan, Iraq, and Africa to seek peace. These refugees are now stranded across Greece in Refugee camps, often with poor conditions, minimal access to information, support agencies or opportunities to improve the quality of life for their families. Having undertaken perilous journeys from unberable conditions in their home countries through highly dangerous escape routes fraught with conflict and risk. In most cases these people just want to go home, but simply cannot.
It didn't take long before we saw the enormity of the issue of supporting basic needs such as clothing, fresh food, blankets that we expanded our work to Emergency relief and refugee support.
In Greece, you can assist with general volunteering to speciality roles such as teaching, setting up gardens, yoga, massage, infant nutrition and next month we have a volunteer coming to teach Martial arts to the children. There are many ways to help bring back a sense of normalcy and joy to the lives of Refugees.
In 2018 it is expected the number of Refugees arriving into Greece will rise and for those who are ready to take a huge leap and want to help we would love to have you join us.
3 Meaningful (and often times exhausting, confronting & emotional!) project options in Athens, Chios or Lesvos
"Despite the suffering, a beautiful contrast exists. The refugees I have met show amazing resilience and spirit and make the best that they can, out of their current situation" Samantha Malin Melbourne, March 2017
INDIA – Rural Community Bodhgaya

(From $250)
This project was my first experience of saying "Yes" to volunteering and oh how it changed me. It opens eyes and hearts to people with the most generous and giving spirits who have so little. I walked away from this experience feeling totally inspired and amazed at how the entire community acts as one family in full gratitude of the simple things in life. The care and gratitude they share is bigger than any suffering.
This project allows volunteers to help in many ways from teaching, running sporting events (the kids love soccer!), watermelon days, assisting at the special needs school, nutrition education and be prepared to make many new friends!
7 Purposeful project options. Locations: Udaipur, Goa, Bodhgaya
"I cannot put into words my experience here, the children, the villages, the people, the staff are some of the best people I have met in my life so far. I am very sad to be leaving, as I'm sure everyone is. This place will always hold a special place in my heart and I would recommend it to everyone I meet. " Sophie Blackwell Sydney Australia
FIJI – Remote Island Teaching & Development

(from $335)
"BULA!", Fiji's most audible phrase is the local's way of meeting and greeting and honestly, you will find it hard to find someone who doesn't smile and wave to welcome you "home" to their island. Fijian hospitality would have to be up there with the best in the world (and my personal favourite!), the minute you arrive you are a part of the family.
While the Fijian economy has come a long way over the years passed, there are still many families in remote villages living with very little. Despite the remote location of the small series of Fijian Islands, you won't feel far away from home once you arrive to the volunteer house and meet your new volunteer family. Living on the Remote Island in Fiji provides an awesome living quarters to make lasting friendships, share stories and learn about the local culture from the local Fijians. Don't forget to bring something from home to share with everyone…
15 project options in Fiji. Locations: Nadi, Latouka, Islands, Suva, Pacific Harbour
"Last week was one of the best weeks of my life, ever ……. it was hard, hot, uncomfortable and a bit challenging at times but incredibly rewarding. What an amazing school. It's hard to believe that 24 hours ago my only footwear was a pair of jandals (thongs/flip flops, flippers) covered in biddy bids and held together by a peg (first day one of the kids stood on the back of it), and today I was wearing black high heeled boots and corporate attire in Sydney! What an incredible, wonderful world we live in!' Carol Comer, 2016
BALI – Teaching & Construction

(from $275)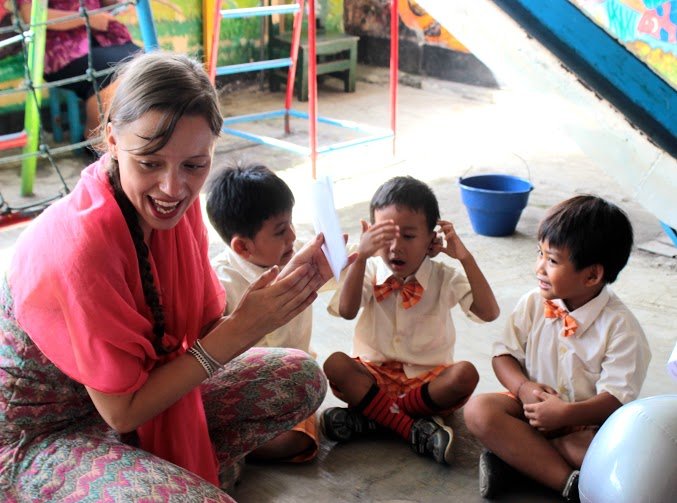 The Balinese approach to life is one worth experiencing and the local team love showing you their favorite restaurants, sites and sacred and special places to connect with the true essence of what Bali is. Across 3 locations in Ubud, Lovina and Lombok you get to see the most spectacular sites but have a local experience by working at the local Schools, kindergarten and community. The schools you'll be involved with are normally well outside of the tourist areas where very few foreigners exist. In this way, you're experiencing something authentic and meaningful. We also support initiatives to clean up Bali through environmental and Turtle conservation programs to encourage and bright future for its children and animal life.
13 Purposeful project options. Locations: Ubud, Lombok, Lovina
"The cultural experience and being able to live with locals and having the opportunity to experience the local life style. I also really enjoyed my teaching project. My highlight was teaching my grade 6 class and being able to notice an improvement in their English during my 2 weeks. This really made me happy to see that I have made a difference." Alicia July 2017
CAMBODIA – Rural School Teaching & Construction

(from $265)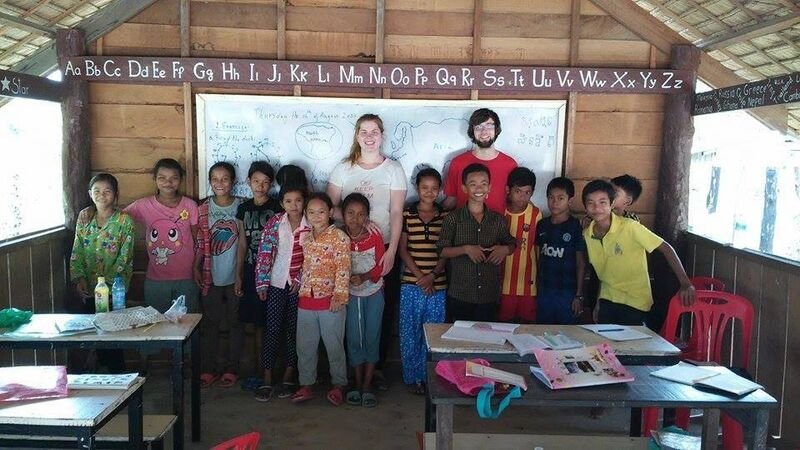 Cambodia is drenched in the history of the Khmer rouge and it feels like such a young country because of that. Oddar meanchey I think is still somewhat reeling from its occupation as the last stronghold with Samraong being at its centre.
Because of the suffering Cambodia endured it hasn't fully recovered today and for that reason, volunteers in several disciplines are needed. If looking for a very rewarding experience, volunteering in Cambodia is highly recommended. These areas include teachers, nurses, doctors, builders, health care workers and nutritionists. Cambodia lacks assistance in educational fields; such as, English language and current awareness is greatly appreciated.
Most volunteers who work on the Rural School project are sad to leave (the kids!) and want to stay longer, so I would advise to plan for a longer stay if you can. I think that volunteering is the best way to travel because you are involved in the community and have the opportunity to engage with other people on a deeper level. There are many options to accommodate your interests – you could volunteer teaching, construction, at the hospital or with medical outreach. The volunteer house is very well accommodated, the food is always fresh and delicious, and the family who also lives there is lovely to be around. The coordinators are one-of-a-kind, amazing people with the biggest smiles and best attitudes!
7amazing project options. Locations: Samroang, Koh Sen, Kampot
" Life is different here; and that's part of the reason I've fallen in love with Cambodia. Their happiness is not bound to the latest smartphone, a new car or buying new clothes, many kids only have one outfit. Sometimes kids will just wear their pyjamas as clothes because it's simply all they have. Their priorities are different; focused around family and simply having enough to get by." Alex Stock, Australia 2015
SAMOA – New project!

(from $325)
With picturesque beaches and breathtaking imagery as seen on Australian Survivor, it's easy to see why island vacations are so alluring, but there's far more to experience on Somoa than meets the eye.
Volunteering on Samoa is the perfect way to travel with meaning and experience life beyond the resort walls. You'll have the opportunity to immerse yourself in the local culture and work alongside local people, while supporting important community and conservation projects, including Teaching English, Nutrition, Construction and Renovation.
4 project options. Locations: Apia
Conclusion
So…. whether you're interested in true humanitarian work or combining volunteering with travelling we can help you.
If you have any questions about the above projects or need any advice, please contact me at:
lauren@volunteering.org.au
or submit an application
Thanks for reading 🙂